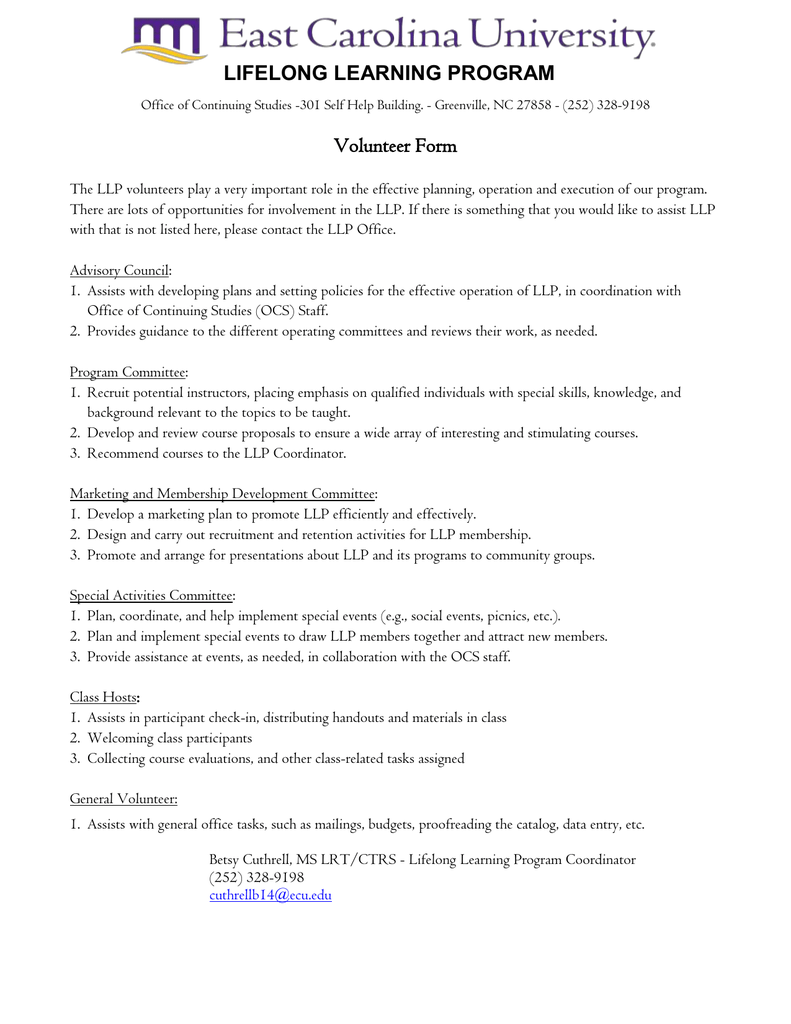 LIFELONG LEARNING PROGRAM
Office of Continuing Studies -301 Self Help Building. - Greenville, NC 27858 - (252) 328-9198
Volunteer Form
The LLP volunteers play a very important role in the effective planning, operation and execution of our program.
There are lots of opportunities for involvement in the LLP. If there is something that you would like to assist LLP
with that is not listed here, please contact the LLP Office.
Advisory Council:
1. Assists with developing plans and setting policies for the effective operation of LLP, in coordination with
Office of Continuing Studies (OCS) Staff.
2. Provides guidance to the different operating committees and reviews their work, as needed.
Program Committee:
1. Recruit potential instructors, placing emphasis on qualified individuals with special skills, knowledge, and
background relevant to the topics to be taught.
2. Develop and review course proposals to ensure a wide array of interesting and stimulating courses.
3. Recommend courses to the LLP Coordinator.
Marketing and Membership Development Committee:
1. Develop a marketing plan to promote LLP efficiently and effectively.
2. Design and carry out recruitment and retention activities for LLP membership.
3. Promote and arrange for presentations about LLP and its programs to community groups.
Special Activities Committee:
1. Plan, coordinate, and help implement special events (e.g., social events, picnics, etc.).
2. Plan and implement special events to draw LLP members together and attract new members.
3. Provide assistance at events, as needed, in collaboration with the OCS staff.
Class Hosts:
1. Assists in participant check-in, distributing handouts and materials in class
2. Welcoming class participants
3. Collecting course evaluations, and other class-related tasks assigned
General Volunteer:
1. Assists with general office tasks, such as mailings, budgets, proofreading the catalog, data entry, etc.
Betsy Cuthrell, MS LRT/CTRS - Lifelong Learning Program Coordinator
(252) 328-9198
[email protected]
LIFELONG LEARNING PROGRAM
Office of Continuing Studies -301 Self Help Building. - Greenville, NC 27858 - (252) 328-9198
Volunteer Registration Form
Information provided on this form will only be shared with the appropriate Committee Chair for contact purposes.
________________________________________________________________________
FULL NAME
________________________________________________________________________
MAILING ADDRESS
________________________________________________________________________
CITY
STATE
ZIP CODE
________________________________________________________________________
PHONE NUMBER
EMAIL ADDRESS
Please note that email is our typical method of contact, if one is listed.
Committee(s)/ activities of interest to you (please check):
Interest
☐
☐
☐
☐
☐
☐
Committee/Activity
Program Committee
Special Events Committee
Marketing & Membership Committee
Advisory Council
Class Host
General Volunteer
Meeting Date
Meets 2nd Thursday at 10:00am (monthly)
Meets 3rd Tuesday at 9:00am (monthly)
Meets 2nd Thursday at 2:00pm (bi-monthly)
Meets 2nd Tuesday at 2:00pm (monthly)
As needed
Depends on volunteer availability
If you are interested in volunteering in the LLP Office, what day(s) and time(s) are best for you to meet
with the LLP Coordinator:
Monday
Tuesday
Wednesday
Thursday
Friday
Morning
Afternoon
Evening
Providing the following information is strictly voluntary.
What skills, background, or experiences do you have that you feel are beneficial to the committee(s)?