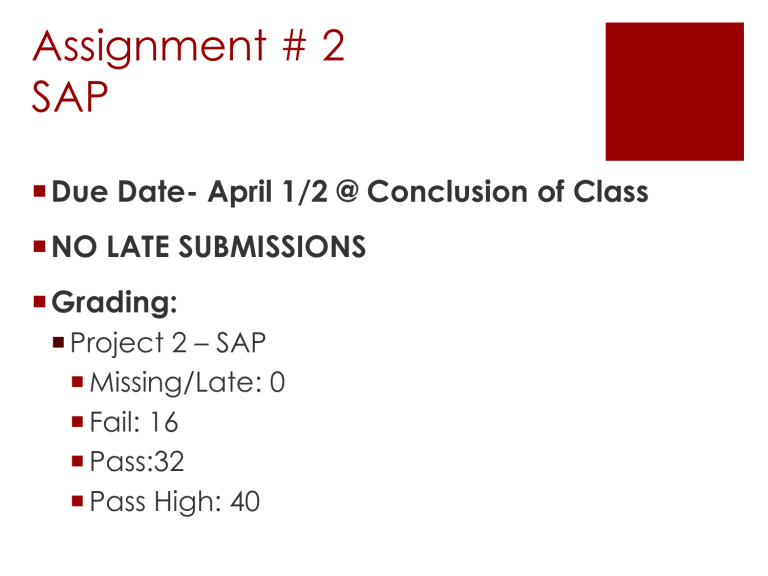 Assignment # 2
SAP
 Due Date- April 1/2 @ Conclusion of Class
 NO LATE SUBMISSIONS
 Grading:
 Project 2 – SAP
 Missing/Late: 0
 Fail: 16
 Pass:32
 Pass High: 40
SAP Information
 ALL important documents are located on the class blog at: http://community.mis.temple.edu/greenwood2101/projects/proje ct-2/
 Project-2-SAP is the document you need to answer questions about the activities your preforming. This is what you will be graded on.
 SAP-Project-Supplement is information on how to log onto the SAP server and other helpful tips
SAP Information
 The SAP Procurement & Sales exercises are located in the appendix of the Kroenke book
 HOWEVER, we now have access to these exercises in PDF form so students no longer have to find the activities in the book. These PDF files are on the class blog. PLEASE utilize this resource to avoid confusion. You can print the PDF file and then complete the SAP activity online.
Log-In Information
 A spreadsheet with everyone's USER ID is located in the gradebook. The password is "Temple15"
 Any Questions? Look through the supplement document BEFORE sending any e-mails. If your question is addressed in one of these documents your e-mail will not be answered.
TA Information & Office Hours
 Robin Hibbard
 E-mail: tue57491@temple.edu