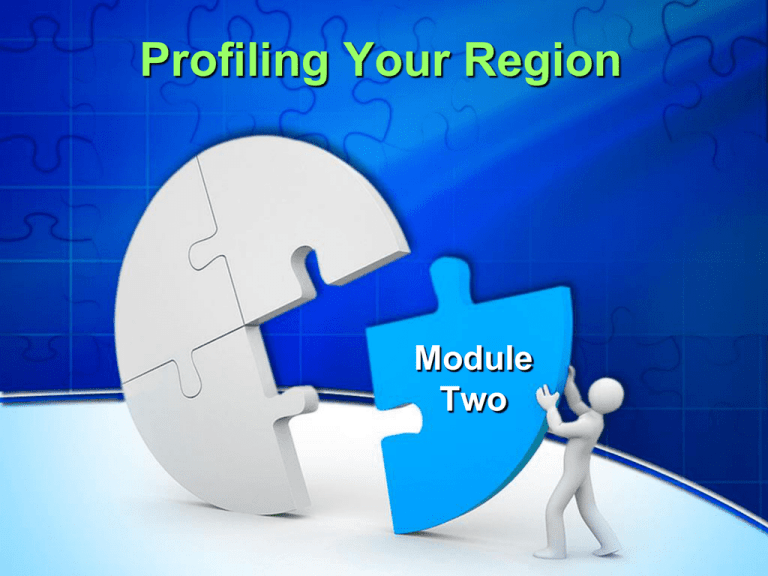 Profiling Your Region
Module
Two
Session Overview
• Review key elements of SET
• Define economic development;
examine your related activities
• Examine approaches to defining
a region
• Explore regional demographic
features
A BRIEF
SET
REVIEW
Purpose of SET
Help rural communities/counties to
work together as a regional team in
developing and implementing an
economic development blueprint
that builds on the current and
emerging economic strengths of
their region
Core Training Modules
The Basics
The SET
Program:
An Introduction
Profiling Your
Region
Gearing Up
Building a
Strong
Regional Team
Developing
Your Vision and
Goals
Resources
& Strategies
Focusing on
Regional
Comparative
Advantage
Moving
Into Action
Planning for
Success
Exploring
Strategies for
Enhancing the
Regional
Economy
Discovering
Assets &
Barriers
Measuring for
Success
Producing a High Quality Plan:
The Essential Components
EvidenceBased
Aligned with
Vision &
Goals
Practical
Team's
Regional
Plan
Focused on
Regional
Economic
Development
Broadly
Supported
DEFINING
ECONOMIC
DEVELOPMENT:
PROCEED WITH
C.A.R.E.
Elements of Economic Development
Economy
• System for meeting the needs and
wants of people in a particular
geographic area
Development
• Improvement in the well-being
of residents in a particular
geographic area
Economic
Development
• An expansion of the
economic base through
efficient allocation and use
of available resources
GOAL: An improved quality of life for people in the region
Source: Barta, et al., 2010
The C.A.R.E. Model
Creation
Attraction
• Encourage the formation of
new businesses in the
region
• Recruit industries or
businesses to the region
C.A.R.E.
Retention
Expansion
• Maintain or strengthen
existing firms in the region
• Encourage the growth of
existing firms in the region
Group Activity
• Review economic development plans
of counties/cities in your region
• Categorize activities using the
C.A.R.E. model
• Identify common activities, major
differences
• Examine the balance between
activities in each component of the
C.A.R.E. model
DEFINING A
REGION:
DIFFERENT
APPROACHES
What is a Region?
• Geographical area of similar
characteristics:
 Similar within
 Different from other places
• Area with unique identity and meaning
Regions Can be Defined
Using Different Lenses
SET Focuses on Economic Regions
• SET begins with a group of
geographically linked counties
that want to work and think
regionally.
• SET's main focus is connecting
counties that are economically
linked through economic
clusters.
County Plans:
Any Regional Possibilities?
• Any focused on regional
economic development
activities? Which ones?
• Can the region compete at
the multi-state, national,
and/or international levels?
EXPLORING THE
DEMOGRAPHIC
FEATURES OF
YOUR REGION
Major Demographic Characteristics
Category
Key Variables of Interest
Population






Population Size
Gender
Race & Ethnic Composition
Age Structure
Components of Population Change
Population Projections
Household & Housing




Number of Households
Persons Per Household
Type of Households
Housing Tenure
Education & Income




Educational Attainment
Geographic Mobility by Education
Median Household Income
Persons in Poverty
Health


Mortality – Length of Life
Morbidity – How Healthy People Feel
For more data, go to: http://quickfacts.census.gov/qfd/index.html
Data Analysis Options
• Cross-sectional – look at data at
one point in time
• Comparative – examine data in
your county relative to other
counties
• Longitudinal – focus on changes
in the data over time
What to Look for
• Conditions the data describe
• Direction of change
• Intensity of change
• Comparison of counties in the region
• Overall picture the data paint
Your Turn – Dig In!
Final Reflections
• Key takeaways from this module?
• Most helpful information? Least helpful?
• Homework to be completed prior to the next
SET meeting?
• Additional participants needed for next SET
session? Who will contact?
• Other items?