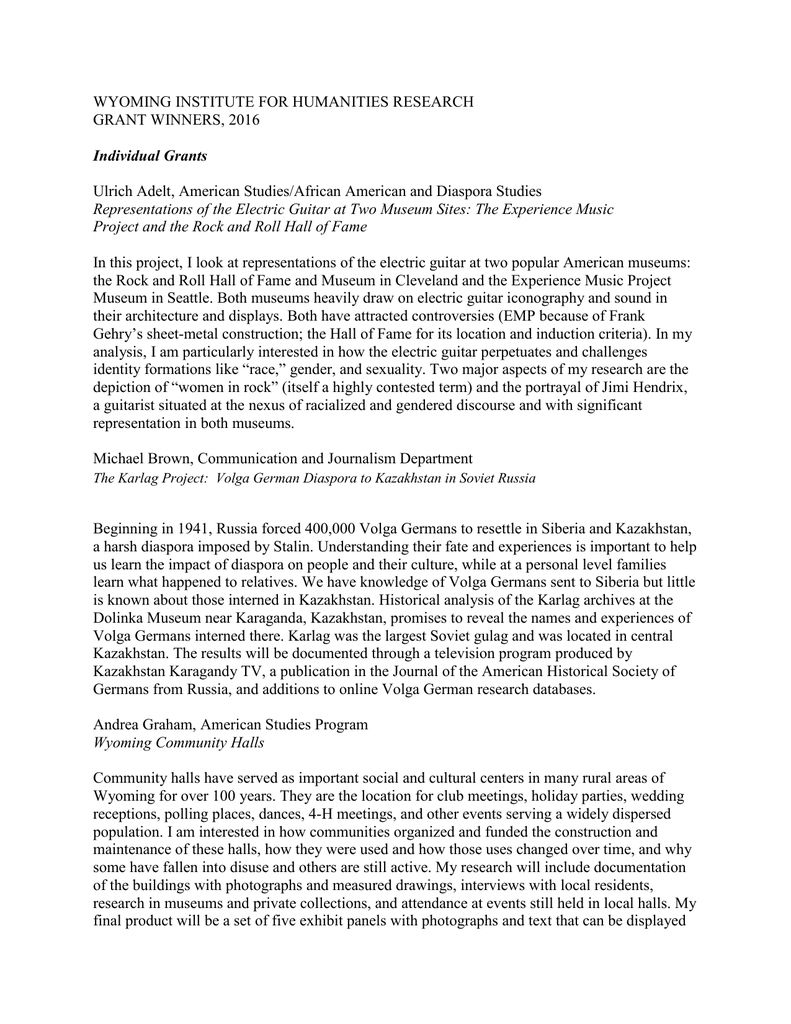 WYOMING INSTITUTE FOR HUMANITIES RESEARCH
GRANT WINNERS, 2016
Individual Grants
Ulrich Adelt, American Studies/African American and Diaspora Studies
Representations of the Electric Guitar at Two Museum Sites: The Experience Music
Project and the Rock and Roll Hall of Fame
In this project, I look at representations of the electric guitar at two popular American museums:
the Rock and Roll Hall of Fame and Museum in Cleveland and the Experience Music Project
Museum in Seattle. Both museums heavily draw on electric guitar iconography and sound in
their architecture and displays. Both have attracted controversies (EMP because of Frank
Gehry's sheet-metal construction; the Hall of Fame for its location and induction criteria). In my
analysis, I am particularly interested in how the electric guitar perpetuates and challenges
identity formations like "race," gender, and sexuality. Two major aspects of my research are the
depiction of "women in rock" (itself a highly contested term) and the portrayal of Jimi Hendrix,
a guitarist situated at the nexus of racialized and gendered discourse and with significant
representation in both museums.
Michael Brown, Communication and Journalism Department
The Karlag Project: Volga German Diaspora to Kazakhstan in Soviet Russia
Beginning in 1941, Russia forced 400,000 Volga Germans to resettle in Siberia and Kazakhstan,
a harsh diaspora imposed by Stalin. Understanding their fate and experiences is important to help
us learn the impact of diaspora on people and their culture, while at a personal level families
learn what happened to relatives. We have knowledge of Volga Germans sent to Siberia but little
is known about those interned in Kazakhstan. Historical analysis of the Karlag archives at the
Dolinka Museum near Karaganda, Kazakhstan, promises to reveal the names and experiences of
Volga Germans interned there. Karlag was the largest Soviet gulag and was located in central
Kazakhstan. The results will be documented through a television program produced by
Kazakhstan Karagandy TV, a publication in the Journal of the American Historical Society of
Germans from Russia, and additions to online Volga German research databases.
Andrea Graham, American Studies Program
Wyoming Community Halls
Community halls have served as important social and cultural centers in many rural areas of
Wyoming for over 100 years. They are the location for club meetings, holiday parties, wedding
receptions, polling places, dances, 4-H meetings, and other events serving a widely dispersed
population. I am interested in how communities organized and funded the construction and
maintenance of these halls, how they were used and how those uses changed over time, and why
some have fallen into disuse and others are still active. My research will include documentation
of the buildings with photographs and measured drawings, interviews with local residents,
research in museums and private collections, and attendance at events still held in local halls. My
final product will be a set of five exhibit panels with photographs and text that can be displayed
on campus as well as offered to museums, libraries, and community halls in the communities
represented.
Collaborative Grants
Brandon S. Gellis, Department of Art & Art History, Shelby Shadwell, Associate Professor,
Department, Dr. Thomas Minckley, Department of Geography
MicroEcos: Strengthening Human-Nature Connections through Digital-Sculpture
Reconstructions of Biological Communities
'MicroEcos' is a series of 3D digital-sculptures created to bring tactile and tangible data-driven
art to humanities audiences. As Wyoming and Wyomingites are inherently naturalistic – and are
proud of their natural landscapes – 'MicroEcos' serves to strengthening and encourage humannature connections. Harnessing 3D modeling and printing technology 'MicroEcos' will take
form as a series of 3D printed models (Gellis) of the Last Canyon rock shelter sites, near the
Wyoming and Montana border, and Little Windy Hill pond site in Wyoming's Medicine Bow
National Forest. These digital, interactive 3D sculptures will provide audiences with glimpses of
three-dimensional historical environments, and create dialogue of how local ecosystems have
been formed.
Vanessa Fonseca, Latina/o Studies and English, Robert Perea, graduate student, English
Department, Adam Herrera, University of Wyoming Foundation
Troy Lovata, Honors College, University of New Mexico
Cultural Remnants of New Mexican Sheepherding in Wyoming
New Mexican sheepherders began arriving to Wyoming in the 1800s and contributed greatly to
the development of a thriving sheepherding culture in Wyoming that continues today. Alongside
Basque sheepherders, New Mexicans were praised for their keen knowledge of sheepherding and
knowledge of the land and were recruited heavily to work in the Wyoming sheep camps. The
cultural documentation of this group of people is evidenced in folklore, photography, oral
histories, and arborglyphs that decorate the Wyoming landscape. The majority of arborglyphs
relating to New Mexico sheepherders is located throughout Carbon County and date as early as
1905. Funding from WIHR will allow the collaborative team to travel to Carbon County to
photograph the existing arbor glyphs and the surrounding landscape, which will add a valuable
element to ongoing research efforts to document New Mexican migration to Wyoming through
detailed cultural analysis.