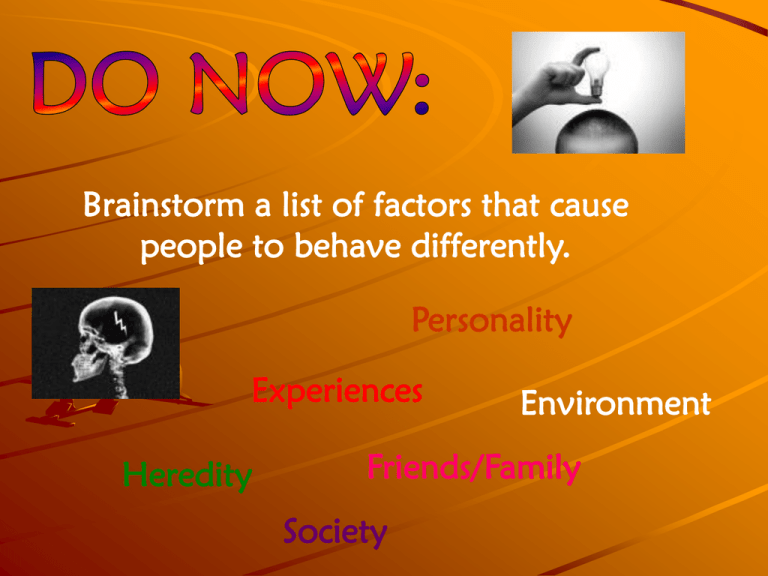 Brainstorm a list of factors that cause
people to behave differently.
Personality
Experiences
Heredity
Environment
Friends/Family
Society
WHY DO CELLS BEHAVE DIFFERENTLY?
The combination of
chemicals that form
substances.
•"ingredients"
•"what an object is
COMPOSED of"
•Smallest unit of
matter known.
•100 million atoms
lined up in a row =
one centimeter
•Composed of
protons, neutron,
electrons
•A pure substance that
consists of entirely one
type of atom
•Represented by
letters or symbols
•Approximately two
dozen are found in
living things
•In total, 117 elements have been observed
as of 2007, of which 94 occur naturally on
Earth.
Examples of elements
O Oxygen
H Hydrogen
C Carbon
Na Sodium
Sulfur
S
N Nitrogen
Potassium
K
Cl Chlorine
A large percent Living things are
made up of 4 elements:
1. Carbon (C)
2. Hydrogen (H)
3. Oxygen (O)
4. Nitrogen (N)
Ex.) DNA
molecule-->
Ex: DNA Molecule
Grey:
carbon
White:
hydrogen
Blue:
Nitrogen
Red:
Oxygen
Orange:
phosphate
How do I read the periodic table?
Atomic number:
# of protons
There are an equal
number of
electrons as
protons
Atomic Mass:
# of protons + # of neutrons
•Substances that are
formed by the
chemical combination
of two or more
elements
Most abundant
compound on Earth is
water
___________
•Elements have very
different properties
"actions/appearances" than
the compounds that they
form.
H = Hydrogen = gas
O = Oxygen = gas
H2O = water = liquid
• Are expressed
through formulas
1. Chemical formulas
2.Structural formulas
C12H22O11
C6H12O6
The attraction of
atoms that cause
element to form
compounds
All living things are made up of
cells.
Parts of the cell are made up of large
complex molecules.
Basic unit of most of these molecules
is the element carbon (C).
Carbon
The carbon atom has four valence
elections, this allows the carbon
atom to form compounds with many
other elements.
C
Examples of Carbon bonding
Methane
Other Carbon compounds
•Carbon can form single,
double or triple bonds.
• Carbon can form a
long chain or a ring
structure.
Identify the following as an elements or
compounds:
1. Al
2. H2SO4
3. H2
7. Al2
8. S
9. NaCl
4. H2O
5. O2
6. NH4
10. C6H12O6
11. CO2
12. H
There are two
categories of
compounds:
•Organic
•Inorganic
•is any member of a
large class of chemical
compounds whose
molecules contain
carbon and hydrogen
•Found in all living
things
Examples
•C6H1206
•CH4
•Is any member of a
large class of chemical
compounds of molecules
that contain earths
elements
•Not capable of creating
life, no combination
makes life
Examples
•NaCl
• H2 O
•CO2
Compounds
Organic
Contains Carbon &
Hydrogen always
together!
Example: C6H12O6
glucose (sugar)
Inorganic
Contains the
earth's
element
Example: H2O
pH is a scale designed
to describe whether a
compound is an acid
or a base AND its
strength.
1 2 3 4 5 6 7 8 9 10 11 12 13 14
Neutral
Measures the concentration of
H+ ions in a solution.
BELOW 7, THE SUBSTANCE IS ACIDIC.
ABOVE 7, THE SUBSTANCE IS BASIC.
IF THE pH IS 7, THEN IT IS NEUTRAL.
Using to test the level
of pH
Provides a specific
number
Used to identify is
the substance in an
acid or a base
TASTE SOUR, REACT
WITH METALS AND
TURN LITMUS PAPER
RED
TASTE BITTER, FEEL
SLIPPERY, REACT
WITH LITMUS PAPER
TO TURN IT BLUE
Used to test for the presence of glucose
Used to test for the presence of proteins
Used to test for the presence of starch
1. Give examples of
organic substances
2. Determine the pH
of the following
solutions.