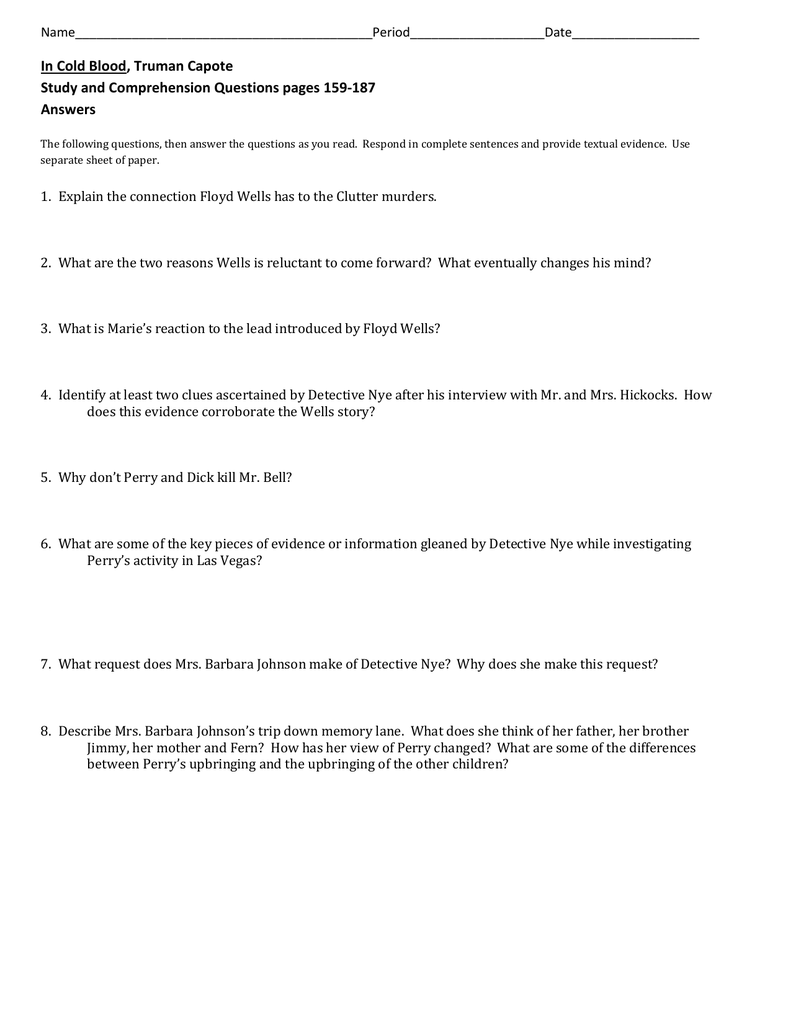 Name__________________________________________Period___________________Date__________________
In Cold Blood, Truman Capote
Study and Comprehension Questions pages 159-187
Answers
The following questions, then answer the questions as you read. Respond in complete sentences and provide textual evidence. Use
separate sheet of paper.
1. Explain the connection Floyd Wells has to the Clutter murders.
2. What are the two reasons Wells is reluctant to come forward? What eventually changes his mind?
3. What is Marie's reaction to the lead introduced by Floyd Wells?
4. Identify at least two clues ascertained by Detective Nye after his interview with Mr. and Mrs. Hickocks. How
does this evidence corroborate the Wells story?
5. Why don't Perry and Dick kill Mr. Bell?
6. What are some of the key pieces of evidence or information gleaned by Detective Nye while investigating
Perry's activity in Las Vegas?
7. What request does Mrs. Barbara Johnson make of Detective Nye? Why does she make this request?
8. Describe Mrs. Barbara Johnson's trip down memory lane. What does she think of her father, her brother
Jimmy, her mother and Fern? How has her view of Perry changed? What are some of the differences
between Perry's upbringing and the upbringing of the other children?