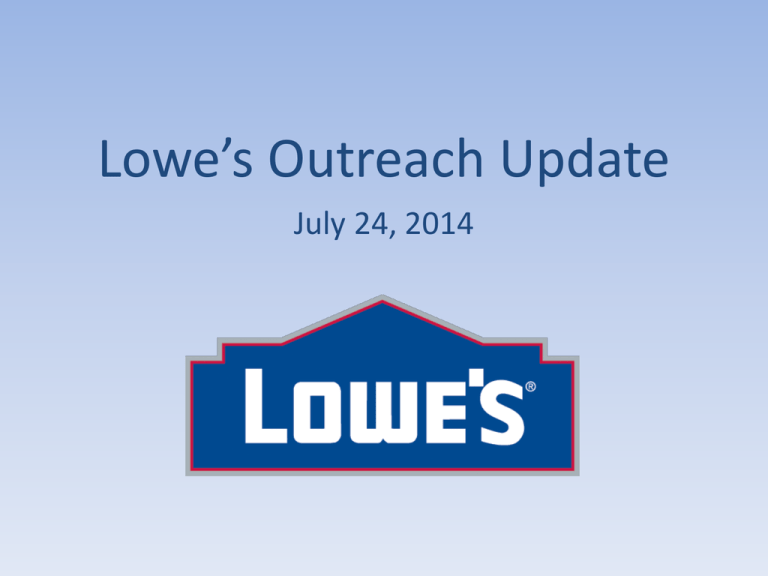 Lowe's Outreach Update
July 24, 2014
The Start
• Inspired leaders - Steve/Scott/Fred
• Visit to Walgreen's DC in Anderson, SC
• Pilot in Pittston PA RDC
Purpose
• Hire individuals with disabilities to employ a
diverse and inclusive workforce
• Hire qualified, productive workers
• Reflect demographics of customers
• Improve employment opportunities for
individuals with disabilities
Partners
• Who knows the stakeholders and will serve as a
liaison? ARC of Luzerne County
• Who will provide candidates and help train?
AHEDD, Keystone, OVR
• Who will fund the job coaches (external)?
OVR, MH/MR units
• Others – ODP, NOD, NET, USBLN
• It's a long process – Who is interested,
committed, and has the same goal?
Training
• Show our partners the business, the job tasks,
the work environment, and the culture
• Train our leaders – increase knowledge about
disabilities
• Increase TM awareness – part of diversity training
• Task training must be more individualized
• Outreach TMs need more than task training –
social skills, acceptable behaviors in the
workplace
The Model
•
•
•
•
•
Use Walgreen's as a base model
Collaborative effort with partners
Utilize external job coaches as primary trainers
Start as trainees in trial period
Use a 4 phase approach
Phase 1 - Selection
•
•
•
•
•
Meet with partners to select the next class
Decide who, when, where
Assign job coach
Identify reasonable accommodations
Complete Lowe's trainee application (includes
background check and drug screen)
• Focus on abilities, not disabilities
• About 15 days in duration
Phase 2 - Training
•
•
•
•
•
•
One day orientation – safety and policies
Training with job coach on the floor
Outreach coordinator oversees training
Evaluations every 15 days
Try multiple jobs to find best fit
Set for 45 days (but can be longer or shorter)
Phase 3 - Promotion
• Hired from trainee to Lowe's regular employee
• Must demonstrate the ability to perform the
job to standards over time
• Joint decision between Outreach coordinator,
job coach, HRM, and RGM
• About 15 days
Phase 4 - Employment
• Attend full Lowe's new hire orientation
• Assigned a shift/dept and integrated into
workforce
• Outreach coordinator and job coach maintain
contact
The Cycle
Time
Class 1
Class 2
Day 1
Class Selection
Day 15
Start Training
Period
Day 60
Hiring Decision
Class Selection
Day 75
Regular Lowe's
Employment
Start Training
Period
Outreach Coordinator
•
•
•
•
•
•
•
One Lowe's supervisor per shift
Coordinates the work assignments
Supervises the training by the job coach
Conducts evaluations and recommends hiring
Initiates cross training
Maintains daily contact with all Outreach
Evaluates need for accommodations
The Hiring Results
• 4 employees hired from first class which
began Jan 12, 2009 (first day of shipping)
• Classes start about every 2 - 3 months
• 61 currently employed in Pittston RDC, 11
currently in training
• In 15 Lowe's RDCs, 400+ employed
The Results
•
•
•
•
•
•
Expanded labor pool
Improved performance
Special culture
Improved image as employer
Increased customer base for Lowe's
Making a difference
How it's changed
• Grown to all shifts
• In maintenance, receiving, building, shipping, and
transportation
• School program with LIU
School provides transportation and trainers
Two 2 ½ hr sessions daily
Opportunities for hire or roll into Outreach
• Individualized programs
Lessons Learned
•
•
•
•
•
•
•
You don't need to have all the answers
Get help where needed
Celebrate early successes
Consider all open positions
Everyone benefits
There is no "one right way"
The program will evolve
What Pittston RDC wants from
partners
• Right people for the job
Find the people to do the work we have
• Make it simple
Single point of contact
Complete/eliminate the administrative tasks
• Lasting relationship
Multiple candidates over time
Questions?