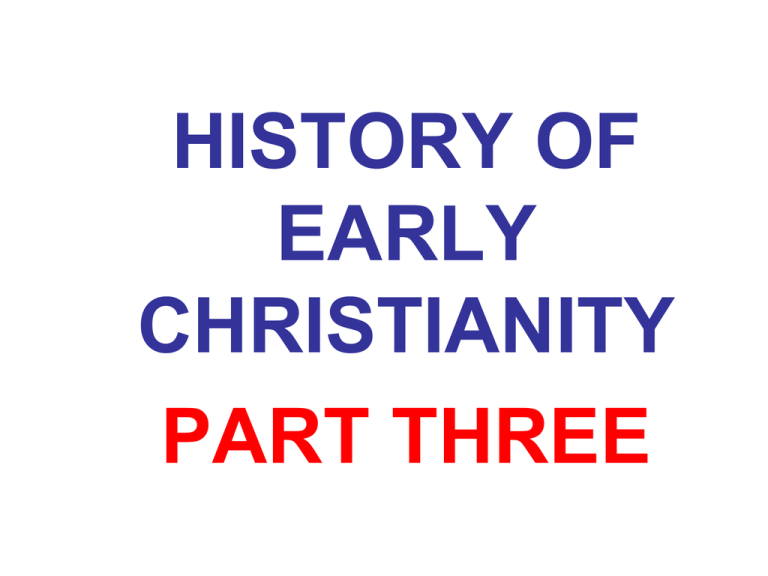 HISTORY OF
EARLY
CHRISTIANITY
PART THREE
THE CANONICAL
GOSPELS
TRANSLATION
FACTS & ISSUES
30 C.E. TO 310 C.E.
LECTURE
ONE
DEDICATION
This class is dedicated to my 8th grade
teacher:
Maureen Gallagher (a.k.a. Sister Marca)
who inspired me to seek out answers to
difficult questions even though it would
take 50 years.
FROM JESUS REMEMBERED - 1
Biblical Scholar James Dunn:
A faith which regards all critical
scrutiny of its historical roots as
inimical to faith can never hold up its
head or lift up its voice in any public
forum.
ADVISORY ON LECTURES - 1
There is a certain tension between faith
and the quest for the Historical Jesus.
Much of this tension comes from the
interpretation and translation of the four
Canonical Gospels. The purpose of this
course is to present information on the
sources of the Gospels and the facts and
issues surrounding their presentation in a
readable English.
ADVISORY ON LECTURES - 2
Much of the information discussed is not a
final solution or the only way to view these
facts and issues. Once again, they are an
example of one alternative viewpoint that
many Biblical Scholars accept and a
number of others reject. Here we are trying
to explain the many difficulties that are
encountered whenever dealing with ancient
manuscripts.
ADVISORY ON LECTURES - 3
All must bear in mind that they were
written long ago during times that
have been lost to us for almost two
millennia. Our goal is to attempt to
understand what these ancient
writers were trying to say from that
distant past to our current times.
WHAT
IS
A
GOSPEL?
FROM JESUS CHRIST SUPERSTAR
THE APOSTLES:
Always hoped that I'd be an apostle
Knew that I would make it if I tried
Then when we retire we can write the
gospels
So they'll still talk about us when we've
died
DEFINITION OF A GOSPEL - 1
Any ancient writing can be said to be a
Gospel that:
1. Describes the actions of Jesus.
2. Contains the words or sayings of
Jesus.
3. Has the teachings of Jesus.
4. Has as a main theme the life of Jesus.
DEFINITION OF A GOSPEL - 2
Literally the word "GOSPEL" comes
from the Greek word 'EUANGELION'
which means "GOOD NEWS" or
"GLAD TIDINGS". In Old English the
word was "GODSPELL" which is God's
Spell, i.e. Good News.
DEFINITION OF A
CANONICAL GOSPEL - 0
The word CANON comes from the
Greek word "KANON" which literally
meant "a rod or bar used as a
measuring standard". In theological
usage it meant a "rule of standard
or norm". When applied to books it
denoted an "Authoritative Collection".
DEFINITION OF A
CANONICAL GOSPEL - 1
A Gospel is called canonical if it was
accepted into the New Testament and,
therefore, became part of the Christian
Bible. Today there are four Canonical
Gospels: Mark, Matthew, Luke, and
John. In the past some Christian sects
had other Canonical Gospels.
DEFINITION OF A CANONICAL
GOSPEL - 2
To become a Canonical Gospel the
writing must fulfill all of the following
criteria:
1. Be authored by or have as its
primary source an Apostle or close
Disciple of an Apostle.
2. Contain eye-witness accounts of
Jesus life.
DEFINITION OF A
CANONICAL GOSPEL - 3
3. Written close to the time of Jesus
ministry. By modern chronology,
before the year 100 A.D.
4. Intended to provide a history of
Jesus life, works, sayings, and
teachings.
DEFINITION OF A
CANONICAL GOSPEL - 4
5. Dogmatically acceptable to the
Orthodox Christian Church of 350 A.D.
6. In 185 A.D the Church Father Irenaeus
of Lyons declared the following
criterium:
"there are four Pillars of the Church: it
is not possible that there can be either
more or fewer than four".
DEFINITION OF A
CANONICAL GOSPEL - 5
By the year 250 A.D. the four current
Canonical Gospels were accepted as
being the only "true, reliable"
Gospels. When the New Testament
came into final form around 350 A.D.,
these four Gospels were the only ones
allowed into the "CANON" of the
Orthodox Church.
THE COUNCIL OF LAODICEA IN 360 C.E.
CANON LX:
And these are the books of the New Testament: Four
Gospels, according to Matthew, Mark, Luke and
John; The Acts of the Apostles; Seven Catholic
Epistles, to wit, one of James, two of Peter, three of
John, one of Jude; Fourteen Epistles of Paul, one to
the Romans, two to the Corinthians, one to the
Galatians, one to the Ephesians, one to the
Philippians, one to the Colossians, two to the
Thessalonians, one to the Hebrews, two to Timothy,
one to Titus, and one to Philemon.
DEFINITION OF A
NON-CANONICAL GOSPEL - 1
A Gospel is called Non-Canonical if
was NOT accepted into the New
Testament by the Orthodox Christian
Church. Therefore, it did not become
part of any of the current
"mainstream" Christian Bibles.
DEFINITION OF A
NON-CANONICAL GOSPEL - 2
Many Non-Canonical Gospels were:
1. Written after 100 A.D.
2. Not eye-witness accounts of the life or
sayings of Jesus.
3. Not authored or sourced from an
Apostle or one of his/her disciples.
4. Contained unacceptable doctrine or
dogma.
LIST OF
NON-CANONICAL GOSPELS - 1
1.
2.
3.
4.
5.
6.
7.
8.
GOSPEL OF THE NAZAREANS
GOSPEL OF THE EBIONITES
GOSPEL OF PETER
GOSPEL OF MARY
GOSPEL OF PHILIP
GOSPEL OF TRUTH
GOSPEL OF THE SAVIOR
GOSPEL OF JUDAS
LIST OF
NON-CANONICAL GOSPELS - 2
9. GOSPEL ACCORDING TO THE HEBREWS
10. GOSPEL ACCORDING TO THE
EGYPTIANS
11. COPTIC GOSPEL OF THOMAS
12. EGERTON 2: THE UNKNOWN GOSPEL
13. INFANCY GOSPEL OF THOMAS
14. PROTO-GOSPEL OF JAMES
15. SECRET GOSPEL OF MARK
FACTS ABOUT
THE
CANONICAL
GOSPELS
WHO WROTE THE GOSPELS - 1
No one knows who actually wrote any of
the Gospels. Not one was signed by an
individual nor any author mentioned
within the text. All the names that are
used today were added to manuscripts
sometime in the mid to late 100'S.
Because it is convenient, scholars
continue to use the existing names.
WHO WROTE THE GOSPELS - 2
It is doubtful that any of the original
Apostles were literate, especially in Greek
(KOINE) in which all the oldest
manuscripts are written. It is possible
that some of the Apostles dictated to
individuals who wrote down what they
said over time. Then later editors used
this material to put together the various
Gospels.
WHO WROTE THE GOSPELS - 3
Attributing writings to important
figures of the past in order to give
them more authority was a common
practice during this timeframe. The
terms for this are "pseudonymous
writings" or "pseudopigrapha" which
means "false writing" or "something
written under a false name".
WHO WROTE THE GOSPELS - 4
All the Gospels, Canonical and
Non-canonical, can be argued as
being written by someone other
than the name associated with the
Gospel.
WHEN WRITTEN - 1
No one knows when the original Gospel
manuscripts were written down. For dating
purposes, scholars look at:
1. The individual words used by the
authors.
2. How the words were used singly and in
context.
3. Sentence structure.
WHEN WRITTEN - 2
Word placement.
5. Writing style.
6. Spelling of certain words.
7. Description of events.
8. Customs mentioned.
9. Physical locations and names.
10. Description of physical structures (tile
roof vs. thatched)
11. Names of participants.
4.
WHEN WRITTEN - 3
Think of reading an article written in
1865, 1925, 1975, and 2010. Even if
the article was on the same subject,
many of the aforementioned points
would lead you to deduce the actual
timeframe that the article was
probably written.
GOSPEL FACTS FOR MARK - 1
1. WHO:
UNKNOWN
2. ATTRIBUTED: JOHN-MARK, DISCIPLE
OF PETER
3. WHEN:
BETWEEN 65 C.E. TO 70 C.E.
4. WHERE:
CITY OF ROME
5. AUDIENCE: ROMAN CHRISTIANS
6. WHY:
TO PROVIDE MORE
INFORMATION ON JESUS TO THE
PERSECUTED ROMAN CHRISTIANS
GOSPEL FACTS FOR MATTHEW - 1
1. WHO:
UNKNOWN
2. ATTRIBUTED: MATTHEW, ONE OF THE 12 APOSTLES
3. WHEN:
BETWEEN 75 C.E. TO 80 C.E.
4. WHERE:
NEAR PALESTINE, POSSIBLY
ANTIOCH OR DAMASCUS
5. AUDIENCE: JEWISH CHRISTIANS
6. WHY:
TO SHOW THE JEWISH
FOLLOWERS THAT JESUS WAS THE
MESSIAH AND FULFILLS SCRIPTURES.
GOSPEL FACTS FOR LUKE - 1
1.
2.
3.
4.
WHO:
UNKNOWN
ATTRIBUTED: LUKE, DISCIPLE OF PAUL
WHEN:
BETWEEN 80 C.E. TO 85 C.E.
WHERE:
IN THE REGIONS AROUND
ACHAIA (NORTHERN GREECE)
5. AUDIENCE: THEOPHILUS - A WELL TO
DO GENTILE CHRISTIAN
6. WHY:
TO WRITE A DEFINITIVE
WORK ON THE LIFE AND
PASSION OF JESUS
GOSPEL FACTS FOR JOHN - 1
1.
2.
3.
4.
5.
WHO:
UNKNOWN
ATTRIBUTED: JOHN, APOSTLE OF JESUS
WHEN:
BETWEEN 90 C.E. TO 100 C.E.
WHERE:
CITY OF EPHESUS
AUDIENCE:
GENTILE/JEWISH
CHRISTIANS IN ASIA MINOR
6. WHY:
TO CONVINCE THE
READERS THAT JESUS WAS THE CHRIST
WHERE CRITERIA - 1
The following criteria is a selection of
various ways to determine where a
document or manuscript may have
originated:
1. Vocabulary.
2. Sentence structure.
3. Type of stories.
4. Multiple languages in the manuscript.
GOSPEL SOURCES - 1
1. Mark: Oral traditions primarily
2. Matthew:
i) Oral traditions (called M)
ii) The Q Gospel
iii) Mark's Gospel (90%)
3. Luke:
i) Oral traditions (called L)
ii) The Q Gospel
iii) Mark's Gospel (50%)
GOSPEL SOURCES - 2
The Q Gospel: There are a significant
number of sayings that both Matthew
and Luke have in common but are not
in Mark. In fact some of the verses are
virtually the same word for word. This
list of verses are referred to as the
Gospel of Q from "QUELLE" which is
the "SOURCE" in German.
GOSPEL SOURCES - 3
There are three major features of Q'S
primary structure:
1. There are around 200 verses that Matthew
and Luke have in common that are not in
Mark.
2. Matthew groups the Q sayings in several
composite discourses.
3. Luke scatters them about his writings. It
appears that Luke's sequence retained a
closer resemblance to the original Q.
GOSPEL SOURCES - 4
The Q Gospel: The Gospel was first
proposed in the late 1800's and caused much
controversy. The last real argument against
its existence was that there was/is no writings
which have just a list of sayings by Jesus.
None had ever been discovered so there was
no proof that such a document could have
possibly existed. This all changed in 1945
with the discovery of the Coptic Gospel of
Thomas and its 144 sayings of Jesus.
GOSPEL SOURCES - 5
4. JOHN: Disputed. Most scholars agree that
whomever one thinks the author of John is
will determine what they feel the sources are.
Many feel that its primary source was an
eyewitness such as the Apostle John even
though there is nothing in the Gospel that
actually says this. Other scholars contend
that the eyewitness was another disciple who
passed on the information.
GOSPEL SOURCES - 6
4.(cont.) A majority of scholars do agree
that the other Gospels were either not a
source or a very minor one as there are
significant differences between these
Gospels. The eyewitness source did not
have to actually write the original Gospel
and probably did not. The source
provided the information which later
scribes wrote down.
GOSPEL
MANUSCRIPTS
FACTS
&
ISSUES
GOSPEL MANUSCRIPTS FACTS - 1
1. All the Gospels are written on what we
generally referred to as manuscripts of
papyrus. These are the source material
for the bibles that we read.
2. Almost all old Gospel manuscripts are
written in Koine, a version of ancient
Greek. Later (by hundreds of years)
manuscripts were written in Latin,
Syriac, Aramaic, and Coptic.
GOSPEL MANUSCRIPTS FACTS - 2
3. All the original Gospels were first
written down in their fullest forms
any where from 35 years to 150 years
after Jesus of Nazareth's ministry.
4. There are pieces of manuscripts
going back to about 110 A.D.
(fragment from the Gospel of Mark).
GOSPEL MANUSCRIPTS FACTS - 3
4. For the Canonical Gospels, there are over
5686 different Greek manuscripts (19,000
in different ancient languages) that can be
used as a source for any Gospel Bible
translation.
5. There are over 250,000 minor to major
differences among all these manuscripts.
6. No one manuscript is the "PERFECT" or
"TRUE" version of any Gospel.
GOSPEL MANUSCRIPTS FACTS - 4
7. The ages of all Gospel manuscripts reach
from a few hundred years old back to the
2nd century A.D., almost 2000 years ago.
8. All Gospel manuscripts are copies of
copies of copies of copies, etc. of the
original manuscripts.
9. The originals have all vanished due to the
aging process.
10. All manuscripts prior to the 1400's were
copied by hand.
GOSPEL MANUSCRIPTS FACTS - 5
11. In
the earliest years, those copiers
were often amateurs, some barely
literate. After several centuries,
copying became the province of
"PROFESSIONALS", mostly monks
in monasteries.
12. Some manuscripts may have been
copied by individuals who could not
even read Koine.
GOSPEL MANUSCRIPTS FACTS - 6
13. The older that a manuscript is the
greater reliability that it may reflect
what may have been originally written
down by the Evangelists.
14. The goal of Gospel scholarship is to
"WORK" one's way back to the earliest
copy and determine what may have
been added, modified, or deleted by
later Editors over the centuries.
GOSPEL MANUSCRIPTS FACTS - 7
For the NON-CANONICAL Gospels, there
are only one to maybe three manuscripts
available as sources for translation.
THOMAS – One full, 3 fragments
PETER – One partial version, 2
fragments
MARY
– One partial, 2 fragments
JUDAS – Only one partial (nearly
complete) version
GOSPEL MANUSCRIPTS FACTS - 8
All the points covered previously apply as
well to the NON-CANONICAL Gospels
with these additions:
1. In many cases, only partial copies exist.
2. Some are written in Coptic which
would have been translated from
Koine.
3. Very little outside commentary has
survived the centuries.
A GOSPEL MANUSCRIPT - 1
GREEK GOSPEL MANUSCRIPT - 1
GREEK GOSPEL MANUSCRIPT - 2
1. No punctuations, no commas, no periods,
no semi-colons, no quotation marks.
Referred to as "scriptio continua".
2. Sentences are run together one word
after the other.
3. No standardized breaks between words.
4. No standardized spellings.
5. No capitalization standards.
GREEK GOSPEL MANUSCRIPT - 3
In plain terms, the texts are little
more than indecipherable squiggles
on a page. A person must
understand that those squiggles are
ancient (Koine). To be understood
they need to be read within the
context of the language usage of the
time that they were written.
GREEK GOSPEL MANUSCRIPT - 4
And all Bibles, no matter what
version or title or source or
Christian denomination, come
from these Greek manuscripts
which were copied over the
centuries by ROMAN CATHOLIC
MONKS.
Q&A
LECTURE
TWO
TRANSLATION
THE PAST
TO
THE PRESENT
IMPORTANT QUOTE
ANY TRANSLATION
IS
AN INTERPRETATION.
BIBLICAL SCHOLAR MARVIN MEYER.
FROM JESUS REMEMBERED - 2
Biblical Scholar James Dunn:
Language which speaks to the
imagination and spirit can rarely
be translated into factual
description without substantive
loss.
TRANLATION CHAIN - 1
The Gospel that any modern person reads
today in English has the following
TRANSLATION CHAIN from the original
source to the written page in any version of
any Bible:
1. The original source: Jesus of Nazareth.
2. Jesus most likely spoke and taught in
Aramaic.
TRANLATION CHAIN - 2
3. His followers passed on this information for
the most part in Aramaic. It is possible that
some of his disciples spoke a dialect of Koine
which was the "LINGUA FRANCA" of the
Eastern Roman Empire.
4. It is very unlikely that any of the original
Apostles were literate. John & Peter were
described as illiterate in Acts4:13.
TRANLATION CHAIN - 3
5. It is possible that some early writings
about Jesus (sayings, actions, stories)
could have been written down in Aramaic
(or Koine) by the followers of the early
Disciples. These writings could have been
"SOURCE MATERIAL" for the later
Evangelists.
6. This "SOURCE MATERIAL" was
probably scattered across many cities.
TRANLATION CHAIN - 4
7. The literacy rate in 100 A.D. was
maybe 5% who could read and write.
8. The original manuscripts were most
likely written by amateur scribes (I
have speculated that some of them
could well have been pagans.).
9. Their source material was most likely
oral, some written, and some
imagination and speculation.
TRANLATION CHAIN - 5
10. It is very likely that much of this was
written down in Koine by later scribes.
11. What is read in a current Bible today is
a translation of that Koine into English.
12. Each translation whether done recently
or centuries ago is unique to the people
or individual who did the translation.
TRANSLATION CHAIN - 6
Note the path from Jesus of Nazareth to the
present:
Aramaic from Jesus
Aramaic (oral and/or written)
Koine (oral & written)
Koine (copied over and over)
English (written)
English to Modern English (paraphrased)
TRANLATION ADVISORY - 1
When a Gospel is translated by an
individual(s), the translation is constricted by
the following:
1. The language being translated from
(generally Koine).
2. The language being translated into
(English).
3. The timeframe of the translation.
4. The expertise and training of the
translator(s).
5.
6.
7.
8.
9.
TRANLATION ADVISORY - 2
Subjectivity of the translator(s).
The doctoral beliefs, dogma, or motives of
the translator(s) (or the sponsors of the
translation process – whose money is used).
The source manuscripts.
The ultimate purpose or agenda of the
translation (for whom is it done).
The modern cultural background of the
translators.
TRANLATION ADVISORY - 3
10. The limitations of the language into
which the translation is done.
11. How the translators understand the
ancient culture, their concepts, and
their ways of thinking as well as the
political and social systems that
existed at the time the Gospels were
written vs. the time they represent.
TRANLATION ADVISORY - 4
12. The
translator must be cognizant
of how to respond to the following
statement:
"The Gospels were not portrayals of
Jesus as he was, but of Jesus as his
disciples saw him."
TRANLATION ADVISORY - 5
From James Dunn, a Biblical Scholar:
"There are such things as bad and even
(Dare I say it?) wrong translations….
Consequently, there is no such thing as a
single correct translation of a foreign
language text, far less a perfect
translation."
TRANSLATION EXAMPLE # 1 - 1
From the Billy Graham Crusade 1971
Edition of the Living Bible JOHN13:23:
"Since I was sitting next to Jesus at the table,
being his closet friend,"
Please compare to the 21 other Bible
translations on the handout and to your own
copy.
TRANSLATION EXAMPLE # 1 – 2
While examining the handout and your
bible, keep in mind all the previous
points that go into translating that single
verse.
For example: Just consider how the
word 'sitting' vs. 'reclining' will present
a different image in one's mind when
interpreting what is being described.
TRANSLATION EXAMPLE # 1 - 3
1. Not one of the translations are 100% the
same for all verses.
2. Most are very similar but the wording
and order tend to be unique.
3. The BG verse uses the word "I" instead
of "the Disciple Jesus loved".
4. In most Bibles from 1971 "other
disciple" would have been "the beloved
disciple".
TRANSLATION EXAMPLE # 1 - 4
This is an example of the translator using
his belief that the author of the Gospel of
John is:
1. The beloved disciple
2. The Apostle John, the son of Zebedee.
Consequently, he changes from a third
person orientation to a first person
presentation and paraphrases into
colloquial English.
TRANSLATION EXAMPLE # 1 - 5
Such a "MINOR" change is a major
revision to what was actually written in
the original Greek. No where is the
beloved disciple actually named in the
Gospel nor does the Gospel anywhere
state who really wrote the Gospel.
The translator imposed his beliefs on the
translation.
TRANSLATION EXAMPLE # 1 - 6
This change is important because it is
saying that an Apostle wrote the Gospel
and was an eyewitness, thus supporting
the veracity of the stories contained in
the document. If the Apostle John is the
author, it is proof that the Gospel is
"real". Unfortunately, there is no basis
for such a change other than the
translator's personal belief.
TRANSLATION EXAMPLE # 2 - 1
Please look at the handout for Mark1:8.
"I baptize you with(in) water, but he will
baptize you with(in) the Holy Spirit."
The Greek word "en" can be translated
as any of the following words: "in, on, at,
by, with". The translator must decide by
context or placement of other words
around it which word to use.
TRANSLATION EXAMPLE # 2 - 2
A translation of "in water" implies
baptism by immersion, the Anabaptist
tradition. And most denominations that
use immersion do so only for adults or
individuals who have reached the "age of
reason".
TRANSLATION EXAMPLE # 2 - 3
A translation which has "with water" is
used to support Baptism by sprinkling
water on the head and by extension for
some denominations "Infant Baptism".
For some this word translation can be a
very controversial point. There is no
"correct" or "perfect" translation of this
word that would resolve this point.
TRANSLATION EXAMPLE # 3 - 1
Please look at the handout for Matthew19:9.
"…except for sexual immorality…"
The key word is the Greek word
"porneia". That phrase is translated in
four different ways by the various Bible
versions. This is important because it
deals with the exceptions that allow
divorce.
TRANSLATION EXAMPLE # 3 - 2
As one reads from the many versions,
the translators do not agree how to
translate that one word, thus
creating an issue for arguing over
what is permissible and what is not
permissible to obtain a divorce.
TRANSLATION EXAMPLE # 4 - 1
Please look at the handout for Mark6:3
"…he is just a carpenter…"
The key word is the Greek word
"tekton". That term can be translated
literally: " craftsman who worked with
his hands". That can include a carpenter
but also a stone mason or just a day
laborer.
TRANSLATION EXAMPLE # 4 - 2
Out of 21 different bibles, only one used
the word builder" rather than "carpenter".
Was that incorrect? Or do modern day
translators use the word "carpenter"
because that has been used for over a
thousand years and is what everyone is
familiar with? The answer is that the
translator has to decide how to translate
this word.
TRANSLATION EXAMPLE # 4 - 3
Within the context of the entire verse, there
is no referent or linguistic support to push
the translation toward one specific
meaning or another. None are more
correct than any other. Jesus occupation
(and that of Joseph) is really non-specific.
FROM ARAMAIC TO
GREEK
OR
FROM GREEK TO
ARAMAIC
DIALOGUE OF NICODEMAS - 1
The issues of translation can go back to the
early manuscripts themselves between the
languages that today must be the source for
modern translations of the bible. Lets
consider the DIALOGUE of Nicodemas in
John3:3 – 4. The center piece of the dialogue
is the confusion by Nicodemas about the
words "TO BE BORN AGAIN". He took it
literally (back to the womb) while Jesus of
Nazareth meant it spiritually.
DIALOGUE OF NICODEMAS - 2
The play on these words can only
happen in the Greek (Koine) where
there is only one way to say "to be born
again". Whereas, in Aramaic, there are
two separate words for expressing the
concept of "TO BE BORN AGAIN",
depending on what the speaker is trying
to say.
DIALOGUE OF NICODEMAS - 3
Both Jesus and Nicodemas are native
members of the 1st Century Jewish
community. Consequently, it is
reasonable to suppose that they were
both Aramaic speakers and that the
conversation between them would have
been in Aramaic, not Koine.
DIALOGUE OF NICODEMAS - 4
This fact begs the question whether the
conversation ever took place as it is written.
The manuscript was written in Greek but the
original conversation was most likely in
Aramaic. Did the Evangelist, who was
probably a Greek speaking individual, create
this part of the conversation?? Perhaps
modified another conversation from the
source that he was copying??
DIALOGUE OF NICODEMAS - 5
Among some scholars this has become a
debate. To prove that this dialogue
could have happened, it was shown from
an 8th Century manuscript of the Gospel
of John that was written in Aramaic that
it was possible to express these concepts
in Aramaic.
DIALOGUE OF NICODEMAS - 6
The detractors, then, suggested that the
8th Century manuscript was a copy of a
Greek manuscript and that the original
copyist (from Koine to Aramaic) created
the verbiage necessary to get the concept
across in Aramaic so that Nicodemas
could be confused.
Q&A
LECTURE
THREE
TRANSLATION
ISSUE
MANUSCRIPT
DIFFERENCES
MANUSCRIPT DIFFERENCES - 1
Another issue that must be addressed by
translators is what "original"
manuscript(s) should be used as the
source material for the translation. The
overriding issue is the fact that some
manuscripts do not have the same
wording or verses as other manuscripts.
Consider the following examples from
all of the Canonical Gospels.
MANUSCRIPT DIFFERENCES - # 1 - 1
1. JOHN8 – The
woman caught in
adultery. This story is NOT in the
oldest and best manuscripts that exist
today. It is also found in different
locations in John and Luke depending
on the source manuscript. Many
scholars feel that it was added during
later centuries by editors and copiers for
some unknown reason.
MANUSCRIPT DIFFERENCES - # 2 - 1
2. Mark 16:9-20 has been called a later addition
to the Gospel of Mark by most New Testament
scholars in the past century. The main reason for
doubting the authenticity of the ending is that it
does not appear in some of the oldest existing
manuscripts, and it is reported to be absent from
many others in ancient times by early writers of
the Church. Moreover, the ending has some
stylistic features which also suggest that it came
from another hand.
BIBLERESEARCH.COM
MANUSCRIPT DIFFERENCES - # 3 - 1
3. LUKE9:55-56 Older manuscripts generally
say: "But Jesus turned and rebuked them
and they went on to another village."
Later manuscripts have the following added:
"And Jesus said: You don't realize what your
hearts are like. For the Son of Man has not
come to destroy men's lives but to save
them."
No one is sure of its origins.
MANUSCRIPT DIFFERENCES - # 4 -1
4. MATTHEW 17:21
"BUT THIS KIND (DEMON) DOES NOT GO
OUT EXCEPT BY FASTING AND PRAYER."
The verse is not included in many of the
newer Bible translations because the
older manuscripts do not have this verse.
It was added to later manuscripts by
copiers who took it from Mark (or so it
assumed that this is the source).
MANUSCRIPT DIFFERENCES - # 5 - 1
5. MATTHEW 23:14 "Woe to you, scribes and Pharisees,
hypocrites! Because you devour widows'
houses and for a pretense you make long
prayers; for this [reason] you will receive the
greater condemnation."
The verse is not included in many of the
newer Bible translations but it is in the
older, "more conservative" translations.
MANUSCRIPT DIFFERENCES - # 5 - 2
5. (cont.) MATTHEW 23:14 It is considered "quite anti-Jewish" and
the verse has been used historically to
rally anti-Semitic rhetoric. Its omission
is supported by the fact that it is not in
older manuscripts. Some scholars claim
it was added to manuscripts by copyists
after the 4th and 5th centuries.
MANUSCRIPT DIFFERENCES - # 6 - 1
6. Please refer to the handout for MARK1:41.
Which is correct, the word pity or anger?
The various manuscripts have either of these
two different Greek words "splagchnizomai"
(pity) or "orgizō" (anger).
The reason for these differences may have to
do with a copyist changing Jesus anger to be
compassion because of the image that they
wish to portray.
MANUSCRIPT DIFFERENCES - # 6 - 2
6. (cont.) The large majority of Bibles
will have the word pity or compassion
but that is a CHOICE by the
translator(s) because many
manuscripts have the word anger or
indignant. Is the translation
influenced by the desire to show Jesus
of Nazareth as only a caring healer?
MANUSCRIPT DIFFERENCES - # 7 - 1
7. Please refer to the handout for
Matthew24:36. Here the phrase "nor the son"
is included in 10 out of 21 versions of the
Bible. Many manuscripts do include those
words while a majority do not. If the son is
co-equal or the same substance of the Father,
how could he not know the day or the hour of
the "second coming". (Lost Christianities –
Arianism). Is it possible that these words were
intentionally deleted from some manuscripts?
MANUSCRIPT DIFFERENCES - # 7 - 2
7. (cont.) These words were used by the
supporters of Arianism is justify their
belief that the Son was subservient to the
Father. When translating for a Bible
version today which should be used?
That is a decision that the translator
must make, either by choosing to use a
certain manuscript or just modifying the
one that is being used.
MANUSCRIPT DIFFERENCES - # 8 - 1
8. Please refer to the handout for Mark14:24.
Although it is possible that the word "new"
was accidently omitted due to a mistake of
the eye (the Greek words for "the," "new,"
and "covenant" all end in the same two
letters), it is much more likely that it was
added here by copyists from the parallel
accounts in Luke 22:20 and I Corinthians
11:25. (From website on textual variants.)
MANUSCRIPT DIFFERENCES - # 9 - 1
9. Please look at the handout for Matthew19:9.
"…and he who marries her when she is
divorced commits adultery."
To add to the divorce debate exceptions
is the above phrase which is not in about
half of the various Bible versions. It is
not in many older manuscripts and is left
out for that reason.
MANUSCRIPT DIFFERENCES - # 9 - 2
9. However, it places a restriction on
men that has been already placed on
women. In recent years, it has been
suggested by some scholars (and
theologians) that the rule should be
gender neutral. Other scholars claim
that it should only be included if one
believes it was actually said by Jesus.
MANUSCRIPT DIFFERENCES - # 10 - 1
10. Please look at the handout for
Matthew19:29.
"…brothers or sisters or father or
mother or wife or children or fields..."
The words "or wife" are missing from
many manuscripts. This particular
phrase has been used as one source for
the justification of celibacy by some
Christians denominations.
MANUSCRIPT DIFFERENCES - # 10 - 2
Without these words, it could be argued
that Jesus specifically did not want a
man to abandon a wife as the sole
exception, thus encouraging married
men to follow him with their wives.
Keeping or not keeping these words
could become a decision influenced by
doctrinal beliefs.
MANUSCRIPT DIFFERENCES - # 11 - 1
10. Please refer to the handout for
Matthew18:11- "For the Son of man is come
to save that which was lost." For some
versions of the bible, this verse is not even in
the accepted translation. There are a number
of old manuscripts that do not have this verse.
Many Biblical scholars feel that a copyist at
some point in time borrowed from Luke19:10,
modified it slightly and added it into Matthew.
MANUSCRIPT DIFFERENCES - # 11 - 2
10. (cont.) Then, what criteria is
used to determine by a translator
whether a given verse should stay in
or not??? The person(s) doing the
particular version of the Bible are
the ones making that decision based
on his/her/their protocols and rules.
MANUSCRIPT DIFFERENCES - # 11 - 3
10. (cont.) From the Chief Editor of NIV:
"In 1609, when the KJV was created,
scholars only had less than ten Greek
manuscripts, none from before 1000 A.D.
When putting together the NIV, the editors
had thousands of manuscripts…some as old
as 350 A.D. The manuscript evidence to
support the NIV makes this translation
considerably more accurate than the KJV."
MANUSCRIPT DIFFERENCES - # 11 - 4
10. (cont.) From the Chief Editor of NIV:
"The creators of the NIV did not take
away from the word. It was an early
copyist of the New Testament in Greek
who added to the word. You should trust
your NIV and distrust your KJV in
general, although there are occasional
exceptions to this rule."
SUMMARY OF MANUSCRIPT
DIFFERENCES
These eleven examples are just a few of
the many differences among the
manuscripts from which a translator
will have to choose. There is no
"CORRECT" answer. There are
traditions, dogmas, doctrines, and other
motives to include, exclude, or even
modify the contents of manuscripts for
inclusion or exclusion from any Bible.
Q&A
SUMMARY
OF THE
FOUR GOSPELS
AND THEIR FACTS
& ISSUES
THE TRADITION - 1
A QUOTE FROM BIBICAL SCHOLAR JAMES
DUNN:
Few scholars today will say that the written
sources, e.g. the Gospels, will take the reader
back directly to the Jesus who worked and
taught in Galilee at least three or four decades
earlier. The question is whether this earlier
tradition fully or partially bridges the period
between Jesus and our present sources.
THE TRADITION - 2
Much of our understanding of Jesus
today comes from the traditions that are
contained in the written sources which in
turn are derived from earlier oral and
written traditions.
The purpose of this course was to show
the difficulties that even presenting these
written sources entail.
THE TRADITION - 3
Too much is assumed to be "TRUE" from
a tradition rather than a literal fact.
Anyone presenting a Gospel to be read by
the "GENERAL PUBLIC" today should
understand that there is no single answer
or interpretation, "NO ABSOLUTE
TRUTH".
THE TRADITION - 4
As I pointed out in the course "LOST
CHRISTIANITIES", one person's
divinely inspired written sources are
another person's heresies. AND VICE
VERSA. Who can say which is "RIGHT"
and which is "WRONG"? This is where
we must be very careful about tradition
(and opinion).
THE GOSPEL OF JUDAS
In November, 2015, Part Four of the
History of Christianity series will
continue with a class on this Noncanonical Gospel that is claimed to
have been written or dictated by the
Apostle Judas.