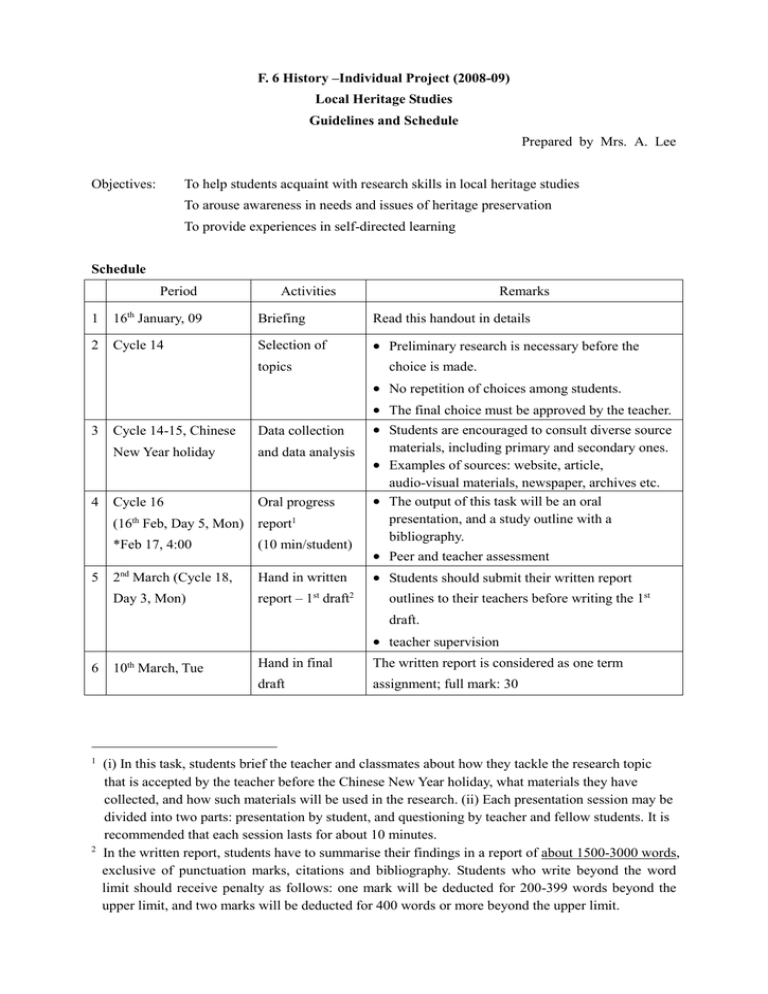 F. 6 History –Individual Project (2008-09)
Local Heritage Studies
Guidelines and Schedule
Prepared by Mrs. A. Lee
Objectives:
To help students acquaint with research skills in local heritage studies
To arouse awareness in needs and issues of heritage preservation
To provide experiences in self-directed learning
Schedule
Period
Activities
Remarks
1
16th January, 09
Briefing
Read this handout in details
2
Cycle 14
Selection of
 Preliminary research is necessary before the
topics
3
4
choice is made.
 No repetition of choices among students.
 The final choice must be approved by the teacher.
 Students are encouraged to consult diverse source
Cycle 14-15, Chinese
Data collection
New Year holiday
and data analysis
Cycle 16
Oral progress
th
(16 Feb, Day 5, Mon) report1
5
*Feb 17, 4:00
(10 min/student)
2nd March (Cycle 18,
Hand in written
Day 3, Mon)
report – 1 draft
st
materials, including primary and secondary ones.
 Examples of sources: website, article,
audio-visual materials, newspaper, archives etc.
 The output of this task will be an oral
presentation, and a study outline with a
bibliography.
 Peer and teacher assessment
 Students should submit their written report
2
outlines to their teachers before writing the 1st
draft.
 teacher supervision
6
1
2
10th March, Tue
Hand in final
The written report is considered as one term
draft
assignment; full mark: 30
(i) In this task, students brief the teacher and classmates about how they tackle the research topic
that is accepted by the teacher before the Chinese New Year holiday, what materials they have
collected, and how such materials will be used in the research. (ii) Each presentation session may be
divided into two parts: presentation by student, and questioning by teacher and fellow students. It is
recommended that each session lasts for about 10 minutes.
In the written report, students have to summarise their findings in a report of about 1500-3000 words,
exclusive of punctuation marks, citations and bibliography. Students who write beyond the word
limit should receive penalty as follows: one mark will be deducted for 200-399 words beyond the
upper limit, and two marks will be deducted for 400 words or more beyond the upper limit.