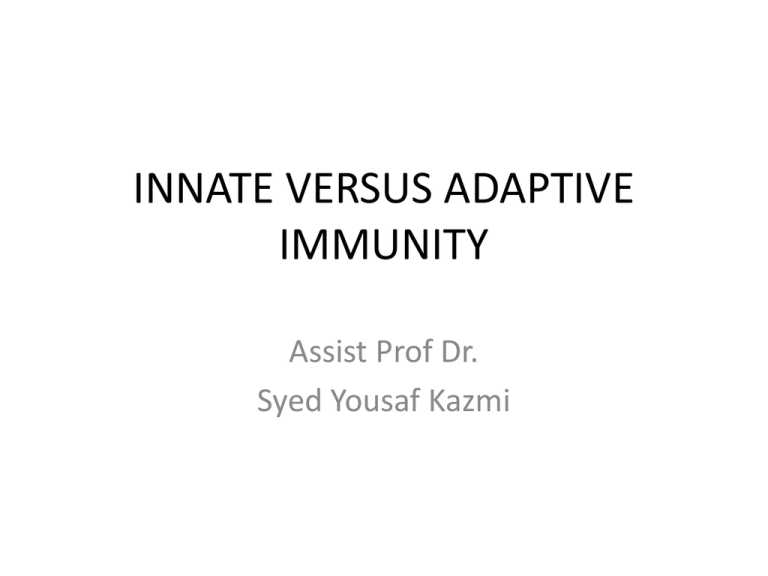 INNATE VERSUS ADAPTIVE
IMMUNITY
Assist Prof Dr.
Syed Yousaf Kazmi
OBJECTIVES
• Define and classify immunity
• Distinguish innate and adaptive immunity
• Explain the mechanism of innate and adaptive
immunity
• Discuss the clinical importance of immunity
IMMUNITY
DEFINITION
"A state of having sufficient
biological defenses to
avoid infection, disease or
other unwanted biological
invasion"
Capability of the body to
resist harmful microbes
from entering it
CLASSIFICATION OF IMMUNITY
A. INNATE
Nonspecific host defense
not acquired through
contact with an antigen
e.g. intact skin, mucous
membranes etc.
B. ADAPTIVE
Protection acquired through
natural or deliberate
introduction of an antigen
into a responsive host
CLASSIFICATION OF IMMUNITY
ADAPTIVE IMMUNITY
1. Natural
If adaptive immunity is acquired through some natural
processes e.g. infection
a. Naturally acquired Active immunity
When immunity is induced in the host by some
natural means e.g. immunity after Hepatitis B
infection
b. Naturally acquired Passive immunity
When immunity is passively transferred from an
immune host e.g. maternal transfer of IgG against
various infections
CLASSIFICATION OF IMMUNITY
ADAPTIVE IMMUNITY
2. Artificial
Adaptive immunity acquired through intervention
a. Artificially acquired active immunity
Immunity acquired post vaccination
b. Artificially acquired passive immunity
Immunity acquired from administration of preformed
antibodies against specific disease e.g. Rabies
immunoglobulins
CLASSIFICATION OF IMMUNITY
CLASSIFICATION OF IMMUNITY
ADAPTIVE IMMUNITY
Can also be classified as
1. Humoral immunity
Immunity that is
mediated by secreted
antibodies
2. Cell mediated
immunity
The protection provided
by T-lymphocytes alone
INNATE & ADAPTIVE IMMUNITY
INNATE IMMUNITY
– Resistance that exists prior to exposure to the
microbe
– Readily available
– Non specific
– Does not improve on repeated exposures
– There is no immunologic memory
– e.g. Natural barriers like skin, stomach acid
ADAPTIVE IMMUNITY
– Immunity that is developed on exposure of
antigen
– Develops in few days
– It is highly specific
– It improves on repeated exposure
– There is immunologic memory
– e.g Immunoglobulins, sensitized T lymphocytes
MECHANISMS OF INNATE IMMUNITY
INNATE IMMUNITY
A. Factors that limit entry of microorganisms into the body
Keratin layer of intact skin
Acts as mechanical barrier
Lysozyme in tears and other
secretions
Degrades peptidoglycan in bacteria cell wall
Respiratory cilia
Elevate mucus-containing trapped organisms
Low pH in stomach and
vagina; fatty acids in skin
Retards growth of microbes
Surface phagocytes (e.g.,
alveolar macrophages)
Ingest and destroy microbes
Defensins (cationic peptides) Create pores in microbial membrane
Normal flora of throat, colon, Occupy receptors, which prevents colonization by
and vagina
pathogens
MECHANISMS OF INNATE IMMUNITY
B. Factors that limit entry of microorganisms into the body
Natural killer cells
Kill virus-infected cells
Neutrophils
Ingest and destroy microbes
Macrophages and
dendritic cells
Ingest and destroy microbes, and present antigen to
helper T cells
Interferons
Inhibit viral replication
Complement (Alternate
pathway)
C3b is an opsonin; membrane attack complex creates
holes in bacterial membranes
Transferrin and lactoferrin Sequester iron required for bacterial growth
Fever
Elevated temperature retards bacterial growth
Inflammatory response
Limits spread of microbes
MECHANISMS OF ADAPTIVE IMMUNITY
• Can be antibody-mediated (humoral), cell-mediated
(cellular), or both
• Microbe e.g. bacteria is taken up by Antigen presenting
Cell (Macrophage, Dendritic Cell)
• Nonself antigens reappear on the APC surface with
proteins encoded by the major histocompatibility
complex (MHC)
• Presented to clones of T lymphocytes
• The MHC-antigen complexes are recognized by specific
receptors on the surface of T cells
• Variety of cytokines that induce lymphocyte proliferation
MECHANISMS OF ADAPTIVE IMMUNITY
Antibody-mediated arm
• Helper (CD4) T lymphocytes recognize the
antigens complexed with class II MHC
proteins
• produce cytokines that activate B cells
expressing antibodies
• B cells undergo clonal proliferationdifferentiate to form plasma cellsAntibodies
• neutralization of toxins and viruses and
opsonization (coating) of the pathogen
MECHANISMS OF ADAPTIVE IMMUNITY
Cell-mediated arm
• Antigen-MHC class II complex is recognized by
helper (CD4) T lymphocytes
• T cells produces cytokines, becomes activated,
and expands by clonal proliferation
Humoral & Cell Mediated Arms
Antibody-mediated arm of Adaptive
Immunity
CLINICAL IMPORTANCE OF IMMUNITY
Intact and functioning immune system is essential
for health
In immune disturbances, following conditions may
arise
a. IMMUNODEFICIENCY CONDITIONS
e.g. HIV inf, other immune def conditions
b. HYPERSENSITIVITY REACTIONS
e.g. Asthma, Hay fever etc
c. AUTOIMMUNE DISORDERS
e.g. Rheumatiod arthritis, SLE etc.