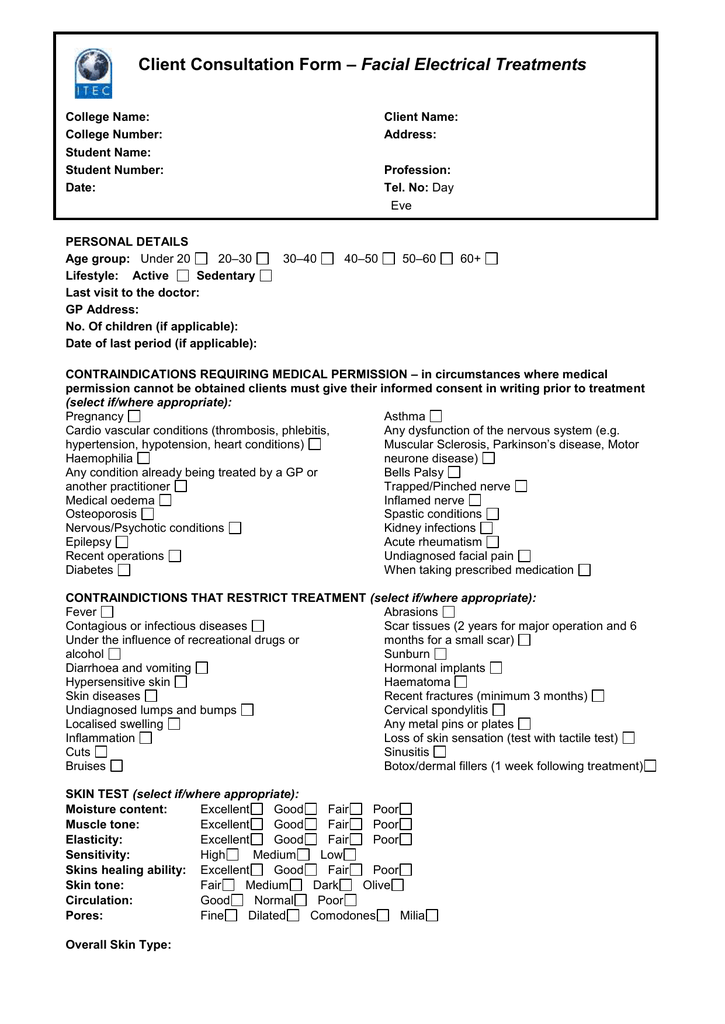 Client Consultation Form – Facial Electrical Treatments
College Name:
College Number:
Student Name:
Student Number:
Date:
PERSONAL DETAILS
Age group: Under 20
20–30
Lifestyle: Active
Sedentary
Last visit to the doctor:
GP Address:
No. Of children (if applicable):
Date of last period (if applicable):
Client Name:
Address:
Profession:
Tel. No: Day
Eve
30–40
40–50
50–60
60+
CONTRAINDICATIONS REQUIRING MEDICAL PERMISSION – in circumstances where medical
permission cannot be obtained clients must give their informed consent in writing prior to treatment
(select if/where appropriate):
Pregnancy
Asthma
Cardio vascular conditions (thrombosis, phlebitis,
Any dysfunction of the nervous system (e.g.
hypertension, hypotension, heart conditions)
Muscular Sclerosis, Parkinson's disease, Motor
Haemophilia
neurone disease)
Any condition already being treated by a GP or
Bells Palsy
another practitioner
Trapped/Pinched nerve
Medical oedema
Inflamed nerve
Osteoporosis
Spastic conditions
Nervous/Psychotic conditions
Kidney infections
Epilepsy
Acute rheumatism
Recent operations
Undiagnosed facial pain
Diabetes
When taking prescribed medication
CONTRAINDICTIONS THAT RESTRICT TREATMENT (select if/where appropriate):
Fever
Abrasions
Contagious or infectious diseases
Scar tissues (2 years for major operation and 6
Under the influence of recreational drugs or
months for a small scar)
alcohol
Sunburn
Diarrhoea and vomiting
Hormonal implants
Hypersensitive skin
Haematoma
Skin diseases
Recent fractures (minimum 3 months)
Undiagnosed lumps and bumps
Cervical spondylitis
Localised swelling
Any metal pins or plates
Inflammation
Loss of skin sensation (test with tactile test)
Cuts
Sinusitis
Bruises
Botox/dermal fillers (1 week following treatment)
SKIN TEST (select if/where appropriate):
Moisture content:
Excellent
Good
Fair
Poor
Muscle tone:
Excellent
Good
Fair
Poor
Elasticity:
Excellent
Good
Fair
Poor
Sensitivity:
High
Medium
Low
Skins healing ability: Excellent
Good
Fair
Poor
Skin tone:
Fair
Medium
Dark
Olive
Circulation:
Good
Normal
Poor
Pores:
Fine
Dilated
Comodones
Milia
Overall Skin Type:
TREATMENTS TO INCLUDE (select if/where appropriate):
Iontophoresis
Microcurrent
Desincrustation
Vacuum Suction
Direct High Frequency
Faradism
Indirect High Frequency
Treatment Details:
Client feedback:
After/Home care advice:
Student's/Therapist's signature…………………………..
Client's Signature…………………………………………..