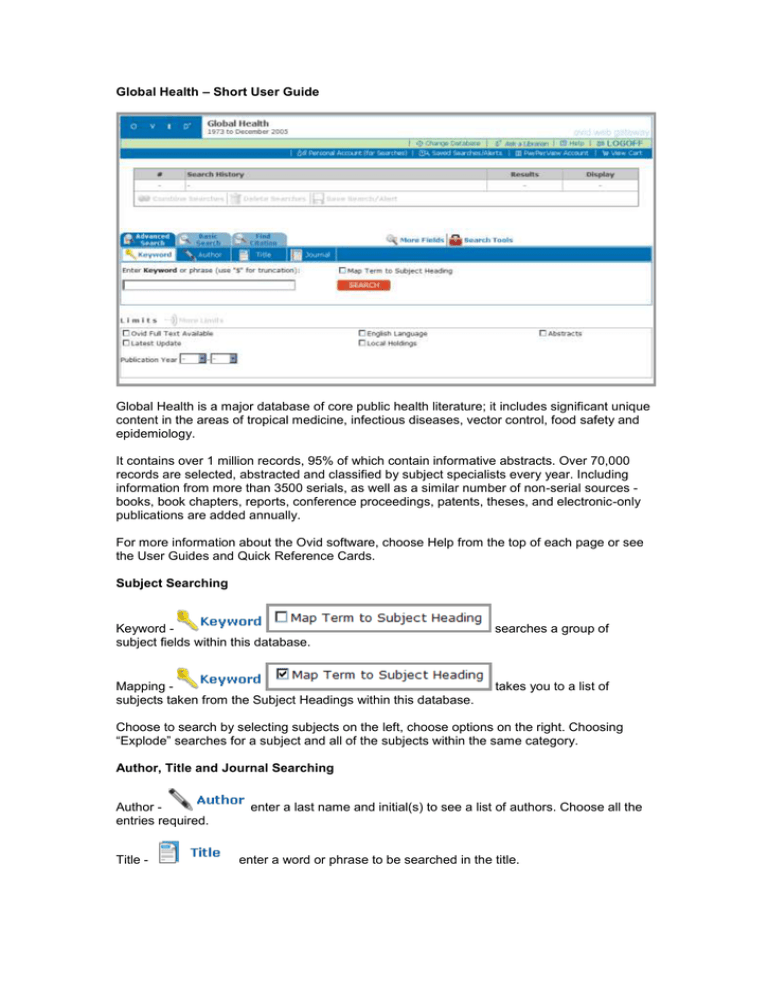 Global Health – Short User Guide
Global Health is a major database of core public health literature; it includes significant unique
content in the areas of tropical medicine, infectious diseases, vector control, food safety and
epidemiology.
It contains over 1 million records, 95% of which contain informative abstracts. Over 70,000
records are selected, abstracted and classified by subject specialists every year. Including
information from more than 3500 serials, as well as a similar number of non-serial sources books, book chapters, reports, conference proceedings, patents, theses, and electronic-only
publications are added annually.
For more information about the Ovid software, choose Help from the top of each page or see
the User Guides and Quick Reference Cards.
Subject Searching
Keyword subject fields within this database.
searches a group of
Mapping subjects taken from the Subject Headings within this database.
takes you to a list of
Choose to search by selecting subjects on the left, choose options on the right. Choosing
"Explode" searches for a subject and all of the subjects within the same category.
Author, Title and Journal Searching
Author entries required.
Title -
enter a last name and initial(s) to see a list of authors. Choose all the
enter a word or phrase to be searched in the title.
Journal enter the name of a journal or publication to see a list of publications.
Choose all the entries required.
Other Database Fields
More Fields –
choose here to see a list of all searchable fields within a
database. One field, any combination of fields or all fields can be searched (Perform Search)
or browsed (Display Indexes). Choose the I icon (or the Field Guide) to see field information.
Notable Fields
Subject Fields
Broad Terms – a subject field containing, the broader subject categories for subjects,
locations or organisms in the subject headings.
CABICODES/CABICODE Words – the CAB classification search or browse using the numeric
codes or words, or use the classification browsing Tool.
Descriptor Index – Geographic Locations, Organisms, Subject Headings
Geographic Location – places, regions, countries.
Identifiers – new or novel subjects
Organism Descriptors – names of plants, animals, bacteria etc
Subject Headings/Heading Words – subjects from the CAB Thesaurus.
Other Fields
CAS Registry Numbers – unique numbers which describe chemical substances.
E Mail Address – author or contact email address.
Institution – location or address or the author, generally companies, academic institutions or
government departments.
Meeting – information about a conference or meeting. See Document Title.
Original Title – foreign language title for non-English publications.
Limits
Commonly used limits are listed on the Main Search Page, Others can be chosen from the
More Limits
page. Limits generally allow you to choose from within types
of documents, languages and parts of the population.
Print, Save and Email
Use Results Manager to Print, Save or Email results.