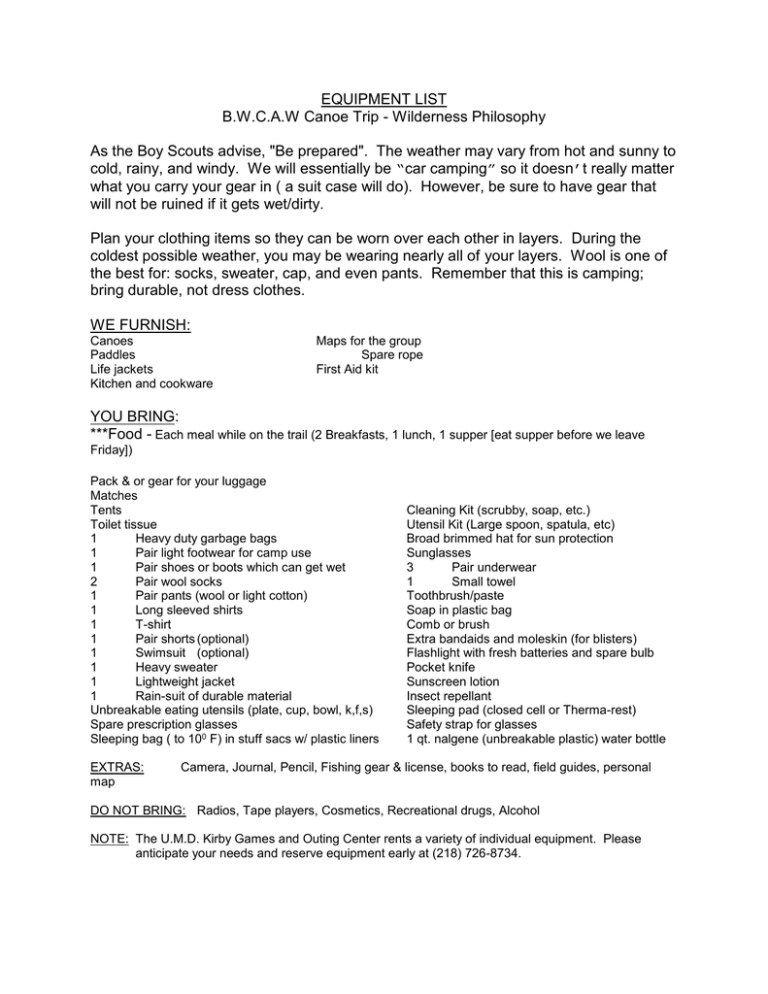 EQUIPMENT LIST
B.W.C.A.W Canoe Trip - Wilderness Philosophy
As the Boy Scouts advise, "Be prepared". The weather may vary from hot and sunny to
cold, rainy, and windy. We will essentially be "car camping" so it doesn't really matter
what you carry your gear in ( a suit case will do). However, be sure to have gear that
will not be ruined if it gets wet/dirty.
Plan your clothing items so they can be worn over each other in layers. During the
coldest possible weather, you may be wearing nearly all of your layers. Wool is one of
the best for: socks, sweater, cap, and even pants. Remember that this is camping;
bring durable, not dress clothes.
WE FURNISH:
Canoes
Paddles
Life jackets
Kitchen and cookware
Maps for the group
Spare rope
First Aid kit
YOU BRING:
***Food - Each meal while on the trail (2 Breakfasts, 1 lunch, 1 supper [eat supper before we leave
Friday])
Pack & or gear for your luggage
Matches
Tents
Toilet tissue
1
Heavy duty garbage bags
1
Pair light footwear for camp use
1
Pair shoes or boots which can get wet
2
Pair wool socks
1
Pair pants (wool or light cotton)
1
Long sleeved shirts
1
T-shirt
1
Pair shorts (optional)
1
Swimsuit (optional)
1
Heavy sweater
1
Lightweight jacket
1
Rain-suit of durable material
Unbreakable eating utensils (plate, cup, bowl, k,f,s)
Spare prescription glasses
Sleeping bag ( to 100 F) in stuff sacs w/ plastic liners
EXTRAS:
map
Cleaning Kit (scrubby, soap, etc.)
Utensil Kit (Large spoon, spatula, etc)
Broad brimmed hat for sun protection
Sunglasses
3
Pair underwear
1
Small towel
Toothbrush/paste
Soap in plastic bag
Comb or brush
Extra bandaids and moleskin (for blisters)
Flashlight with fresh batteries and spare bulb
Pocket knife
Sunscreen lotion
Insect repellant
Sleeping pad (closed cell or Therma-rest)
Safety strap for glasses
1 qt. nalgene (unbreakable plastic) water bottle
Camera, Journal, Pencil, Fishing gear & license, books to read, field guides, personal
DO NOT BRING: Radios, Tape players, Cosmetics, Recreational drugs, Alcohol
NOTE: The U.M.D. Kirby Games and Outing Center rents a variety of individual equipment. Please
anticipate your needs and reserve equipment early at (218) 726-8734.