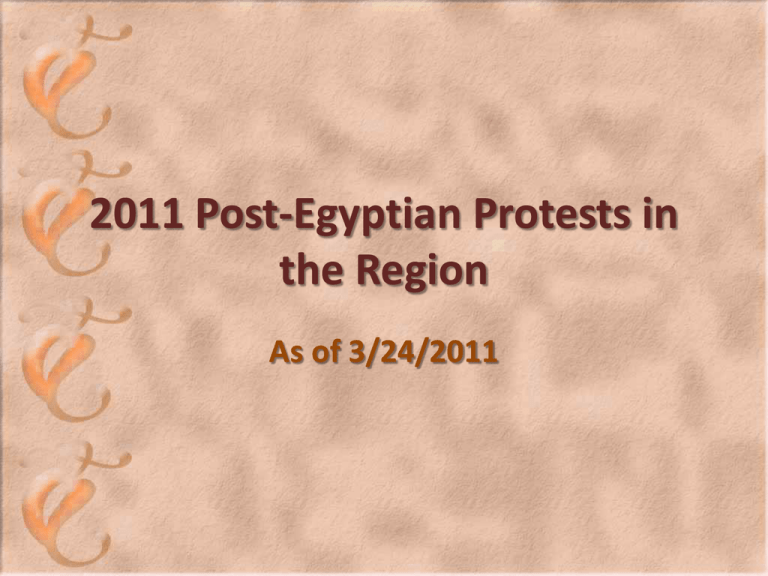 2011 Post-Egyptian Protests in
the Region
As of 3/24/2011
In the Beginning . . .
1. There was Tunisia
1. The president was forces from office by protests
of the people
2. There was Egypt
1. Encouraged by Tunisia, massive street protests
forced President Mubarak from office
2. The military is promising free elections within six
months.
3. And then there is . . . . . . .
1. Encouraged by events in Tunisia and Egypt
BAHRAIN
The Situation
• Bahrain's Sunni monarchy looks particularly
vulnerable in the face of an increasingly
restless Shiite majority.
• The tiny island nation, located in the Persian
Gulf between Saudi Arabia and Iran, is home
to the US Navy's Fifth Fleet and critical to
broader regional operations – including
deterrence of Iranian aggression.
• At least 10 protesters have been killed.
Protesters Take Bahrain Square as
Forces Leave – 2-19-2011
• Thousands of jubilant protesters surged back
into the symbolic heart of Bahrain on Saturday
as the government withdrew its security forces,
calling for calm after days of violent crackdowns.
• It was a remarkable turn after a week of
protests that had shifted by the hour between
joy and fear, euphoric surges of people power
followed by bloody military crackdowns, as the
monarchy struggled to calibrate a response to
an uprising whose counterparts have toppled
other governments in the region.
Saudi Arabia sends troops
• Saudi Arabian troops were sent to bolster the
forces of the King of Bahrain.
• Protests have been stopped by force . . . At
least for the present.
• Some view the situation as basically a human
rights issue – Shiites want proportionate
representation in government and a
parliament with some real authority.
• Saudi Arabia sees it as a sectarian problem –
Iran influencing the Shiite majority to support
Iran in the region. This is not acceptable to
Saudi Arabia.
MOROCCO
The Situation
• RABAT: Moroccan authorities have okayed an
anti-government protest being planned on the
popular social networking site Facebook, a
media report said.
• The media report said several Moroccan youth
movements have announced on Facebook that
they are planning to organise an Egypt-style
anti-government protest Feb 20, a move
apparently welcomed by the government.
ALGERIA
The Situation
• In Algeria, which has promised to repeal a 19year-old state of emergency in response to
protests, the military chose a civil war after
the ruling party canceled elections that the
Islamic Salvation Front looked set to win in
1991. There is no guarantee they won't chose
that route again.
2/19/2011
• In Algeria, riot police clashed with protesters who
tried to stage a rally in central Algiers on Saturday.
LIBYA
The Situation
• TRIPOLI, Feb. 18 (Xinhua) -- At least 20 people in
Libya's second largest city of Benghazi and seven
in Derna in eastern Libya were killed in antigovernment protests, Oea newspaper reported
on its website Friday.
• The bodies of the protesters in Benghazi were
found Friday morning, it said. The protest, which
broke out on Wednesday, demands the
government to give more civil rights to the
people.
• The protesters chanted slogans such as "we want
constitution," "Dialogue but no killing," and "No
corruption," the report said.
Libyan protesters defied a fierce crackdown
by Moammar Gadhafi's regime, returning
Sunday (2/20/2011) to a square outside a
court building in the flashpoint city of
Benghazi to demand the overthrow of
longtime ruler Moammar Gadhafi.
Sunday 2/20/2011
• Libyan forces fired machine-guns at mourners
marching in a funeral for anti-government
protesters in the eastern city of Benghazi
Sunday, a day after commandos and foreign
mercenaries loyal to Moammar Gadhafi
pummeled demonstrators with assault rifles
and other heavy weaponry.
• A doctor at one Benghazi hospital said 15
people died in Sunday's clashes. Earlier he said
his morgue had received at least 200 dead
from six days of unrest.
• A deadly cycle has
emerged: Security forces
fire on funeral marches,
killing people, creating
more funerals.
Moammar Gadhafi delivering a nationwide
address pledging to fight to the death if
necessary – I will not be removed!
Clampdown in Libyan capital as
protests close in
Egyptian men working in Libya fleeing the country at the Tunisia-Libyan border.
Effigy representing Libyan Leader
Moammar Gadhafi
A demonstrator holding the former Libyan
flag protests against Moamer Kadhafi's
regime
No Fly Zone
• March 18, 2011 – UN authorizes use of
military force to protect civilians in Libya
• US & allies (Arab League, Britain, France, etc.)
establish no-fly zone. Bombers strike at Libyan
air defenses and attack capabilities. They also
tanks and attack equipment headed for rebelheld cities.
• Some Arab League countries seem
uncomfortable with the actions taken to
establish a no-fly situation.
JORDAN
The Situation
• Jordan, the only Arab nation apart from Egypt that
has made peace with Israel, seems a less likely
candidate for fast change. King Abdullah II still has a
fair degree of legitimacy in the eyes of important
sectors of his public,
• "We all know that Jordan is not Tunisia and it's not
Egypt," says Nimer al-Assaf, deputy general
secretary of the Islamic Action Front, the political
wing of the Muslim Brotherhood. "Our regime here
is not like any other regime in the Arab countries ...
[it] has never been an aggressive or bloody regime
at all." In recent discussions between Islamic party
leaders and the king, he adds, the protests in Egypt
and Tunisia didn't even come up.
IRAN
The Situation
• TEHRAN, Iran -- Clashes between Iranian
police and hundreds of thousands of
protesters wracked central Tehran on Monday
as security forces beat and fired tear gas at
opposition supporters hoping to evoke Egypt's
recent popular uprising.
YEMEN
The Situation
• In Yemen, the region's poorest country that
lacks a unified political opposition, protests
have remained small although they've taken
on a harsher antigovernment tone since
Mubarak's ouster. The use of socialnetworking websites that were so crucial to
starting protests in Egypt and Tunisia is
limited, and the young student protesters
have yet to connect with the general
population.
/
2/19/2011
• In Yemen, antigovernment protesters clashed with
government supporters in Sana, the capital.
Some high military leaders have taken
the side of the protesters
• President refuses to step down until Jan. 1,
2012 and he wants to know who will succeed
him before he steps down.
• Protesters want the president to resign
immediately – they now have the backing of
some of the military. The situation is very
tense.
Kuwait
Djibouti
ADDITIONAL TENSIONS
Kuwait 2/20/2011
• Protesters in Kuwait clashed with security
forces on Saturday, the second-straight day
of unrest in the nation, CNN reported.
• The demonstration occurred in Sulaibiya, just
north of Kuwait City, witnesses and a
government official said. Hundreds of
protesters demanding greater rights for
longtime residents who are not citizens of
the country demanded the release of people
arrested in demonstrations Friday.
20 hurt in the protest
Djibouti 2/20/2011
• Authorities in Djibouti have detained three
top opposition leaders a day after protesters
demanded the departure of President Ismail
Omar Guelleh. Djibouti's chief prosecutor,
Djama Souleiman, said Aden Robleh,
Mohamed Daoud and Ismail Guedi were
taken into custody Saturday.
• Souleiman told AFP the three were detained
in connection with violent clashes Friday
between protesters and security forces.
Unrest Encircles Saudis, Stoking Sense
of Unease
• As pro-democracy uprisings
spread across the Middle
East, the rulers of Saudi
Arabia — the region's great
bulwark of religious and
political conservatism — are
feeling increasingly isolated
and concerned that the
United States may no longer
be a reliable backer, officials
and diplomats say.
• Saudi Arabia is far less vulnerable to
democracy movements than other
countries in the region, thanks to its
vast oil wealth, its powerful religious
establishment and the popularity of its
king.