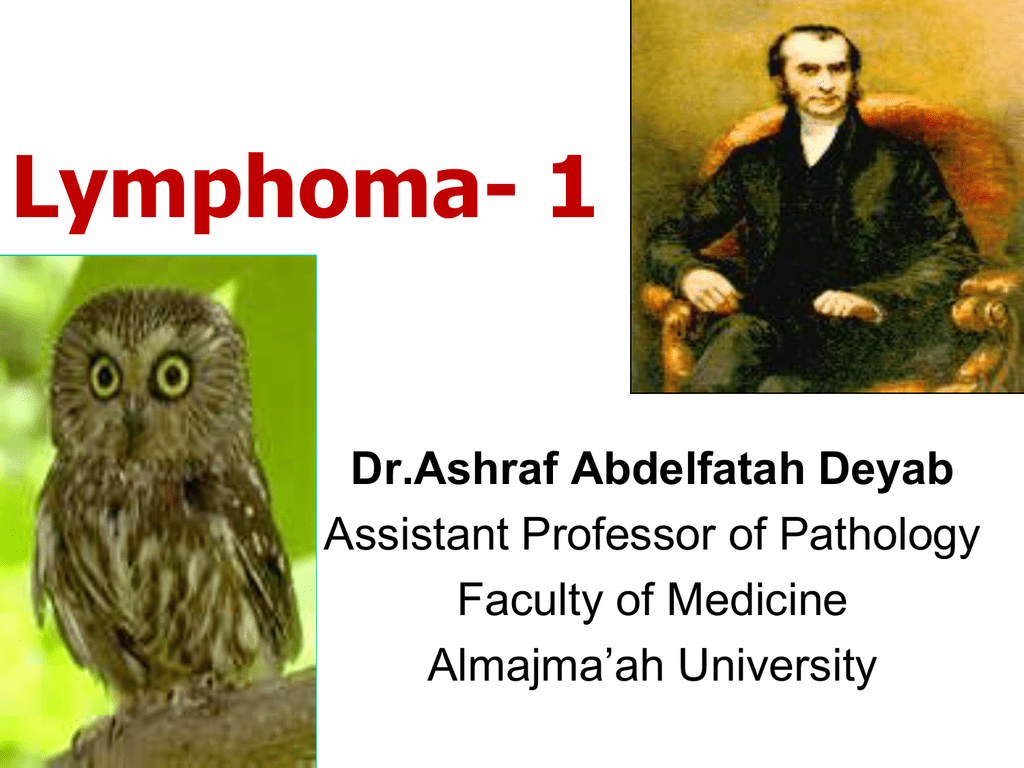 Lymphoma- 1
Dr.Ashraf Abdelfatah Deyab
Assistant Professor of Pathology
Faculty of Medicine
Almajma'ah University
Lymphoma 1- Goals
• Lymphoma: definition & Classification.
• Hodgkin lymphoma: etiology, morphology,
clinical features and diagnosis.
• Hodgkin lymphoma: management &
prognosis.
•
Lymphoma
• Lymphoma: WBC neoplastic proliferations
that arise as discrete tissue masses, of
clinically important group of cancer (USA 100,000 new
cases diagnosed annually)
• Cells components: diverse group of lymphoid
cells of B-cell, T-cell origin, closely resembles
to the various stages of differentiation
"lymphocyte maturation".
• Diagnosis, phenotyping, classification,
staging,
• Lymphoma versus Leukemia (BM,PB,SOLID)
Lymphoma-clinical presentation
• Clinical presentation of > 2\3 Lymphoma
appear as enlarged non-tender lymph node.
• Symptoms& signs of malignant lymphoma
are due to:
• (1) pressure to adjacent structure (skin, stomach, brain) .
• (2) through the secretion of circulating factors (in
plasmacytoma-destruction of skeletal bone, skull- lytic
lesions)
• 3) Immunity disturbances
Lymph node – cortex and medulla
some important principles relevant to the
lymphoid neoplasms
• ML- Suspicious clinical features, but histologic
examination of lymph nodes or other involved tissues is
required for diagnosis.
• ML- cells clone share similar antigen receptor gene
transformation;& configuration.
• 85-90% OF ML are B-cell neoplasm, the remainder being Tcell tumors; only rarely are of NK cell origin.
• ML- associated with immune abnormalities. (autoimmunity,
immunodeficiency)
• Neoplastic B and T cells tend to recapitulate the behavior
of their normal counterparts(follicular lymphoma, T-cell&
skin,etc…).
• HL spreads in an orderly fashion. NHL spread widely.
ALL
CLL
Lymphomas
MM
naïve
B-lymphocytes
Lymphoid
progenitor
AML
Hematopoietic
stem cell
Myeloid
progenitor
Plasma
cells
T-lymphocytes
Myeloproliferative disorders
Neutrophils
Eosinophils
Basophils
Monocytes
Platelets
Red cells
B-cell development
CLL
stem
cell
mature
naive
B-cell
germinal
center
B-cell
memory
B-cell
lymphoid
progenitor
MM
progenitor-B
ALL
pre-B
immature
B-cell
DLBCL,
FL, HL
plasma cell
The current World Health Organization (WHO)
classification scheme
Based on clinical features, morphology, immunophenotype,
genotype, separate neoplasm according to cells of origin
1. Precursor B-cell neoplasms (neoplasms of
immature B cells).
2.Peripheral B-cell neoplasms (neoplasms of mature
B cells).
3.Precursor T-cell neoplasms (neoplasms of
immature T cells).
4.Peripheral T-cell and NK-cell neoplasms
(neoplasms of mature T cells and NK cells).
5.Hodgkin lymphoma (neoplasms of Reed-Sternberg
cells and variants)
Lymphoma classification
(WHO)
• B-cell neoplasms
– precursor
– mature
• T-cell & NK-cell neoplasms
NonHodgkin
Lymphomas
– precursor
– Mature
• Hodgkin lymphoma
Principle of ideal classification:
Accurate Morphology, Re-producibitly , Easy,
All types, biological knowledge, Clinical &
prognostic relevant
Relative frequencies of different
lymphomas
Non-Hodgkin Lymphomas
Diffuse large B-cell
Hodgkin
lymphoma
NHL
Follicular
Other NHL
~85% of NHL are B-lineage
age adjusted incidence/100,000/yr
Incidence of lymphomas in comparison
with other cancers
70
60
lung
colorectal
breast
50
40
30
20
NHL
10
Hodgkin
lymphoma
0
1985
1990
1995
Year
2000
Lymphoma 1- Goals
• Lymphoma: definition & Classification.
• Hodgkin lymphoma: etiology, morphology,
clinical features and diagnosis.
• Hodgkin lymphoma: management &
prognosis.
•
Hodgkin's Lymphoma
• HL was discovered centuries
ago.
- 1832- written paper:
• "enlargement of the glands
• appeared to be a primitive affection
• of those bodies, rather than the result
• of an irritation... from some ulcerated
• surface or other inflamed texture.
Hodgkin's Lymphoma - HL
HL- has distinctive
pathologic features and is
treated in a unique fashion.
More often localized to a
single axial group of nodes
(cervical, mediastinal,)
Orderly spread by contiguity
Extra-nodal - rare
Mesenteric nodes rarely +ve.
Epidemiology
• less frequent than non-Hodgkin
lymphoma
• overall M>F
• occurrence shows two peaks: the first
in young adulthood (age 15–35y) and
the second in those over 55 years old
HL-WHO CLASSIFICATION
• WHO recognized 5 sub-types:
1.
2.
3.
4.
5.
Nodular sclerosis
Mixed cellularity
Lymphocyte-rich
Lymphocyte depletion
Lymphocyte predominance
Note: RS for the 1st four have similar Immunophenotyping,
lump together in (classical form HL), Lymphocyte
predominance- RS has B-cell phenotype "non-classical"
Hodgkin's Disease- etiology
• Genetic alterations: Ig gene of RS
cells- undergone chromosome abnormality
& hypermutation- RS- confirm to be of B-cell
origin of the cells, derived from germinal
center – (crippled immunoglobulin genes) +
lead to inhibition of apoptosis .
• Immunosuppression&Infection
(EBV, Human Herpes Virus 6, CMV).
• $ Epstein-Barr virus - activate gene promote
lymphocytes survival - EBV genome
identified in RS, in the M-HL,D-HL,R-HL.
•
Hodgkin's Disease- etiology
Furthermore, epidemiologic studies have
documented an increased risk of HL in
patients with a history of infectious
mononucleosis.
• It is believed that neoplastic RS cells
secrete cytokines (eg, IL-5) and chemokines
that attract the non-neoplastic inflammatory
cell- support RS to survive.
A possible model of
pathogenesis
transforming
event(s)
EBV?
loss of apoptosis
cytokines
germinal
centre
B cell
RS cell
inflammatory
response
Primary Tumours (MALIGNANT LYMPHOMAS)
HODGKIN'S LYMPHOMA- morphology
The commonest type of malignant lymphomas
Develop at almost any age although it is more
common in early adult life and in old age.
Gross Picture:
(1) Starts localized in a group of lymph nodes
usually the cervical, axillary or inguinal and later
becomes generalized.
(2) The lymph nodes are enlarged, firm & discrete
but after infiltration of capsule & perinodal C.T.,
the nodes become fused forming an irregular
fixed mass.
(3) The cut surface is homogenous pinkish grey.
Primary Tumours (MALIGNANT LYMPHOMAS)
(1) HODGKIN'S LYMPHOMA- morphology
Gross Picture:
The spleen is enlarged, firm & the cut surface
shows localized nodules of Hodgkin's tissue.
(5) The other viscera may show infiltrate of Hodgkin's
tissue.
(4)
Primary Tumours (MALIGNANT LYMPHOMAS)
HODGKIN'S LYMPHOMA- morphology
Microscopic Picture:
The affected lymph nodes show:
Loss of the normal nodal architecture.
(2) The normal lymphoid tissue is replaced by
a pleomorphic cellular infiltrate formed of:
Histiocytes, lymphocytes, plasma cells,
eosinophils, neutrophils and (RS cells)
Reed-Sternberg.
(3) Areas of necrosis and fibrosis.
(1)
Primary Tumours (MALIGNANT LYMPHOMAS)
HODGKIN'S LYMPHOMA
Microscopic Picture:
Cells closely related to the RS cell are:
(a)
The lacunar cell which shows shrinkage of
cell cytoplasm towards cell wall and
nucleus leaving a clear space.
(b) Mononuclear Hodgkin's cell which shows a
nuclear characteristic similar to RS cell but
is smaller.
(c) Multinucleated giant cell which shows
three or more nuclei
Classic (Typical) RS cells & variants
Diagnostic
•30-60um diam
•Amphophilic
cytoplasm
•Binucleated
•Large owel eye
esinophilic
nucleoli
•Mirror image
nuclei
Popcorn cell
LH cell
•Polypoid
nucleus
resembling
Popcorn
kernels
•LP
•Mulinucleated
•LD
•Nuclear
Characteristic
Similar to
RS cells
• Shrinkage of cell
cytoplasm towards
cell wall & nucleus
leaving a clear
space
• Nodular sclerosis
Reed-Sternberg Variants
Primary Tumours (MALIGNANT LYMPHOMAS)
HODGKIN'S LYMPHOMA
Microscopic Picture:
(4) Typical Reed-Sternberg (RS) cell is a malignant
giant cell pathognomonic for Hodgkin's disease.
It measures > 40 u in diameter. The cytoplasm is
abundant and amphophilic (purple with
haematoxylin-eosin stain).
The cell contains double nuclei showing the mirrorimage appearance.
The nuclei have vesicular appearance due to
condensation of chromatin peripherally and a
large central eosinophilic nucleolus.
HL, WHO Classification-Histologic subtype
1. Nodular sclerosis (65-70%) → Good (excellent)
prognosis – Young + adolescent
• Thick bands of collagen separating Hodgkin's
tissue into nodules
• Lacunar cells are numerous(CD15,30 +VE B-Ve)
• More common in women-adolescence (M=F)
• Often mediastinal, lower cervical presentation.
2. Mixed cellularity (20-25%) → Fair prognosis (more
aggressive)
• More common in men – bimodal age distribution
(young adults and adults older than 55)
• Heterogenous infiltrates: T cells, Plasma cells and
eosinophils present
• Plentiful RS cells& mononuclear- infected by EBV
Hodgkin's Disease , WHO Classification
3. Lymphocyte depletion (< 5%) → Poor prognosis
• Very numerous RS , mononuclear Hodgkin's cells
and pleomorphic variants, infected with EBV=90%
• Few lymphocytes & ± Diffuse fibrosis.& +ve HIV
4. Lymphocyte- rich HL: un-common, diffuse
effacement, residual nodularity, mononuclear
variants and diagnostic Reed-Sternberg cells +.
5. Lymphocyte predominant (NLPHD) (5%) → Good
(excellent) prognosis, Nodular infiltrates, small
lymphocytes
• Hardly any RS cells * Very numerous
lymphocytes
* Scattering of "popcorn cells"
or L & H (lymphocytic and histiocytic) cells-multilobed nuclei &eosinophilic cytoplasm B-marker
+ve (CD97alpha, CD20), BCL6- like germinal cente.
•
N.B: Lymphocyte predominant HD may progress to a B cell lymphoma
(large cell type)
Classical Hodgkin's lymphoma
histological variants
I. classical type of HL
Nodular sclerosis – HL
broad collagen bands separate into nodules
Hodgkin's lymphoma, mixed cellularity
plenty of classical RS+ mononuclear cells
Eosinophils
Reed-Sternberg cell
Lymphocyte- rich Hodgkin's lymphoma
Classic RS cells and variants
Hodgkin's disease (lymphocyte depletion type)
Many Reed-Sternberg cells and pleomorphic variants are present
Classical Hodgkin's lymphoma
histological variants
I. Non-classical type of HL
Nodular lymphocyte predominant HL with
H&L cells (H&E stain+ positive for B-cell
marker:
CD20&CD45 )
Primary Tumours (MALIGNANT LYMPHOMAS)
HODGKIN'S LYMPHOMA
type
Mixed
cellularity
Lymphocyte
Predominant
Lymphocyte
depletion
Scanty
or absent
Scanty
or absent
*Neutrophils
*Esinophils
*Macrophages
*plasma cell
Fibrosis
Prognosis
Mixed
cellularity
Nodular
scleroses
++ +
+++
+++
+++
+++
+++
+++
+++
Scanty
or absent
Scanty
or absent
Abundant
Predominant
The best
The worst
Intermediate
Remain the
same
Capsule thickened
& node subdivided
by collagen bands
into nodules of
variable sizes
Primary Tumours (MALIGNANT LYMPHOMAS)
HODGKIN'S LYMPHOMA
Classification of Hodgkin's Lymphoma:
For prognostic purposes, Hodgkin's disease has been
classified by Rye into 4 types:
type
Lymphocyte
Predominant
Lymphocyte
depletion
Mixed
cellularity
Nodular
scleroses
Frequency
15%
15%
30%
40%
Lymphocyte
++++
+ scanty
+++
+++
+
+++
+++
+++
++++
+++
++
RS cells
Typical
Atypical
*Mononuclear
*Lacunar
*Pleomorphic
M. giant cell
+++
+++
+++
+++
Clinical Presentation
• I. Asymptomatic painless cervical lymphadenopathy.
-Painless, firm, not inflammatory
-Stage (I,II)- HL-nodular sclerosis+ HL-lymphocyte predominate
• II. Constitutional "Systemic" symptoms (fever, weight
loss, night sweat, anorexia, pruritis) (weeks and months)
- Disseminated disease (stages III–IV) or the mixed-cellularity or
lymphocyte depletion subtypes
• III. Contiguous spread
- Extension from one lymph node group to another.
• 2/3 of patients-mediastinal adenopathy at presentation
(Cough or SOB if significant compression.)
• IV. Infrequently presents as axillary or inguinal adenopathy.
• V. Extranodal spread is serotyped: nodal disease
first, splenic disease, hepatic disease, finally BM.
Classical Hodgkin Lymphoma
Clinical presentation
HL- Diagnostic Workup
• Tissue excisional biopsy: Adequate
(FNAC,open biopsy) for definitive histologic
diagnosis.
• Apply Immunohistochemical stains for classical
RS confirmation CD30(+ve), CD15(+ve),
CD45(-ve)
• L&H cells: CD97alpha (+ve), CD20(+ve)
• Cytogenetic and molecular techniques.
• Labs investigations: CBC,ESR,LFT,RFT,
• Diagnostic imaging for Staging purpose: CT,
MRI, US, X-RAY, Lymphangiogram (for Abdominal,
chest and neck screening).
Immunohistochemical stains
CD30 positive
CD15 positive
Lymphoma 1- Goals
• Lymphoma: definition & Classification.
• Hodgkin lymphoma: etiology, morphology,
clinical features and diagnosis.
• Hodgkin lymphoma: management &
prognosis.
•
HODGKIN'S LYMPHOMA
Clinical Staging of Hodgkin's Disease(Ann Arbor
Classification): physical examination, radiologic imaging of the
abdomen, pelvis, and chest, and biopsy of the bone marrow .
Treatment and prognosis HL is classified into 4 stages:
Stage I: Involvement of a single lymph node region or a
single extra-lymphatic organ or site.
Stage II: The disease is limited to two of more region on
same side of the diaphragm or localized involvement of
an extra-lymphatic organ or site.
Stage III: Involvement of lymph node regions on both sides
of the diaphragm without or with localized involvement
of an extra-lymphatic organ or site.
Stage IV: Diffuse involvement of one or more extra-lymphatic
organs or sites with or without lymphatic involvement.
Staging of lymphoma
(Ann Arbor system)
Stage I
Stage II
Stage III
Stage IV
Treatment
• tailored according to the HL disease type,
disease stage, and an assessment of the
risk of resistant
• HL is curable at most- therapies have long
term toxicity.
• Chemotherap:y Multi-agents& regimens, e.g. :
-ABVD: (Adriamycin, Bleomycin, vinblastine, Dacarbzine)
- MOPP (mechlorethamine, vincristine, procarbazine, prednisone)
• (+) Radiation therapy: stages III, IV, NLPHL (I,II).
• No. of courses of chemo according to
stage 2-4 early stage, 4-6 aadvanced stage disease.
• HEMATOPOIETIC STEM CELL TRANSPLANTAION:
used for refractory or relapse cases of HL
Prognosis
• Stratified into risk groups
– The cure rate of stage I,II is close 90%,
even with advanced disease Stage IV.
– The 5 years survival is 60 to 70%.
Late complication:
(1)Chemotherapy and radiation therapy have
an increased risk of developing second
cancers. AML, MDS
(2) Drugs toxicity e.g. hypthyrodism, heart&
lung toxicity, infertility.