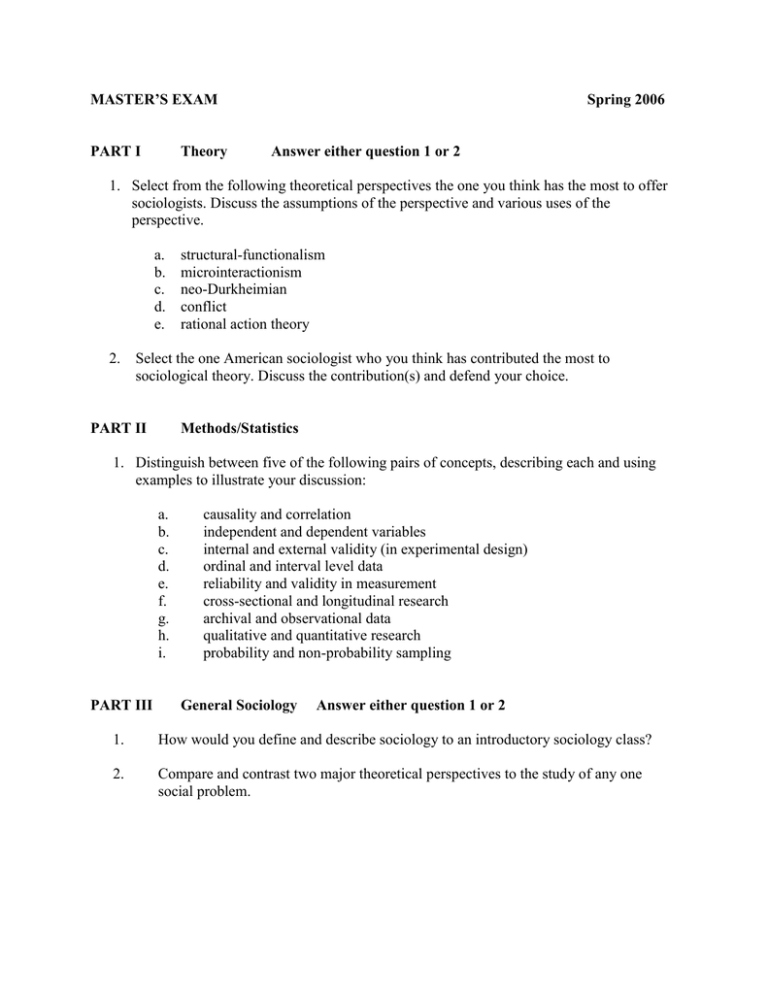 MASTER'S EXAM
PART I
Theory
Spring 2006
Answer either question 1 or 2
1. Select from the following theoretical perspectives the one you think has the most to offer
sociologists. Discuss the assumptions of the perspective and various uses of the
perspective.
a.
b.
c.
d.
e.
structural-functionalism
microinteractionism
neo-Durkheimian
conflict
rational action theory
2. Select the one American sociologist who you think has contributed the most to
sociological theory. Discuss the contribution(s) and defend your choice.
PART II
Methods/Statistics
1. Distinguish between five of the following pairs of concepts, describing each and using
examples to illustrate your discussion:
a.
b.
c.
d.
e.
f.
g.
h.
i.
PART III
causality and correlation
independent and dependent variables
internal and external validity (in experimental design)
ordinal and interval level data
reliability and validity in measurement
cross-sectional and longitudinal research
archival and observational data
qualitative and quantitative research
probability and non-probability sampling
General Sociology
Answer either question 1 or 2
1.
How would you define and describe sociology to an introductory sociology class?
2.
Compare and contrast two major theoretical perspectives to the study of any one
social problem.