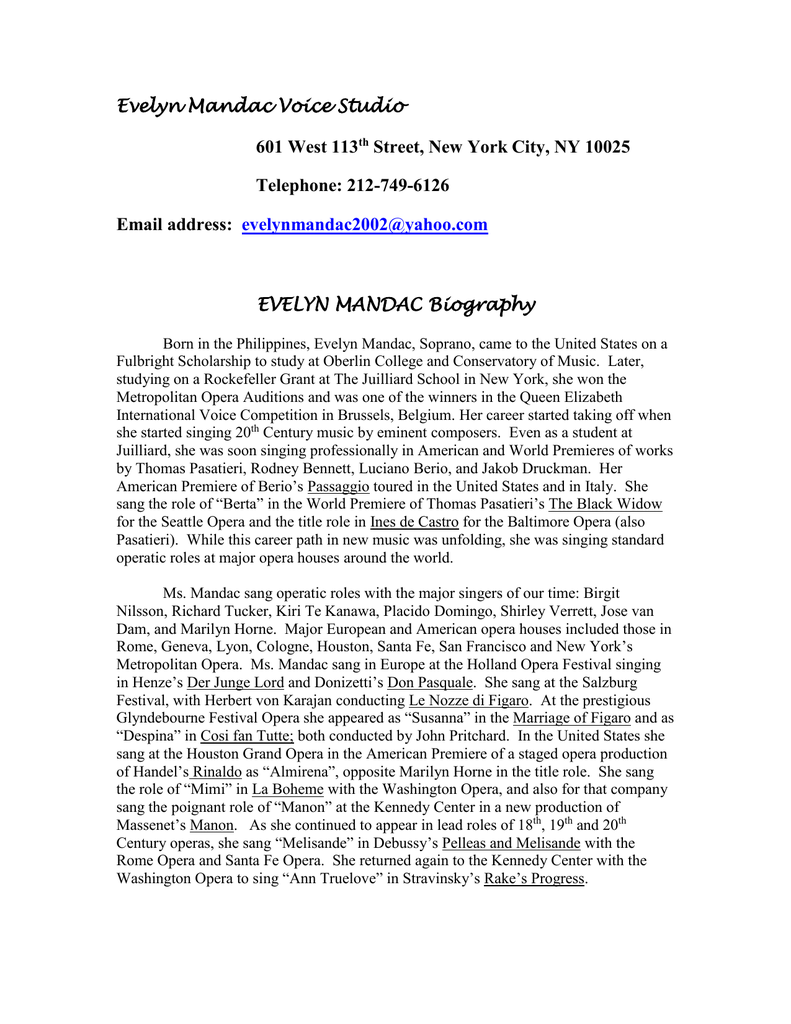 Evelyn Mandac Voice Studio
601 West 113th Street, New York City, NY 10025
Telephone: 212-749-6126
Email address: [email protected]
EVELYN MANDAC Biography
Born in the Philippines, Evelyn Mandac, Soprano, came to the United States on a
Fulbright Scholarship to study at Oberlin College and Conservatory of Music. Later,
studying on a Rockefeller Grant at The Juilliard School in New York, she won the
Metropolitan Opera Auditions and was one of the winners in the Queen Elizabeth
International Voice Competition in Brussels, Belgium. Her career started taking off when
she started singing 20th Century music by eminent composers. Even as a student at
Juilliard, she was soon singing professionally in American and World Premieres of works
by Thomas Pasatieri, Rodney Bennett, Luciano Berio, and Jakob Druckman. Her
American Premiere of Berio's Passaggio toured in the United States and in Italy. She
sang the role of "Berta" in the World Premiere of Thomas Pasatieri's The Black Widow
for the Seattle Opera and the title role in Ines de Castro for the Baltimore Opera (also
Pasatieri). While this career path in new music was unfolding, she was singing standard
operatic roles at major opera houses around the world.
Ms. Mandac sang operatic roles with the major singers of our time: Birgit
Nilsson, Richard Tucker, Kiri Te Kanawa, Placido Domingo, Shirley Verrett, Jose van
Dam, and Marilyn Horne. Major European and American opera houses included those in
Rome, Geneva, Lyon, Cologne, Houston, Santa Fe, San Francisco and New York's
Metropolitan Opera. Ms. Mandac sang in Europe at the Holland Opera Festival singing
in Henze's Der Junge Lord and Donizetti's Don Pasquale. She sang at the Salzburg
Festival, with Herbert von Karajan conducting Le Nozze di Figaro. At the prestigious
Glyndebourne Festival Opera she appeared as "Susanna" in the Marriage of Figaro and as
"Despina" in Cosi fan Tutte; both conducted by John Pritchard. In the United States she
sang at the Houston Grand Opera in the American Premiere of a staged opera production
of Handel's Rinaldo as "Almirena", opposite Marilyn Horne in the title role. She sang
the role of "Mimi" in La Boheme with the Washington Opera, and also for that company
sang the poignant role of "Manon" at the Kennedy Center in a new production of
Massenet's Manon. As she continued to appear in lead roles of 18th, 19th and 20th
Century operas, she sang "Melisande" in Debussy's Pelleas and Melisande with the
Rome Opera and Santa Fe Opera. She returned again to the Kennedy Center with the
Washington Opera to sing "Ann Truelove" in Stravinsky's Rake's Progress.
As a soloist with orchestra, engagements included the Chicago Symphony,
Philadelphia Orchestra, the Cleveland Orchestra, Boston Symphony, and the Los Angeles
Philharmonic. Repertoire included among others Pergolesi's Stabat Mater, Maher's 2nd
and 4th Symphonies, the Brahms Requiem, Barber's Knoxville, Summer of 1915, and
Orff's Carmina Burana. Major conductors included James Levine, Zubin Mehta, Seiji
Ozawa, Claudio Abbado, Eugene Ormandy, Erich Leinsdorf, and Herbert Von Karajan.
Ms. Mandac and Sherrill Milnes' recording of Carl Orff's Carmina Burana with
the Boston Symphony conducted by Seiji Ozawa, is the most downloaded recording of
this piece on the internet. It is available on CD, an RCA recording which was remastered
and enhanced in 2000. Her live performance of Meyerbeer's L'Africaine as "Ines", with
Shirley Verrett and Placido Domingo, was with the San Francisco Opera conducted by
Perisson. It is also available on CD.
Ms. Mandac has had residencies as a visiting scholar and teacher, as well as
giving master classes for the University of the Philippines. She has also done master
classes for the University of Santo Thomas in Manila and has been invited to do an opera
workshop for the Philippine Opera Company. In the United States master classes have
been sponsored by the Mayi Theatre of New York and the Felipe de Leon Music
Foundation at the Philippine Consulate. On the West Coast she returns frequently to San
Francisco to teach singers from Los Angeles, Seattle, Portland, and the Bay Area; as well
as offering Master Classes for the City College of San Francisco Concert and Lecture
Series.
Evelyn Mandac presently maintains a private voice studio in New York City,
where she teaches students from many countries. Ms. Mandac is not simply a well
known performer, but also believes in pursuing a balance in one's life, beyond music.
This includes the concept of doing selfless service. In New York she has contributed her
time to be with and play with children with HIV at St Luke's Hospital. Presently she
finds time in a busy teaching schedule to do volunteer work as one of the major
coordinators for a "Mother's Kitchen" for the homeless and senior citizens.
Ms. Mandac is an experienced practitioner of yoga and meditation. She is
immersed in teaching the discipline and preparation necessary for a singing career, a path
she knows well. She also is most interested in helping her students go on a journey of
discovery of the voice, which ultimately leads to the discovery of the self.