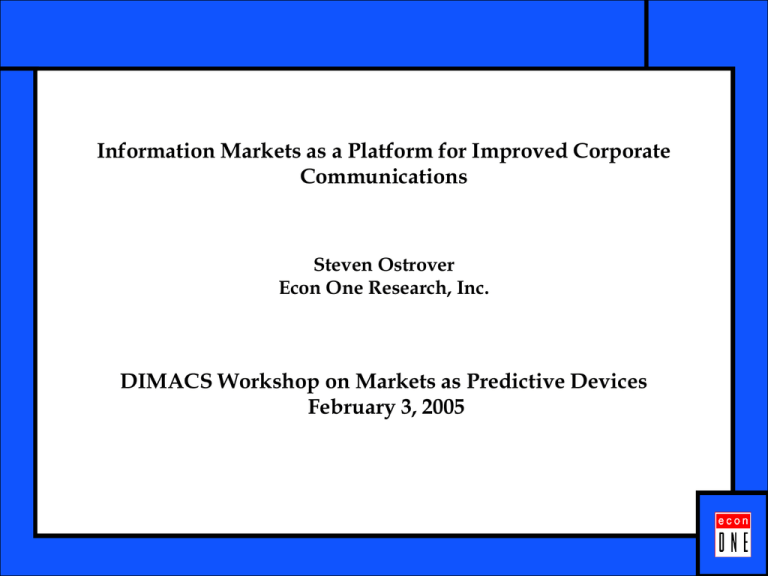 Information Markets as a Platform for Improved Corporate
Communications
Steven Ostrover
Econ One Research, Inc.
DIMACS Workshop on Markets as Predictive Devices
February 3, 2005
THE BASIC ARGUMENT FOR EMPLOYING INFORMATION
MARKETS WITHIN FIRMS ….
…. comes from Ronald Coase:
the distinguishing characteristic of firms is that they
"supersede the price system"
CONSTRAINTS ON THE FLOW AND PROCESSING OF
INFORMATION WITHIN ORGANIZATIONS

human limitations in expressing and interpreting complex
thoughts

systematic biases in group decision-making processes

self-interested behavior (i.e., various forms of "politics"
motivating individuals to conceal information or spread
disinformation)

structural boundaries (i.e., lines of authority distinguishing
business units and other groups)

lack of systematic procedures for consolidating massive amounts
of (often qualitative) information within clear, quantitative metrics
WHY DO INFORMATION MARKETS WORK SO WELL
WITHIN FIRMS?

participation

motivation

anonymity

coordination through a conversational dynamic

computation
WHAT DO YOU DO WITH THE RESULTS OF AN
INFORMATION MARKET?

Eli Lilly manager:
"We already have a rigorous process. So what do you do if
you use a market and get different data? Throw it out? Or
say the market was smarter, impugning the tried and true
system?"

The End of Management?
FOR MANAGERS WHO GENUINELY VALUE INFORMATION

The informational content of the market is not limited to security
prices.

Every bid is a form of communication.

Look for the disagreements:
" Price dispersion is a manifestation – and, indeed, it is the
measure – of ignorance in the [trading community]."
"Honest disagreement is often a good sign of progress."

Look for opportunities for expanded forms of communication.

Caveat: must establish controls so as not to compromise anonymity
protection.
ADDITIONAL ORGANIZATIONAL BENEFITS

risk management

improved decision-making on personnel issues

improved employee morale

better managers
ARE THERE "REAL" CONCERNS ASSOCIATED WITH
CORPORATE IMPLEMENTATION?

broader dissemination of projections

insider trading (i.e., fairness)
WHERE'S MY PAIN?
Your firm (or government agency), driven by a general
mission to utilize resources as efficiently as possible within a
commercial environment placing ever-increasing values on
intellectual capital, contains substantial knowledge not
being communicated to planners and decision-makers.