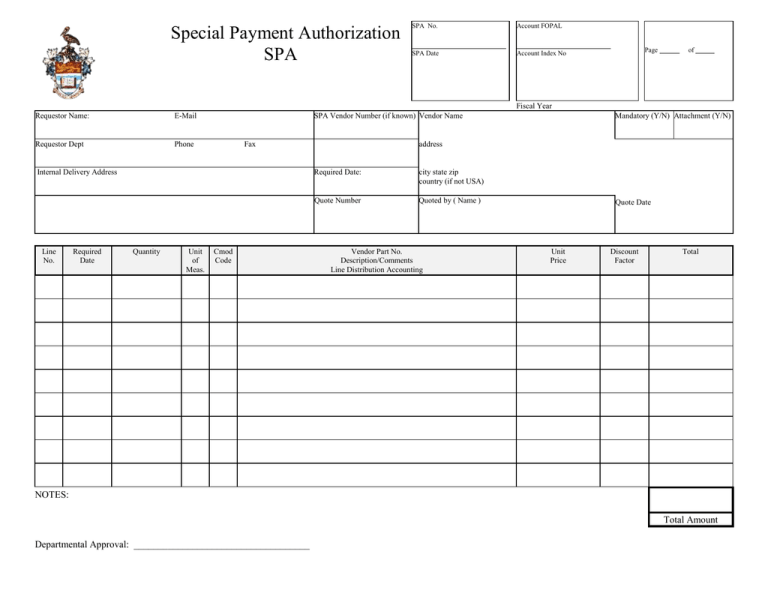 Special Payment Authorization
SPA
SPA No.
Account FOPAL
SPA Date
Account Index No
Page
of
Fiscal Year
Requestor Name:
E-Mail
Requestor Dept
Phone
SPA Vendor Number (if known) Vendor Name
Fax
Internal Delivery Address
Line
No.
Required
Date
Quantity
Unit
of
Meas.
Cmod
Code
Mandatory (Y/N) Attachment (Y/N)
address
Required Date:
city state zip
country (if not USA)
Quote Number
Quoted by ( Name )
Vendor Part No.
Description/Comments
Line Distribution Accounting
Quote Date
Unit
Price
Discount
Factor
Total
NOTES:
Total Amount
Departmental Approval: ____________________________________
The Special Payment Authorization form must be completed approved and all necessary attachments needed to facilitate the
process scanned and attached before the Budgetary Approver can attach to email and forward to the Accounts Payable
department. The SPA will not be processed until all necessary back-up documentation is received in Accounts Payable.
Once the email with attachments is received a confirmation email will be sent back to the Budgetary Approver, stating they
have 24 hour to stop the processing of payment for the related services.