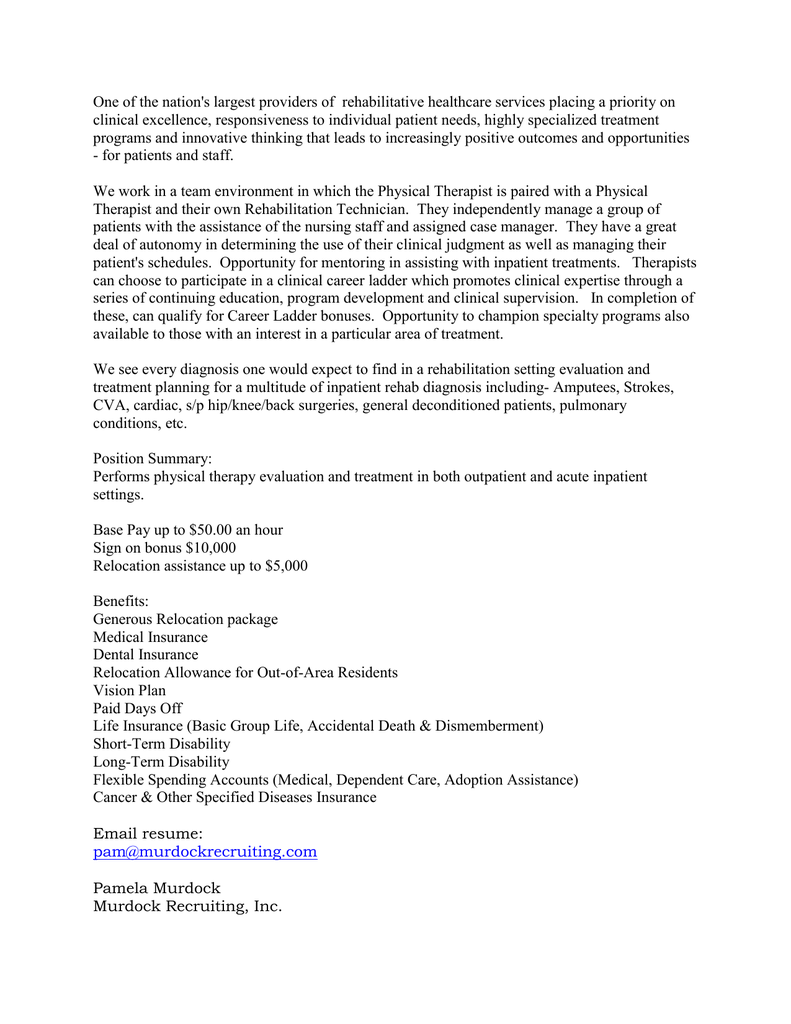 One of the nation's largest providers of rehabilitative healthcare services placing a priority on
clinical excellence, responsiveness to individual patient needs, highly specialized treatment
programs and innovative thinking that leads to increasingly positive outcomes and opportunities
- for patients and staff.
We work in a team environment in which the Physical Therapist is paired with a Physical
Therapist and their own Rehabilitation Technician. They independently manage a group of
patients with the assistance of the nursing staff and assigned case manager. They have a great
deal of autonomy in determining the use of their clinical judgment as well as managing their
patient's schedules. Opportunity for mentoring in assisting with inpatient treatments. Therapists
can choose to participate in a clinical career ladder which promotes clinical expertise through a
series of continuing education, program development and clinical supervision. In completion of
these, can qualify for Career Ladder bonuses. Opportunity to champion specialty programs also
available to those with an interest in a particular area of treatment.
We see every diagnosis one would expect to find in a rehabilitation setting evaluation and
treatment planning for a multitude of inpatient rehab diagnosis including- Amputees, Strokes,
CVA, cardiac, s/p hip/knee/back surgeries, general deconditioned patients, pulmonary
conditions, etc.
Position Summary:
Performs physical therapy evaluation and treatment in both outpatient and acute inpatient
settings.
Base Pay up to $50.00 an hour
Sign on bonus $10,000
Relocation assistance up to $5,000
Benefits:
Generous Relocation package
Medical Insurance
Dental Insurance
Relocation Allowance for Out-of-Area Residents
Vision Plan
Paid Days Off
Life Insurance (Basic Group Life, Accidental Death & Dismemberment)
Short-Term Disability
Long-Term Disability
Flexible Spending Accounts (Medical, Dependent Care, Adoption Assistance)
Cancer & Other Specified Diseases Insurance
Email resume:
[email protected]
Pamela Murdock
Murdock Recruiting, Inc.