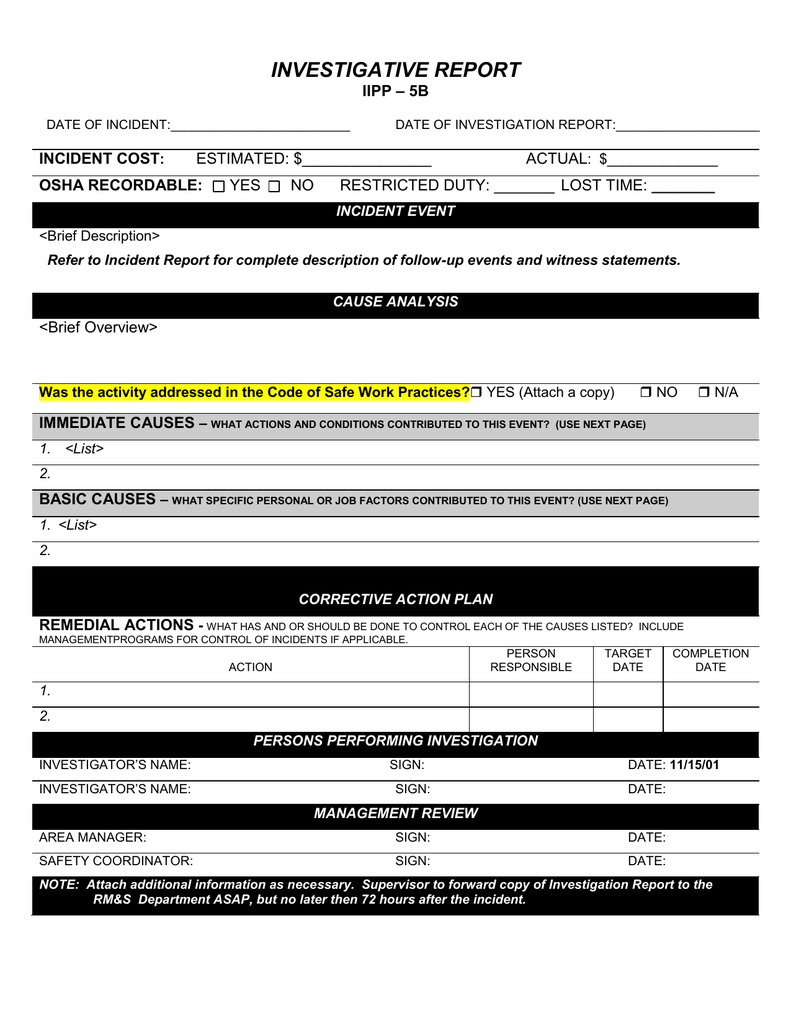 INVESTIGATIVE REPORT
IIPP – 5B
DATE OF INCIDENT:_________________________
INCIDENT COST:
DATE OF INVESTIGATION REPORT:____________________
ESTIMATED: $_______________
OSHA RECORDABLE:
YES
NO
ACTUAL: $______________
RESTRICTED DUTY: _______ LOST TIME: ________
INCIDENT EVENT
<Brief Description>
Refer to Incident Report for complete description of follow-up events and witness statements.
CAUSE ANALYSIS
<Brief Overview>
 NO
Was the activity addressed in the Code of Safe Work Practices? YES (Attach a copy)
IMMEDIATE CAUSES – WHAT ACTIONS AND CONDITIONS CONTRIBUTED TO THIS EVENT?
 N/A
(USE NEXT PAGE)
1. <List>
2.
BASIC CAUSES – WHAT SPECIFIC PERSONAL OR JOB FACTORS CONTRIBUTED TO THIS EVENT? (USE NEXT PAGE)
1. <List>
2.
CORRECTIVE ACTION PLAN
REMEDIAL ACTIONS - WHAT HAS AND OR SHOULD BE DONE TO CONTROL EACH OF THE CAUSES LISTED?
INCLUDE
MANAGEMENTPROGRAMS FOR CONTROL OF INCIDENTS IF APPLICABLE.
PERSON
RESPONSIBLE
ACTION
TARGET
DATE
COMPLETION
DATE
1.
2.
PERSONS PERFORMING INVESTIGATION
INVESTIGATOR'S NAME:
INVESTIGATOR'S NAME:
SIGN:
SIGN:
DATE: 11/15/01
DATE:
MANAGEMENT REVIEW
AREA MANAGER:
SIGN:
DATE:
SAFETY COORDINATOR:
SIGN:
DATE:
NOTE: Attach additional information as necessary. Supervisor to forward copy of Investigation Report to the
RM&S Department ASAP, but no later then 72 hours after the incident.