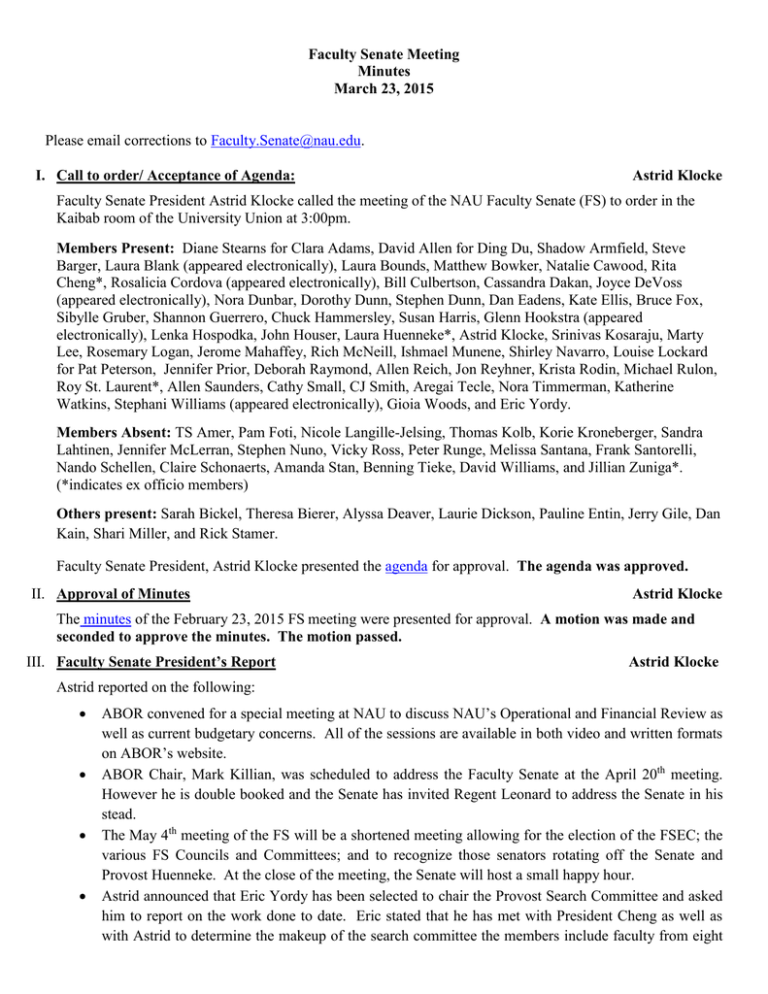 Faculty Senate Meeting
Minutes
March 23, 2015
Please email corrections to Faculty.Senate@nau.edu.
I. Call to order/ Acceptance of Agenda:
Astrid Klocke
Faculty Senate President Astrid Klocke called the meeting of the NAU Faculty Senate (FS) to order in the
Kaibab room of the University Union at 3:00pm.
Members Present: Diane Stearns for Clara Adams, David Allen for Ding Du, Shadow Armfield, Steve
Barger, Laura Blank (appeared electronically), Laura Bounds, Matthew Bowker, Natalie Cawood, Rita
Cheng*, Rosalicia Cordova (appeared electronically), Bill Culbertson, Cassandra Dakan, Joyce DeVoss
(appeared electronically), Nora Dunbar, Dorothy Dunn, Stephen Dunn, Dan Eadens, Kate Ellis, Bruce Fox,
Sibylle Gruber, Shannon Guerrero, Chuck Hammersley, Susan Harris, Glenn Hookstra (appeared
electronically), Lenka Hospodka, John Houser, Laura Huenneke*, Astrid Klocke, Srinivas Kosaraju, Marty
Lee, Rosemary Logan, Jerome Mahaffey, Rich McNeill, Ishmael Munene, Shirley Navarro, Louise Lockard
for Pat Peterson, Jennifer Prior, Deborah Raymond, Allen Reich, Jon Reyhner, Krista Rodin, Michael Rulon,
Roy St. Laurent*, Allen Saunders, Cathy Small, CJ Smith, Aregai Tecle, Nora Timmerman, Katherine
Watkins, Stephani Williams (appeared electronically), Gioia Woods, and Eric Yordy.
Members Absent: TS Amer, Pam Foti, Nicole Langille-Jelsing, Thomas Kolb, Korie Kroneberger, Sandra
Lahtinen, Jennifer McLerran, Stephen Nuno, Vicky Ross, Peter Runge, Melissa Santana, Frank Santorelli,
Nando Schellen, Claire Schonaerts, Amanda Stan, Benning Tieke, David Williams, and Jillian Zuniga*.
(*indicates ex officio members)
Others present: Sarah Bickel, Theresa Bierer, Alyssa Deaver, Laurie Dickson, Pauline Entin, Jerry Gile, Dan
Kain, Shari Miller, and Rick Stamer.
Faculty Senate President, Astrid Klocke presented the agenda for approval. The agenda was approved.
II. Approval of Minutes
Astrid Klocke
The minutes of the February 23, 2015 FS meeting were presented for approval. A motion was made and
seconded to approve the minutes. The motion passed.
III. Faculty Senate President's Report
Astrid Klocke
Astrid reported on the following:




ABOR convened for a special meeting at NAU to discuss NAU's Operational and Financial Review as
well as current budgetary concerns. All of the sessions are available in both video and written formats
on ABOR's website.
ABOR Chair, Mark Killian, was scheduled to address the Faculty Senate at the April 20th meeting.
However he is double booked and the Senate has invited Regent Leonard to address the Senate in his
stead.
The May 4th meeting of the FS will be a shortened meeting allowing for the election of the FSEC; the
various FS Councils and Committees; and to recognize those senators rotating off the Senate and
Provost Huenneke. At the close of the meeting, the Senate will host a small happy hour.
Astrid announced that Eric Yordy has been selected to chair the Provost Search Committee and asked
him to report on the work done to date. Eric stated that he has met with President Cheng as well as
with Astrid to determine the makeup of the search committee the members include faculty from eight

different colleges; an associate dean; two administrative representative as well as a representative from
extended campuses.
President Cheng will host a campus forum on April 30th.
IV. Committee and Council Reports
Committee/Council Chairs
 Rights and Responsibilities Council - Susan Harris, Chair of the Rights and Responsibilities Council
presented the proposed recommendations to the CoFS (Conditions of Faculty Service) document for the
second time. She noted that the issue regarding faculty evaluation changes will be addressed in the next
academic year. She entertained questions. The final version of the proposed changes will be presented
at the April 20th FS agenda for a vote.
 Nominations and Elections Committee - Bruce Fox, Chair of the Nominations and Elections Committee,
gave a brief update on the elections underway within the voting units. Senate elections for the FSEC, FS
Councils and Committees will take place in May. There are still seats that need to be filled. Senators
should contact Bruce if they are interested. Nominating forms are available on the BbLearn shell.
Completed forms are due by April 14th.
 By-Laws Committee - Eric Yordy, Chair of the FS By-Laws Committee stated that the committee is
wrapping up there meetings and the hope to have a draft of their recommendations to the FSEC in April.
Some issues will not be ready this year and will go forward in the fall for further review and vetting.
 Council on Learning – Shadow Armfield, Chair of the CoL, delivered a report outlining the work on the
creation of a "tool box" for units to use or reference in building their evaluation process. This would
include items such as: portfolios, peer reviews, forms for peer review measures of student learning
outcomes, and other non-opinion survey tools. He envisions this information would be available on the
Senate website.
 FS Planning and Budget Council – Kate Ellis, Chair of the PBC, discussed the role of the Council and
proposed the Council look into forming a Faculty Senate strategic plan. This discussion will be taken up
during the summer senate sessions.
 Academic Standards Committee – Rick Stamer, Chair of the ASC, presented a written report to the
FSEC and it was placed on the FS BbLearn shell for review prior to today's meeting. Rick conducted a
brief question and answer session on this report.
V. Non Tenure Track Ad Hoc Committee
Eric Yordy
Parliamentarian and FS Bylaws Committee Chair, Eric Yordy made a motion to approve the following
names as members of the newly formed Non Tenure Track Ad Hoc Committee of the Faculty Senate:
Michael Rulon; Nora Timmerman; Nora Dunbar; Ro Haddon; Laura Blank; Charlie Balch; Betty
Parisek; and Paul Jagodzinski. The motion passed.
VI. Exemplary Performers Program Review
Chris Downum
No report. Video presentation to the FSEC available on the FS BbLearn shell.
VII. Report from the President
President Cheng
President Cheng presented an overview of the state budget cuts and their impact on NAU. They were higher
than expected which for NAU equates to a 16% cut of its operating budget. She is looking at this dilemma
from all angles including discussions on enrollment growth; tuition and tuition pledge rates; one-time savings
(i.e refinance debt, renegotiating contracts, and reduction of expenditures). She will keep the Senate apprised
of these discussions moving forward. She then entertained questions.
VIII. Report from the Provost
Provost Huenneke
Provost Huenneke reported that the magnitude of the budget cuts came as a surprise. The way in which they
were allocated swept away progress that had been made toward parity funding. No recognition of
performance was reflected in how the budget reductions were handed out. The Regents are more positively
engaged in the work we do than she has ever seen.
She noted the bulk of the recent meeting at NAU was spent on the operational review Astrid mentioned
earlier. However during the meeting they approved two new graduate programs: PhD in Astronomy, and an
online Masters in Geography, Planning and Recreation.
She is working with other vice president s to rethink the streamlining of student and business processes from
the recruitment of students to advising and graduation. These processes should make life easier and more
efficient for students and the university.
IX. Draft UniversityPolicy Regarding Syllabi and Draft Syllabus Template
Eric Yordy/Laurie Dickson
Eric Yordy, Senate representative to the Advisory Council on Curriculum and Learning (ACCA), presented
the draft policy on syllabi and the proposed master syllabus template. The video of Gerald Wood's
presentation to the FSEC can be seen on the FS BbLearn shell. Eric and Associate Vice Provost Laurie
Dickson entertained a question and answer session on these materials.
X. NAU's Involvement in the ACE Alternative Credit Project
Laurie Dickson
Associate Vice Provost Laurie Dickson, presented the ACE Alternative Credit Project and discussed NAU's
involvement with it. The materials and video of her presentation to the FSEC can be found on the FS
BbLearn shell. She entertained questions and answers on the materials.
XI. Announcements/Old Business/New Business Items
Astrid Klocke
Astrid announced the need for 3 more Marshalls to serve at the Saturday Spring Commencement ceremonies.
Michael Rulon volunteered. Others who are interested can contact Astrid at: Astrid.Klocke@nau.edu.
Ismael Munene announced that the NAU Chapter of AAUP is sponsoring a conference on Saturday, April 11th
from 9 a.m. – 4 p.m. entitled "Contingent Faculty: The New Majority in Higher Education". The conference
speakers are Dr. Joe Berry Dr. Gary Rhoades, and Dr. Edythe Weeks. Registration is available on line at:
http://nau.edu/COE/Teaching-and-Learning/AAUP/Registration/ or you can send your details to
NAUAAUP@gmail.com. Lunch will be served so please register in advance.
XII. Adjourn
Astrid Klocke
There being no further business, a call for adjourn was made and with no objections the meeting was
adjourned at 4:54 pm.