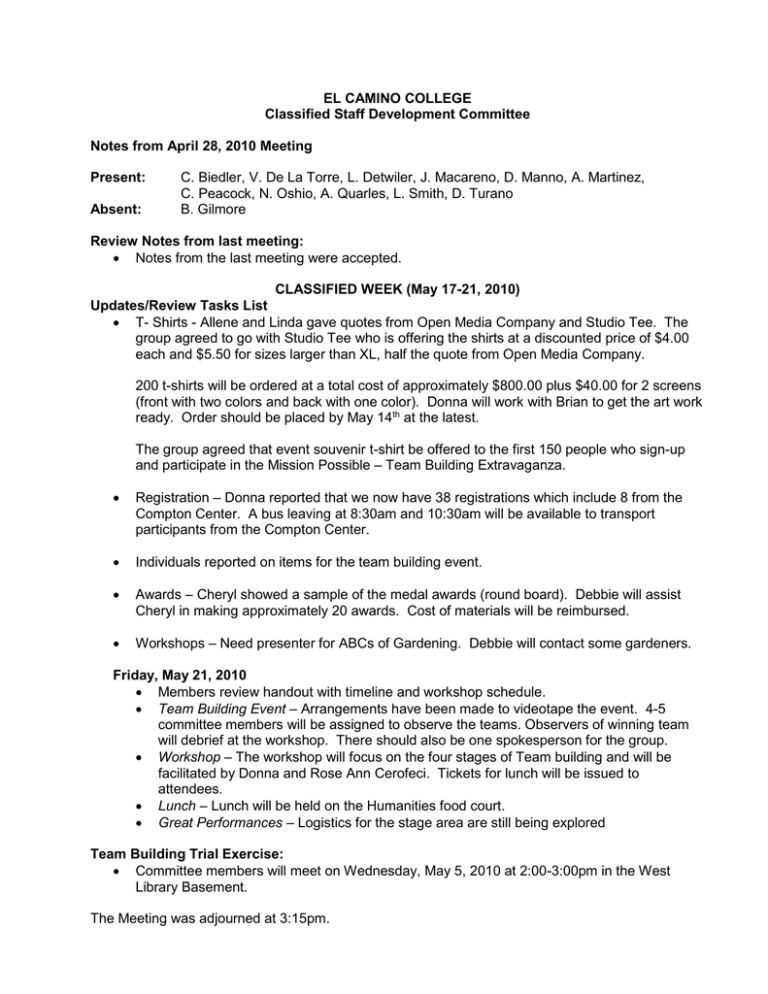 EL CAMINO COLLEGE
Classified Staff Development Committee
Notes from April 28, 2010 Meeting
Present:
Absent:
C. Biedler, V. De La Torre, L. Detwiler, J. Macareno, D. Manno, A. Martinez,
C. Peacock, N. Oshio, A. Quarles, L. Smith, D. Turano
B. Gilmore
Review Notes from last meeting:
 Notes from the last meeting were accepted.
CLASSIFIED WEEK (May 17-21, 2010)
Updates/Review Tasks List
 T- Shirts - Allene and Linda gave quotes from Open Media Company and Studio Tee. The
group agreed to go with Studio Tee who is offering the shirts at a discounted price of $4.00
each and $5.50 for sizes larger than XL, half the quote from Open Media Company.
200 t-shirts will be ordered at a total cost of approximately $800.00 plus $40.00 for 2 screens
(front with two colors and back with one color). Donna will work with Brian to get the art work
ready. Order should be placed by May 14th at the latest.
The group agreed that event souvenir t-shirt be offered to the first 150 people who sign-up
and participate in the Mission Possible – Team Building Extravaganza.

Registration – Donna reported that we now have 38 registrations which include 8 from the
Compton Center. A bus leaving at 8:30am and 10:30am will be available to transport
participants from the Compton Center.

Individuals reported on items for the team building event.

Awards – Cheryl showed a sample of the medal awards (round board). Debbie will assist
Cheryl in making approximately 20 awards. Cost of materials will be reimbursed.

Workshops – Need presenter for ABCs of Gardening. Debbie will contact some gardeners.
Friday, May 21, 2010
 Members review handout with timeline and workshop schedule.
 Team Building Event – Arrangements have been made to videotape the event. 4-5
committee members will be assigned to observe the teams. Observers of winning team
will debrief at the workshop. There should also be one spokesperson for the group.
 Workshop – The workshop will focus on the four stages of Team building and will be
facilitated by Donna and Rose Ann Cerofeci. Tickets for lunch will be issued to
attendees.
 Lunch – Lunch will be held on the Humanities food court.
 Great Performances – Logistics for the stage area are still being explored
Team Building Trial Exercise:
 Committee members will meet on Wednesday, May 5, 2010 at 2:00-3:00pm in the West
Library Basement.
The Meeting was adjourned at 3:15pm.