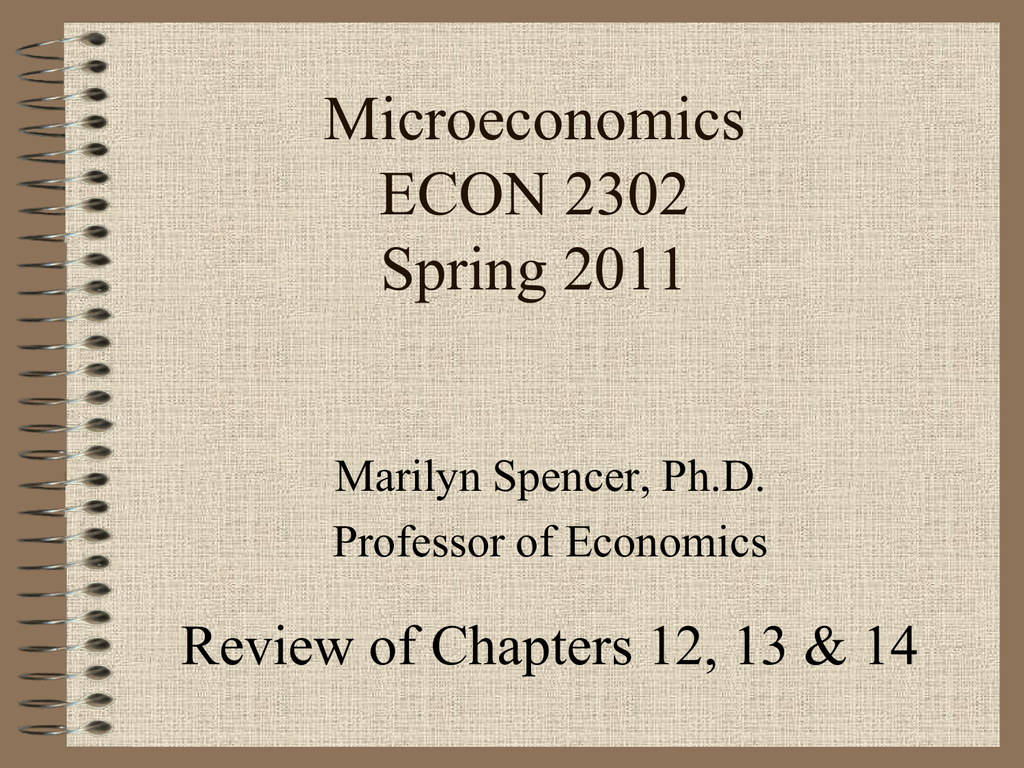 Microeconomics
ECON 2302
Spring 2011
Marilyn Spencer, Ph.D.
Professor of Economics
Review of Chapters 12, 13 & 14
3rd Exam, April 29
Test format (same as exams 1 & 2):
20 multiple choice questions
Resources sheet to indicate any additional resources
used – same resource choices as for 1st exam
Questions include definitions, theory & applications. –
Expect graphs and numbers.
Scantron answer sheet provided
Chapter 12 EXAM QUESTION TOPICS
 Monopolistic competition market
assumptions
 Elasticity of demand for a monopolistically
competitive firm
 Monopolistically competitive profit
maximization/ loss minimization in the
Short Run
 Causes of long run entry and exit
 Implications of long run entry and exit
 Pros and cons of monopolistic competition
v. perfect competition
Chapter 13 EXAM QUESTION TOPICS
 Barriers to entry
 Game theory to explain oligopoly behavior
 Nash equilibrium
 Dominant strategy
 Prisoner's dilemma
 Cooperative strategies
 Collusion
 Cartel
 Price leadership
 Five Forces Model
Chapter 14 EXAM QUESTION TOPICS
 Barriers to entry that lead to and foster
monopoly
 Why government provides certain barriers
to entry
 Monopoly profit maximizing/loss
minimizing strategy
 Effect of a monopoly on economic
efficiency
 Antitrust laws
Any questions on
these topics?