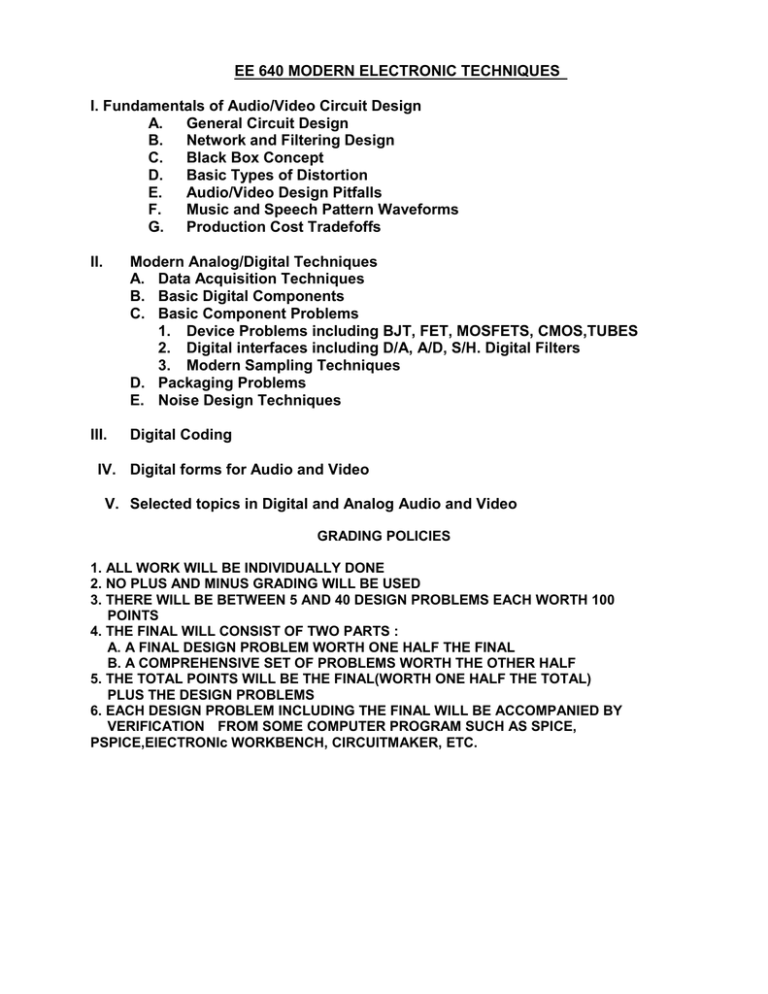 EE 640 MODERN ELECTRONIC TECHNIQUES
I. Fundamentals of Audio/Video Circuit Design
A.
General Circuit Design
B.
Network and Filtering Design
C.
Black Box Concept
D.
Basic Types of Distortion
E.
Audio/Video Design Pitfalls
F.
Music and Speech Pattern Waveforms
G. Production Cost Tradefoffs
II.
Modern Analog/Digital Techniques
A. Data Acquisition Techniques
B. Basic Digital Components
C. Basic Component Problems
1. Device Problems including BJT, FET, MOSFETS, CMOS,TUBES
2. Digital interfaces including D/A, A/D, S/H. Digital Filters
3. Modern Sampling Techniques
D. Packaging Problems
E. Noise Design Techniques
III.
Digital Coding
IV. Digital forms for Audio and Video
V. Selected topics in Digital and Analog Audio and Video
GRADING POLICIES
1. ALL WORK WILL BE INDIVIDUALLY DONE
2. NO PLUS AND MINUS GRADING WILL BE USED
3. THERE WILL BE BETWEEN 5 AND 40 DESIGN PROBLEMS EACH WORTH 100
POINTS
4. THE FINAL WILL CONSIST OF TWO PARTS :
A. A FINAL DESIGN PROBLEM WORTH ONE HALF THE FINAL
B. A COMPREHENSIVE SET OF PROBLEMS WORTH THE OTHER HALF
5. THE TOTAL POINTS WILL BE THE FINAL(WORTH ONE HALF THE TOTAL)
PLUS THE DESIGN PROBLEMS
6. EACH DESIGN PROBLEM INCLUDING THE FINAL WILL BE ACCOMPANIED BY
VERIFICATION FROM SOME COMPUTER PROGRAM SUCH AS SPICE,
PSPICE,ElECTRONIc WORKBENCH, CIRCUITMAKER, ETC.