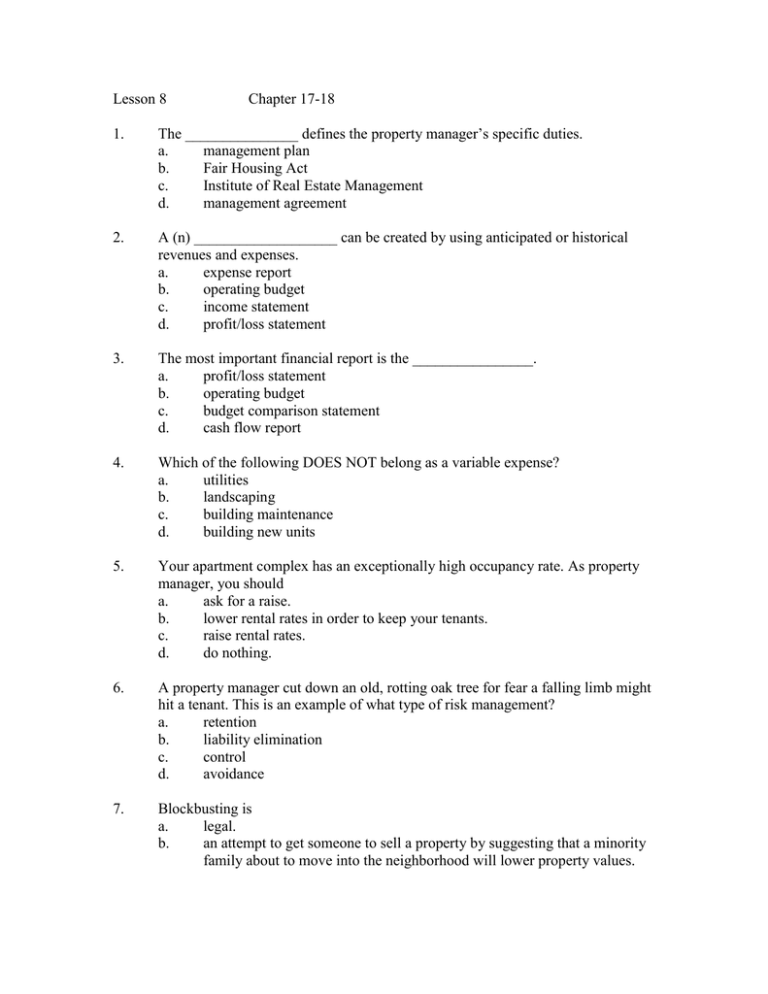 Lesson 8
Chapter 17-18
1.
The _______________ defines the property manager's specific duties.
a.
management plan
b.
Fair Housing Act
c.
Institute of Real Estate Management
d.
management agreement
2.
A (n) ___________________ can be created by using anticipated or historical
revenues and expenses.
a.
expense report
b.
operating budget
c.
income statement
d.
profit/loss statement
3.
The most important financial report is the ________________.
a.
profit/loss statement
b.
operating budget
c.
budget comparison statement
d.
cash flow report
4.
Which of the following DOES NOT belong as a variable expense?
a.
utilities
b.
landscaping
c.
building maintenance
d.
building new units
5.
Your apartment complex has an exceptionally high occupancy rate. As property
manager, you should
a.
ask for a raise.
b.
lower rental rates in order to keep your tenants.
c.
raise rental rates.
d.
do nothing.
6.
A property manager cut down an old, rotting oak tree for fear a falling limb might
hit a tenant. This is an example of what type of risk management?
a.
retention
b.
liability elimination
c.
control
d.
avoidance
7.
Blockbusting is
a.
legal.
b.
an attempt to get someone to sell a property by suggesting that a minority
family about to move into the neighborhood will lower property values.
c.
d.
an attempt to improve property values by selling properties in a certain
area to wealthy customers.
the same as steering.
8.
You own an apartment building and have an apartment manager in your employ.
This manager stole a large amount of cash from an apartment while performing a
routine check of the smoke detector. This theft would be covered by which type
of insurance?
a.
Contents and personal property insurance.
b.
Tenant's insurance
c.
Surety bond
d.
Theft insurance
9.
This value principle is used in the sales comparison approach to estimating
property value.
a.
b.
c.
d.
e.
10.
The ultimate goal of an appraiser is generally to estimate
a.
b.
c.
d.
e.
11.
highest and best use
market value
cost
supply and demand
none of these
Zoning laws try to maintain value by ensuring conformity, which states that
maximum value is realized if land use
a.
b.
c.
d.
e.
12.
highest and best use
contribution
anticipation
substitution
none of these
is legally permitted
financially feasible
physically possible
all of these
none of these
To be a property's 'highest and best use', the property's use should be
a.
b.
c.
d.
e.
legally permitted
financially feasible
physically possible
all of these
none of these
13.
14.
"The value of any part of a property is measured by its effect on the value of the
whole" defines
a.
change
b.
competition
c.
contribution
d.
market value
e.
none of these
f.
The square foot method, unit in place method, quantity survey method and index
method are used in what value estimating technique?
a.
cost
b.
income
c.
sales comparison
d.
all of these
e.
none of these
15.
The loss in value attributed to environmental, social or economic forces defines
a.
physical deterioration
b.
functional obsolescence
c.
external obsolescence
d.
all of these
e.
none of these
16.
Estimates of depreciation are necessary for which technique for estimating value?
a.
cost
b.
income
c.
sales comparison
d.
all of these
e.
none of these
17.
The first step in the appraisal process is
a.
determine the highest and best use
b.
estimate the land value
c.
gather data for each of the 3 valuation methods
d.
any of these may be done first
e.
none of these
18.
The technique that would probably be most appropriate in valuing an apartment
building is
a.
cost
b.
income
c.
sales comparison
d.
none of these
19.
All of the following would cause a high vacancy rate EXCEPT
a.
b.
c.
d.
inept management.
poor location.
excessive rent.
very desirable amenities.
20.
A real estate broker acting as an owner's property manager
a.
must not profit from private contracts at the expense of the owner.
b.
may manage the client's property to his or her own advantage.
c.
need not maintain complete and accurate trust account records.
d.
can personally collect the interest earned on trust account funds.
21.
A property manager's primary obligation is to
a.
tenants.
b.
owners.
c.
bankers.
d.
government authorities.
22.
All of the following are duties of a property manager EXCEPT
a.
renting space to tenants.
b.
preparing a budget.
c.
complying with legal requirements.
d.
repairing tenant fixtures.
23.
An office rents for $450 per month and measures 12 feet by 20 feet. The
advertised annual rent per square foot would be
a.
$1.875.
b.
$4.50.
c.
$18.75.
d.
$22.50.
24.
The market price of a parcel of real estate is
a.
the price it sold for.
b.
the price it should have sold for.
c.
the price that was being asked for it.
d.
based on its assessed value.
25.
In the cost approach an appraiser uses which of the following?
a.
Sales price of similar properties
b.
The owner's original cost of construction
c.
An estimate of the building's replacement cost
d.
The property's depreciated value as used for income tax purposes
26.
Which of the following would be classified as external depreciation?
a.
A leaky roof that needs to be completely replaced
b.
Poorly-maintained properties in the neighborhood
c.
A poorly-designed floor plan that could be modified
d.
Convenient access to schools and recreational facilities
27.
The gross rent multiplier is used as a guideline for estimating value based on the
a.
ratio of the gross rents to the net rents after expenses.
b.
proportion of rents due to the actual rents collected.
c.
capitalization of the annual gross rental income.
d.
relationship of sales prices to the rental income.
28.
In an old retail building, which of the following would most likely be a source of
incurable functional obsolescence?
a.
Deficient and inadequate lighting
b.
Closely-spaced internal support columns
c.
An unattractive store front
d.
A decrease in the area's population
29.
An insurance policy package that includes standard commercial property
coverage such as fire, hazard, public liability and casualty is referred to as what
kind of policy?
a.
Coinsurance
b.
Multiperil
c.
Universal
d.
Surety
30.
Whittaker Towers, a highrise apartment building, burns to the ground.
What type of insurance covers the landlord against the resulting loss of rent?
a.
Fire and hazard
b.
Liability
c.
Consequential loss, use, and occupancy
d.
Casualty
31.
In evaluating rental applications, it is important for the property manager to
establish consistent criteria for acceptable debt and income ratios to be in
compliance with
a.
federal antitrust laws.
b.
the American with Disabilities Act.
c.
Regulation Z.
d.
the Equal Credit Opportunity Act
32.
Title III of the Americans with Disabilities Act (ADA) impacts which type of
property?
a.
Residential
b.
Industrial
c.
Commercial and public accommodations
d.
Privately-owned
33.
In the case of commercial or industrial properties, tenant improvements are
a.
b.
c.
d.
tenant-owned fixtures.
adaptations of space to suit tenants' needs.
illegal unless authorized.
landlord obligations.
34.
Commercial leases are usually expressed as a(n)
a.
monthly rate per unit.
b.
percentage of total space available.
c.
annual or monthly rate per square foot.
d.
annual rate per room.
35.
What is not included in public land-use controls?
a.
Subdivision regulations
b.
Restrictive covenants
c.
Environmental protection laws
d.
Comprehensive plan specifications
36.
A restriction in a seller's deed may be enforced by which of the following?
a.
Court injunction
b.
Zoning board of appeal
c.
City building commission
d.
State legislature
37.
The city of Northbend is laid out in a pattern of intersecting streets and avenues.
All streets run north and south, all avenues run east and west. Northbend is an
example of which street pattern style?
a.
Block plan
b.
Gridiron system
c.
Radial street system
d.
Intersecting system
38.
Acorn Acres is a subdivision featuring spacious homes grouped on large cul-desac blocks connected to a central, winding road and surrounded by large,
landscaped common areas. This is an example of which type of subdivision plan?
a.
Cluster plan
b.
Curvilinear system
c.
Rectangular street system
d.
Gridiron system
39.
A subdivider can increase the amount of open or recreational space in a
development by
a.
varying street patterns.
b.
meeting local housing standards.
c.
scattering housing units.
d.
eliminating multistory dwellings.
40.
When is a certificate of occupancy issued?
a.
When the owner of multifamily residential property wishes to limit the
number of individuals who may live in a single unit.
b.
At the time a property owner applies for a building permit
c.
After a newly-constructed building has been inspected and found
satisfactory by the municipal inspector
d.
When an application for a variance or conditional-use permit has been
granted by the zoning board
Essay questions are for your convenience to prepare for the midterm and final. You do
not have to turn them in for a grade.
1.
Describe the provisions of the Americans with Disabilities Act, the Equal Credit
Opportunity Act, and the Fair Housing Act as they apply to property managers.
2.
Explain the concept of market value and the elements that compose it.
3.
There are 3 approaches to value. Describe each of these in great detail. Which
type is usually deemed the most important for appraising residential property?
4.
Explain each of the stages in the appraisal process.