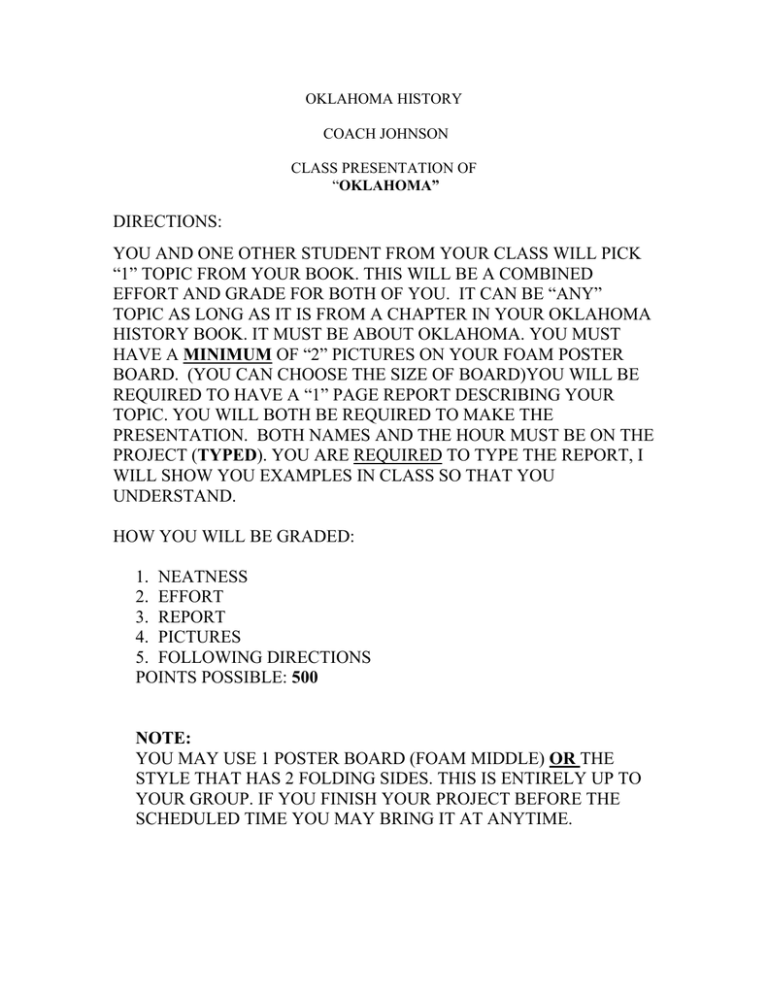 OKLAHOMA HISTORY
COACH JOHNSON
CLASS PRESENTATION OF
"OKLAHOMA"
DIRECTIONS:
YOU AND ONE OTHER STUDENT FROM YOUR CLASS WILL PICK
"1" TOPIC FROM YOUR BOOK. THIS WILL BE A COMBINED
EFFORT AND GRADE FOR BOTH OF YOU. IT CAN BE "ANY"
TOPIC AS LONG AS IT IS FROM A CHAPTER IN YOUR OKLAHOMA
HISTORY BOOK. IT MUST BE ABOUT OKLAHOMA. YOU MUST
HAVE A MINIMUM OF "2" PICTURES ON YOUR FOAM POSTER
BOARD. (YOU CAN CHOOSE THE SIZE OF BOARD)YOU WILL BE
REQUIRED TO HAVE A "1" PAGE REPORT DESCRIBING YOUR
TOPIC. YOU WILL BOTH BE REQUIRED TO MAKE THE
PRESENTATION. BOTH NAMES AND THE HOUR MUST BE ON THE
PROJECT (TYPED). YOU ARE REQUIRED TO TYPE THE REPORT, I
WILL SHOW YOU EXAMPLES IN CLASS SO THAT YOU
UNDERSTAND.
HOW YOU WILL BE GRADED:
1. NEATNESS
2. EFFORT
3. REPORT
4. PICTURES
5. FOLLOWING DIRECTIONS
POINTS POSSIBLE: 500
NOTE:
YOU MAY USE 1 POSTER BOARD (FOAM MIDDLE) OR THE
STYLE THAT HAS 2 FOLDING SIDES. THIS IS ENTIRELY UP TO
YOUR GROUP. IF YOU FINISH YOUR PROJECT BEFORE THE
SCHEDULED TIME YOU MAY BRING IT AT ANYTIME.