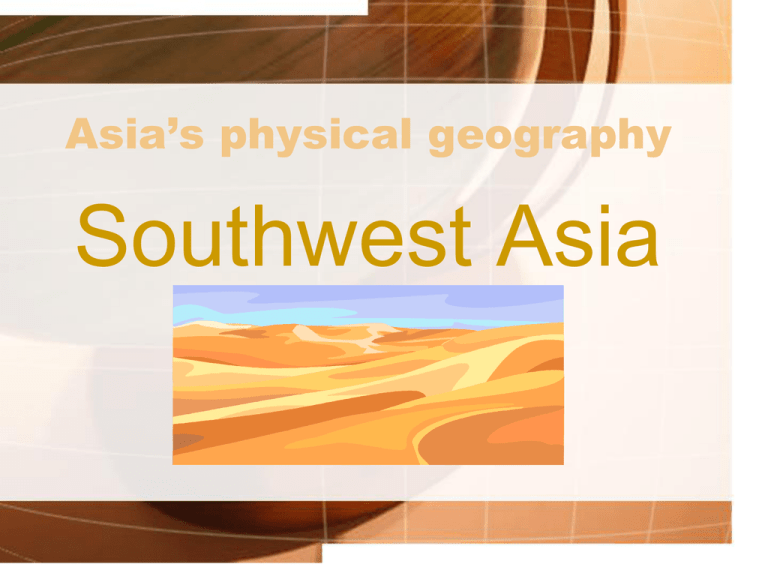 Asia's physical geography
Southwest Asia
Southwest Asia's landforms
•
•
•
•
•
Fertile Crescent in Iraq
Arabian Peninsula
Zagros Mountains in Iran
Hindu Kush in Afghanistan
Sinai Peninsula west of Israel
Southwest Asia's bodies of
water
•
•
•
•
•
•
Euphrates River in Iraq
Tigris River in Iraq
Dead Sea in Israel
Mediterranean Sea in the west
Suez Canal
Arabian Sea
Southwest Asia
6
1 2
4
7
10 5
9
3
8
Southwest Asia's climates
SW Asia's climates
Desert
Semi Desert
Mediterranean
Less than 10 inches of rain
per year.
10-20 inches of rain per
year.
Hot, dry summers and
Mild, rainy winters.
Pictures of SW Asia
Tigris River
Dead Sea
Euphrates River
Pictures of SW Asia
Pictures of SW Asia
Suez Canal
Pictures of SW Asia
Hindu Kush
SW Asia's economy
Jobs
Schools
Roads
Oil
High
Standard
Of
Living
Hospitals
Large
cities
Oil production
Oil Pictures
SW Asia's cultures
• Home to 3 religions:
Judaism, Christianity, and
Islam.
• Jerusalem is a holy city for
all 3 religions.
• Islam is most wide-spread.
• Makkah is the holiest city in
Islam
• Arabic is the most widely
spoken language.
• Hebrew is spoken in Israel.
Read right to left.
• Turkish is also spoken.
• Constant wars and religious
differences have plagued
this region for centuries.
• One of the oldest regions in
the world.
• Israel most industialized.
SW Asia's culture
Makkah, Saudi Arabia
Jerusalem, Israel
SW Asia's culture
Wailing Wall-Jewish holy place.
Church of the Holy Sepulcher
Study Questions
1)
2)
3)
4)
What is the area between the Tigris and Euphrates River
called?
What sea is directly west of SW Asia?
What separates Asia from Egypt?
What was built to help ship transport goods from the Red Sea
to the Med Sea?
5)
6)
7)
Name the lowest elevated place on earth.
Describe the climates of SW Asia.
Give 4 ways Saudi Arabia's oil helps the people.