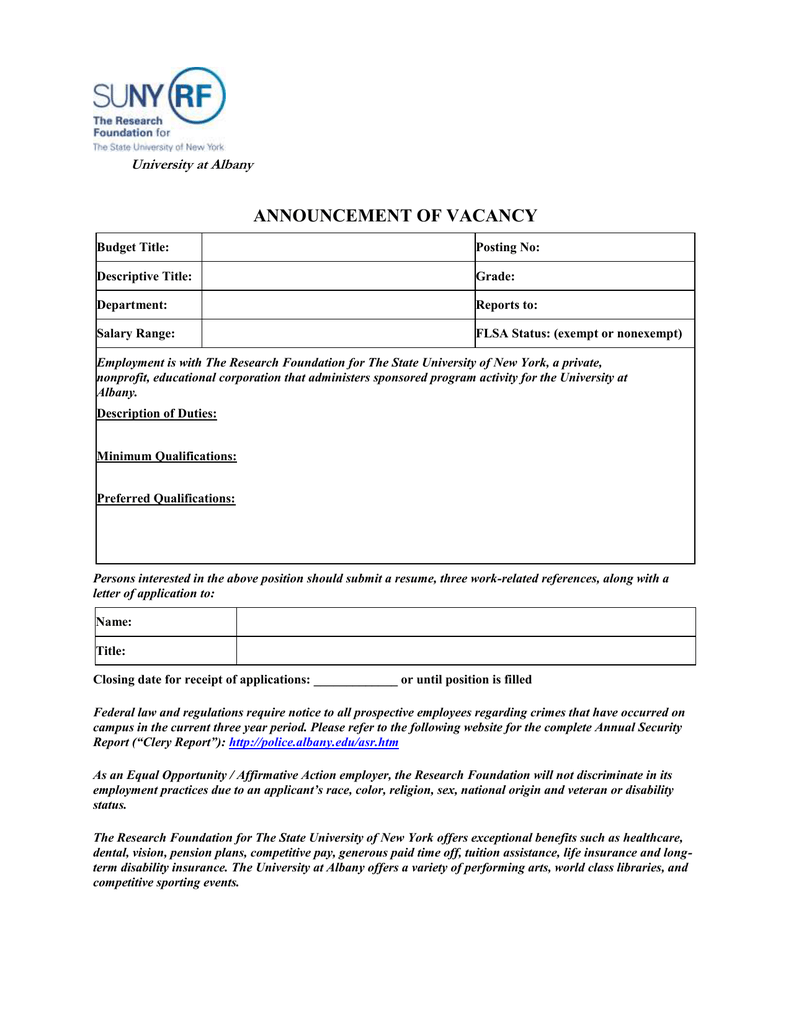 University at Albany
ANNOUNCEMENT OF VACANCY
Budget Title:
Posting No:
Descriptive Title:
Grade:
Department:
Reports to:
Salary Range:
FLSA Status: (exempt or nonexempt)
Employment is with The Research Foundation for The State University of New York, a private,
nonprofit, educational corporation that administers sponsored program activity for the University at
Albany.
Description of Duties:
Minimum Qualifications:
Preferred Qualifications:
Persons interested in the above position should submit a resume, three work-related references, along with a
letter of application to:
Name:
Title:
Closing date for receipt of applications: _____________ or until position is filled
Federal law and regulations require notice to all prospective employees regarding crimes that have occurred on
campus in the current three year period. Please refer to the following website for the complete Annual Security
Report ("Clery Report"): http://police.albany.edu/asr.htm
As an Equal Opportunity / Affirmative Action employer, the Research Foundation will not discriminate in its
employment practices due to an applicant's race, color, religion, sex, national origin and veteran or disability
status.
The Research Foundation for The State University of New York offers exceptional benefits such as healthcare,
dental, vision, pension plans, competitive pay, generous paid time off, tuition assistance, life insurance and longterm disability insurance. The University at Albany offers a variety of performing arts, world class libraries, and
competitive sporting events.