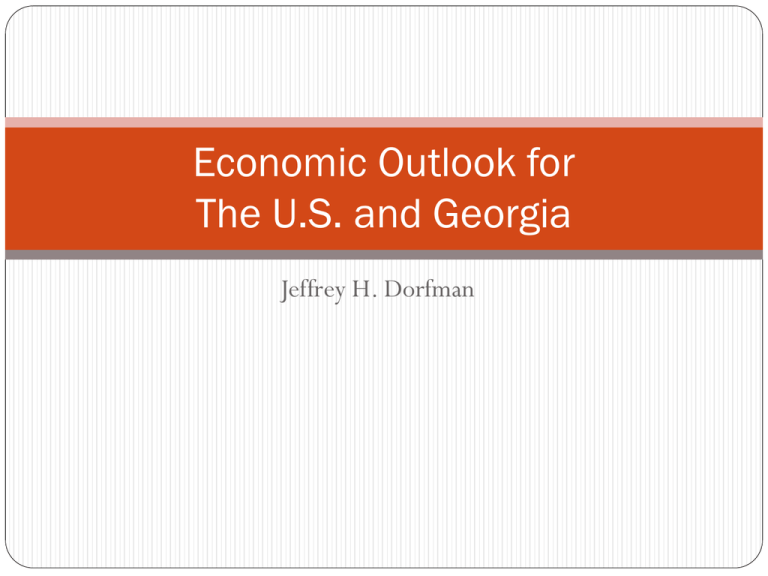 Economic Outlook for
The U.S. and Georgia
Jeffrey H. Dorfman
Slowly Going Back to Work?
Lower Workforce Participation
Change is Not Due to Old People
But Some Have Not Gone Back to Work
Federal Spending and Revenue
US Budget Picture – What Changed?
Percentage Growth Since 2001
40
35
30
25
20
15
10
5
0
Spending
Revenue
From 2001 to 2013, all figures adjusted for inflation and population growth.
Why Can the Government Afford This?
US Budget Outlook
 Republicans and Democrats will continue to make last
minute compromises.
 Spending is starting to increase again ($65 billion this year).
 Sequester was working, so it is over.
 Democrats will push for more tax revenues, but probably
won't get much if any.
 We will continue with deficits that are 2-3 times what used
to be the historical record.
1967
1969
1971
1973
1975
1977
1979
1981
1983
1985
1987
1989
1991
1993
1995
1997
1999
2001
2003
2005
2007
2009
2011
2013
Minimum Wage
$8.00
$7.00
$6.00
$5.00
$4.00
$3.00
$2.00
$1.00
$0.00
Recent Trends In Productivity
Source: BLS
More on Productivity and Labor Costs
Source: BLS
Immigration Reform
 It looks like something will happen this year in Congress.
 Republicans are proposing citizenship for those brought as
kids, legalization for adults.
 President Obama will agree.
 If the more extreme on both sides do not block it, looks like
a deal will be done.
 Ag better get a seat at the table if they want to be included.
Debt Ceiling
 Debt limit is reached tomorrow.
 Treasury can cook the books for 1-3 months.
 Republicans cannot decide what do ask for in exchange
 Keystone XL Pipeline, border security, repatriated profits ???
 Likely solution is a minor concession to get a deal.
Obamacare Problems Still Developing
 Website still cannot communicate well with insurance cos.
 Website security still lacking.
 Insurance Bailout looms if the sign-ups are too old & sick.
 People are starting to discover issues with doctors, co-pays,
etc.
 This will still be problem for Democrats for at least this year.
Georgia Earnings in Food Service and
Hospitality
Producer Price Index - Manufactured Food
Georgia Budget Outlook
 Revenues for FY14 are +5.1% so far, exceeding the 4.6%
needed for budget.
 December was up 3.8%, but trend is confused by change in
car tag tax.
 AES and CES continue to try to hang on to small gains in
budgeted funds, essentially enough to offset some of the
increased costs of employee benefits.
 University as a whole doing better in budget.
Georgia Economic Outlook
 Georgia appears to be finally growing faster than the US
average again (after 5 years of slower growth).
 Georgia economy should grow at 3+% in 2014
 Personal and disposable income are both growing, so
consumer spending should increase in the 3-4% range
 Georgia is continuing to outperform right now at landing big
new job gains (Engineered Floors, State Farm, GM, AT&T,
Toyom Hostess Brands, Tyson Foods).
And now … questions
 Thanks for listening !