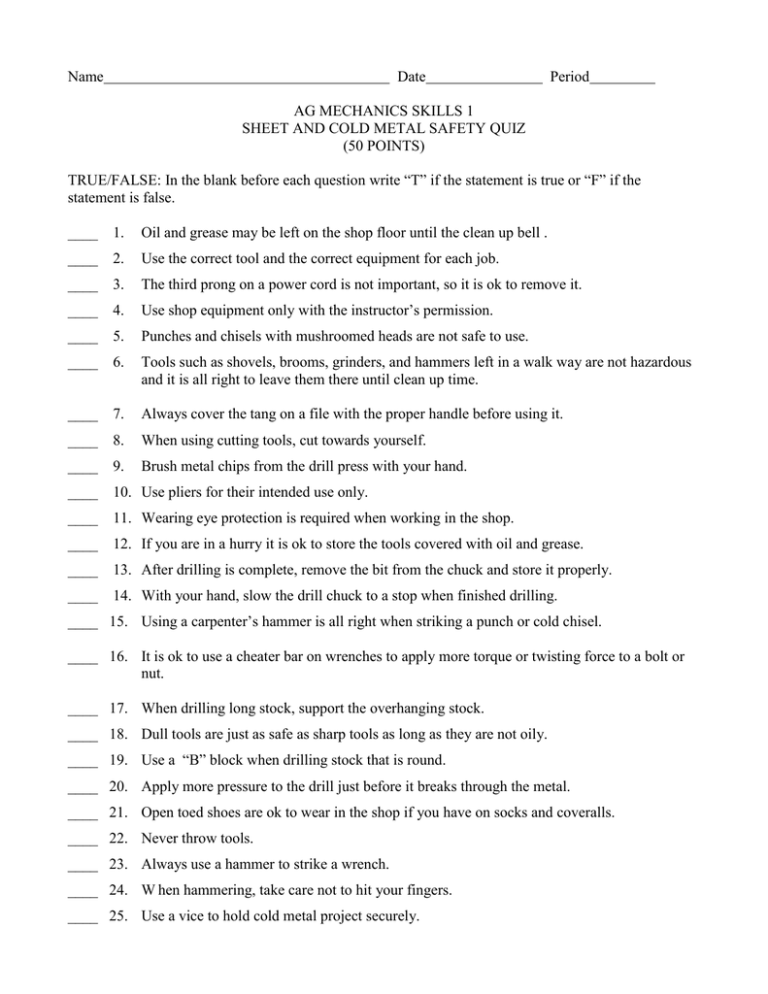 Name
Date
Period
AG MECHANICS SKILLS 1
SHEET AND COLD METAL SAFETY QUIZ
(50 POINTS)
TRUE/FALSE: In the blank before each question write "T" if the statement is true or "F" if the
statement is false.
____
1.
Oil and grease may be left on the shop floor until the clean up bell .
____
2.
Use the correct tool and the correct equipment for each job.
____
3.
The third prong on a power cord is not important, so it is ok to remove it.
____
4.
Use shop equipment only with the instructor's permission.
____
5.
Punches and chisels with mushroomed heads are not safe to use.
____
6.
Tools such as shovels, brooms, grinders, and hammers left in a walk way are not hazardous
and it is all right to leave them there until clean up time.
____
7.
Always cover the tang on a file with the proper handle before using it.
____
8.
When using cutting tools, cut towards yourself.
____
9.
Brush metal chips from the drill press with your hand.
____
10. Use pliers for their intended use only.
____
11. Wearing eye protection is required when working in the shop.
____
12. If you are in a hurry it is ok to store the tools covered with oil and grease.
____
13. After drilling is complete, remove the bit from the chuck and store it properly.
____
14. With your hand, slow the drill chuck to a stop when finished drilling.
____ 15. Using a carpenter's hammer is all right when striking a punch or cold chisel.
____ 16. It is ok to use a cheater bar on wrenches to apply more torque or twisting force to a bolt or
nut.
____ 17. When drilling long stock, support the overhanging stock.
____ 18. Dull tools are just as safe as sharp tools as long as they are not oily.
____ 19. Use a "B" block when drilling stock that is round.
____ 20. Apply more pressure to the drill just before it breaks through the metal.
____ 21. Open toed shoes are ok to wear in the shop if you have on socks and coveralls.
____ 22. Never throw tools.
____ 23. Always use a hammer to strike a wrench.
____ 24. W hen hammering, take care not to hit your fingers.
____ 25. Use a vice to hold cold metal project securely.