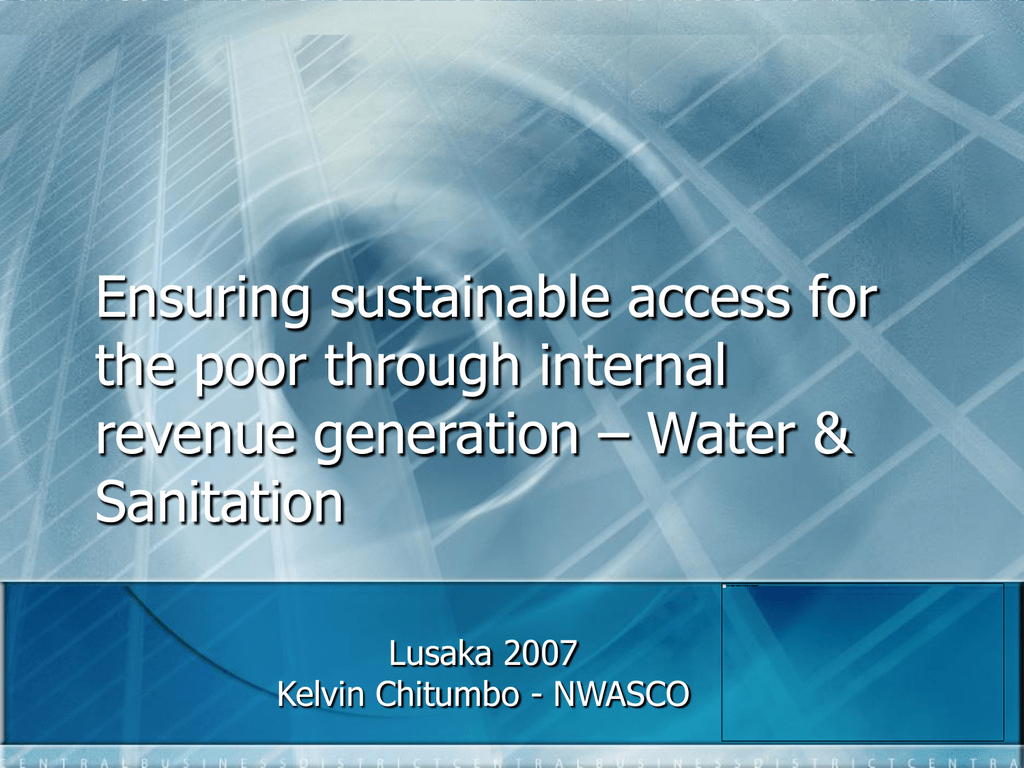 Ensuring sustainable access for
the poor through internal
revenue generation – Water &
Sanitation
Lusaka 2007
Kelvin Chitumbo - NWASCO
Overview

Background of NWASCO

How NWASCO ensures increased
access

On the road to full cost recovery

Experiences & Recommendations
1994 sector
Policy with
7 principles
1997 Water +
Sanitation
Act
2000
Establishment
of NWASCO
Establishment
of CU and
Private Partic.
Separation
Regulation/
Executive
Functions WSS
Effective
Institutions
through HRD
Increased GRZ
Spending
on WSS
VISION of Government!
UNIVERSAL
COVERAGE
Institutional set-up of Regulation
Power and
Responsibility
- Water + Sanitation ACT
- Statutory Instruments
- MEWD
- High Court
Arbitration
Large
Autonomy
Small size
Lean Structure
-
Statutory not ministerial body
Own budget from fees
Transparent selection of staff
Private sector salaries
Reports to Government / MEWD
- Personnel 15
- Fees < 2%
provider's turnover
How NWASCO promotes increased
access for the poor

By creating incentives for the CUs to
expand their services to the urban poor?




Basket fund – DTF / Appropriate technology
Low regulated tariff
Tax on consumers eg. Sanitation Tax LWSC
Cross subsidy between towns / Customers
How NWASCO promotes increased
access for the poor

Through specific license conditions




Service level guarantees (hrs of service, etc)
Business / Investment plans (expansion)
Insistence on metering – large volume
consumers to pay full cost (demand mgt.)
Tariff conditions – Review performance of utility
before tariff application approval
The road to full cost recovery

Enshrine the principle in the Water Policy


Aim at full cost recovery in the long run and
Government & CP funding in the meantime
Get a grip on tariffs through regulation


"Unlock" water in the system and raise
revenues through metering & rising block
tariffs
Cross subsidize low consumption levels for
basic water needs
Experiences & Recommendations



Efficiency improvements of utilities do not
automatically translate into improved
access for the urban poor
For sustained performance improvement of
utilities, effective regulation and
monitoring is key
With effective regulation access of the
poor as well as full cost recovery from user
fees are achievable in the long run
Experiences & Recommendations




With the right technology and
management approach – accelerating
coverage in "poor" areas is possible at low
cost per person served
Cost coverage should be restricted to
O&M for poor areas
Subsidies outside the tariff is usually a
failure
Subsidies between customer categories
and towns key!