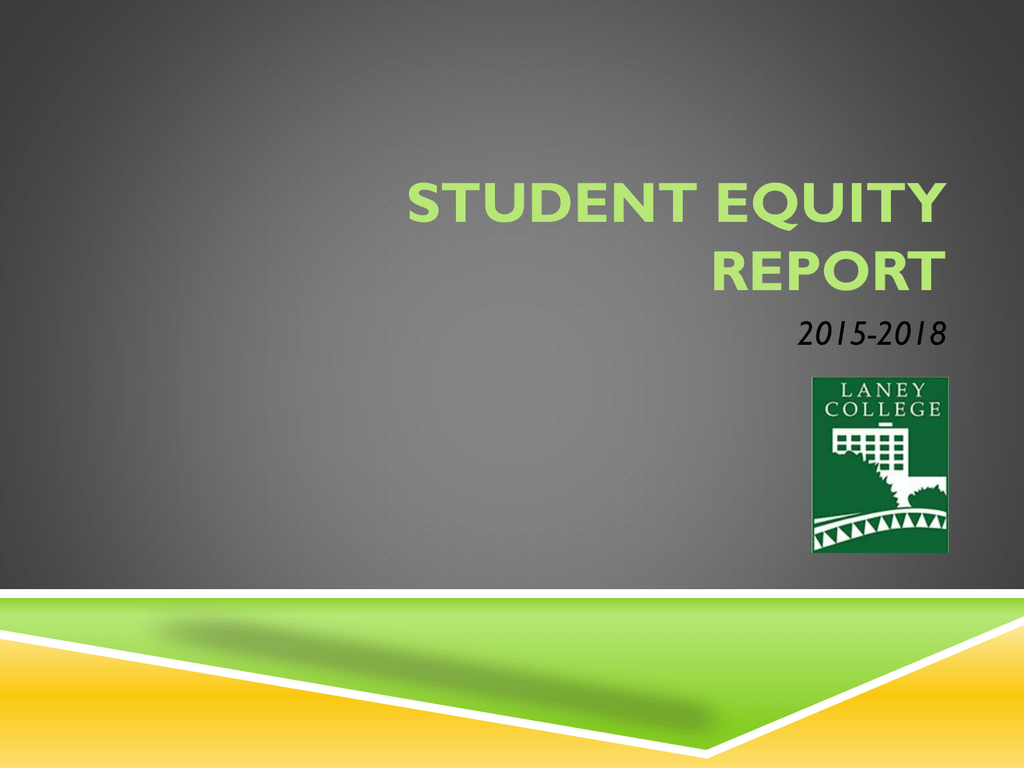 STUDENT EQUITY
REPORT
2015-2018
LANEY COLLEGE
CAMPUS BASED RESEARCH
 Disproportionate Impact Study regarding critical equity issues for our College.
 Access Comparing service area to Laney College community composition
 Course Completion
 ESL/Basic Skills
 Degree Applicable Course Completion
 Degree & Certificate Completion
 Transfer to a Four Year University
Access
 In many cases the College serves the community varied demographics
at higher rates than are present in the community.
 The College is underserving White students by 15% however.
 The College is also underserving 35-55 year olds
 College Feeder High School Data
 English Language Learners represent approximately 20% of feeder High
School Students
 High school drop out rates are above 40% for American Indians, followed
by Hispanic and African American students at approximately 26%.
 Additional data on foster youth and veteran students is needed
Course Completion
 Course completion rates are the lowest for 19-24 year olds at 62% with
the highest completion rates for students 35-54 year olds at above 70%.
 Course completion rates for American Indian and African American
students is in the low 50 percentile indicating disproportionate impact.
 White and Asian students course completion rates are in the mid to
high in the 70 percentile.
ESL & Basic Skills Completion
 Younger students are more successful in ESL courses with a 45%




success rate followed by 20-49 years of age 25% success rage. Students
over the age of 50 drop to a 7% success rate.
Both Males and Females complete Basic Skills courses at approximately
the same rate- 25% in English & 29% in math.
16% of African American students are successful in English courses
whereas 43% of Asian students are successful.
DSPS students complete English courses at 18% versus non-DSPS
students at 25%
African American and Asian/Pacific Islander students have the lowest
math success rates at 18% and 13% respectively.
Degree and Certificate Completion
 Females have a slightly higher degree and completion rate of 15% to
males at 13%.
 30-34 year olds have the highest degree and completion rate at 25%.
 African American and Hispanic students represent the lowest degree
and completion attainment rates at 13% followed by White students at
14%.
Transfer to a Four Year College
 40% of transfer students attend a CSU versus 31% who attend a UC.
 21% of 15-17 year olds successfully completed a course after transfer
followed by 19% of 18-19 year olds and 15% of 22-24 year olds.
 Data shows as ages increase successful completion of a transfer course
decreases.
 Asian students successfully complete transfer courses at 34% followed
by African American students at 20%.
 Only 9% of Hispanic/Latino students successfully complete a course
after transfer indicating disproportionate impact
Additional Research Needs
Qualitative Data regarding all student groups:
 Focus Groups & Surveys with special focus on Foster Youth student Data
 Veteran student Data
 Re-entry Adult student Data
Common Goals & Activities To Improve Equity
 SSSP Early Alert Program- Implement Early Alert System to
support at risk students at critical points leading to increased course,
degree and certificate completion and student success.
 Enhanced Tutoring Program- Develop and implement high level tutoring
program hiring and training instructional assistants to improve current
peer tutoring program across all disciplines.
 Culturally Relevant Learning Communities- Develop and Implement
after conducting research on best practices with proven outcomes.
Develop large scale program.
 Professional Development- Faculty and Staff development
 Social Justice Series- processing personal biases to better support and empower
transformation and leadership in students.
 DSPS series-working with disabled individuals and different learning modalities.
Common Goals & Activities To Improve Equity
 High School Transition Team- develop and implement team and plan




designed for targeted outreach and relationship building with feeder
schools.
Multi-language marketing materials- Develop marketing materials and
web page interfaces to meet community needs.
Enhanced Communication and Collaboration- Intensify focus on
communication and collaboration between student services and
instruction- across the college.
Develop Community and Civic Engagement Center- focused on service
learning, peer-to-peer mentoring and community engagement activities
and programs.
Hire Diverse Faculty and Staff- Increase diversity at the college to
mirror student community.
STUDENT EQUITY PLANNING AGENDA
BUDGET DETAIL
The below amounts reflect projected salary and benefits per position Position/Activity Budget
 College Institutional Researcher 1.0 FTE
120,000.

Student Equity/Outreach Coordinator 1.0 FTE
100,000.

Web Master
 Equity Public Information Officer
 Instructional Assistant Level Tutors
80,000.
80,000.
60,000.
Welcome Center Staff
 Network Technician- Instructional Labs 1.0FTE
60,000.
60,000.

Community and Civic Engagement Center
50,000.

Teaching and Learning Center
50,000.


Learning Community Support
 Faculty Innovation Funding
100,000.
50,000.
Faculty and Staff Professional Development
 Total
30,000.
840,000.

Laney College~ Access, Equity & Success
Meeting the holistic needs of our service
community by providing educational and career
skill building opportunities to reach life goals.