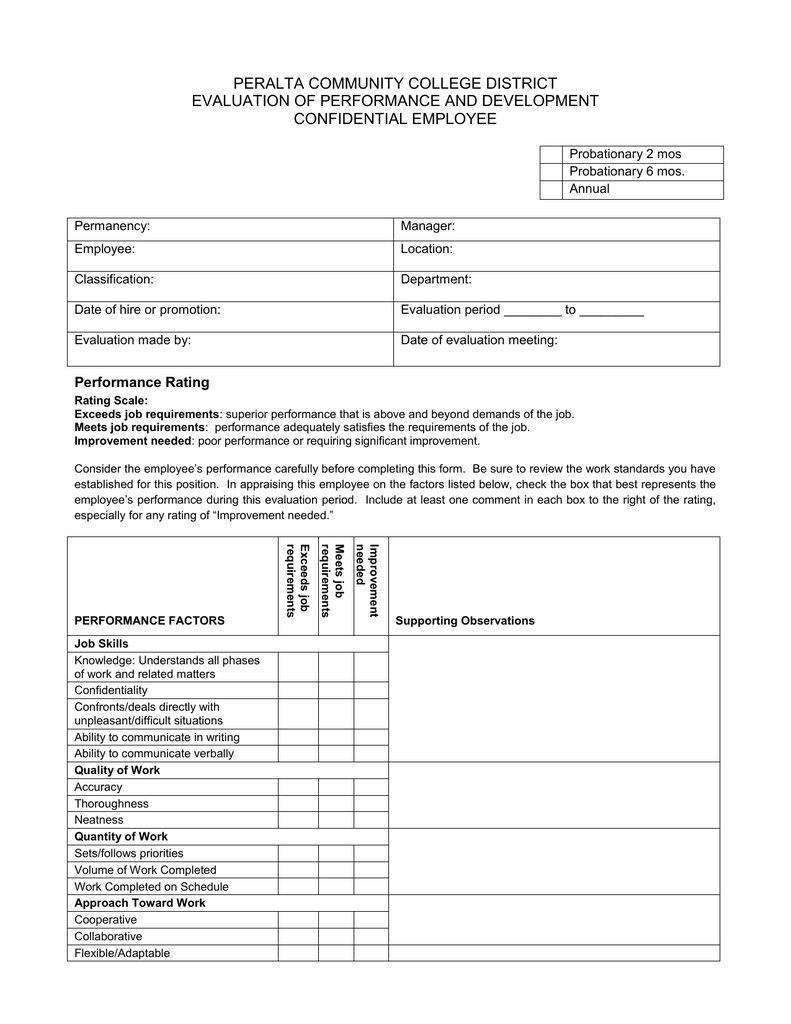 PERALTA COMMUNITY COLLEGE DISTRICT
EVALUATION OF PERFORMANCE AND DEVELOPMENT
CONFIDENTIAL EMPLOYEE
Probationary 2 mos
Probationary 6 mos.
Annual
Permanency:
Manager:
Employee:
Location:
Classification:
Department:
Date of hire or promotion:
Evaluation period ________ to _________
Evaluation made by:
Date of evaluation meeting:
Performance Rating
Rating Scale:
Exceeds job requirements: superior performance that is above and beyond demands of the job.
Meets job requirements: performance adequately satisfies the requirements of the job.
Improvement needed: poor performance or requiring significant improvement.
Consider the employee's performance carefully before completing this form. Be sure to review the work standards you have
established for this position. In appraising this employee on the factors listed below, check the box that best represents the
employee's performance during this evaluation period. Include at least one comment in each box to the right of the rating,
especially for any rating of "Improvement needed."
Improvement
needed
Meets job
requirements
Job Skills
Knowledge: Understands all phases
of work and related matters
Confidentiality
Confronts/deals directly with
unpleasant/difficult situations
Ability to communicate in writing
Ability to communicate verbally
Quality of Work
Accuracy
Thoroughness
Neatness
Quantity of Work
Sets/follows priorities
Volume of Work Completed
Work Completed on Schedule
Approach Toward Work
Cooperative
Collaborative
Flexible/Adaptable
Exceeds job
requirements
PERFORMANCE FACTORS
Supporting Observations
Improvement
needed
Meets job
requirements
Exceeds job
requirements
PERFORMANCE FACTORS
Supporting Observations
Applies Adequate Judgment
Gathers and screens facts
Arrives at sound conclusions
Makes effective and timely decisions
Shows initiative
Seeks increased responsibilities
Self starting
Can work independently
Work Habits
Attendance
Follow-through
Works under pressure
Working Relationships
With co-workers
With the public
With other employees
Supervisory Effectiveness
Planning
Setting objectives
Organizes
Assigns responsibility
Delegates authority
Control costs
Supervisory responsibilities
Effective teamwork
Effective leadership
Additional achievements/qualifications – describe any factors relevant to performance that have not been covered in the
above, such as training, experience, or attainment of special skills:
Overall Performance Review
Employee's major performance strengths and potential:
Employee's job-related goals:
Progress made since last evaluation: Comment on progress of goals or remediation strategies from last
evaluation.
Overall Job Performance Rating: Please rate the employee on an overall basis. These ratings must be
substantiated by supporting observations and example, above.
Superior performance: consistently well above what is expected
Satisfactory: meets the requirements of the job
Unsatisfactory: improvement needed, not up to the requirements of the job
Type of Review:
Please complete the section that corresponds to this review.
____Probationary Review ( 3 or 6 months)
Do you feel that this employee has satisfactorily completed the probationary period? ___Yes ___No
*If "No", the employee is to be terminated.
____Promotional Probationary Review
Do you feel that this employee is satisfactorily performing in the new position during the trial period?
___Yes ___No
*If "No", the employee is to be terminated or returned to his/her former position if a vacancy exists.
____Final Review
____Special Review
This employee was given a Special Review due to:
Employee Section
You should review your supervisor's written comments on this form and discuss, as needed, any verbal
comments made during the evaluation meeting. The space below is provided for you to write down any
comments you wish to make about your performance or this evaluation.
Employee Comments:
Signatures
I hereby acknowledge that my supervisor has discussed this review with me and I have received a copy thereof
along with my written comments, if any.
Employee_____________________________________________________________ Date_____________
I have met face-to-face with the employee to discuss this evaluation and have provided him/her the opportunity
to make written comments in the space following. I have given the employee a copy of the entire evaluation
form.
Supervisor_____________________________________________________________ Date_____________
After the evaluation form and meeting were completed, this form was reviewed and discussed by the Supervisor
with the Department Head.
Department Head_______________________________________________________ Date_____________
The original copy of the employee performance review should be returned to the Human Resources
Department, where it will become a part of the employee's permanent personnel file.