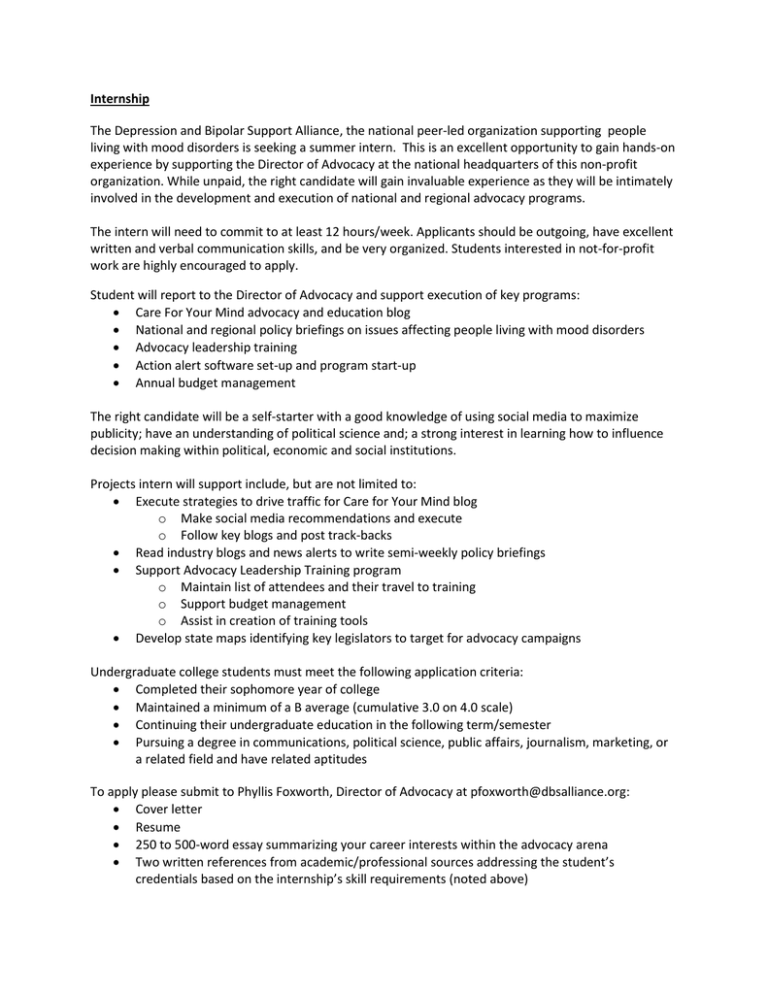 Internship
The Depression and Bipolar Support Alliance, the national peer-led organization supporting people
living with mood disorders is seeking a summer intern. This is an excellent opportunity to gain hands-on
experience by supporting the Director of Advocacy at the national headquarters of this non-profit
organization. While unpaid, the right candidate will gain invaluable experience as they will be intimately
involved in the development and execution of national and regional advocacy programs.
The intern will need to commit to at least 12 hours/week. Applicants should be outgoing, have excellent
written and verbal communication skills, and be very organized. Students interested in not-for-profit
work are highly encouraged to apply.
Student will report to the Director of Advocacy and support execution of key programs:
 Care For Your Mind advocacy and education blog
 National and regional policy briefings on issues affecting people living with mood disorders
 Advocacy leadership training
 Action alert software set-up and program start-up
 Annual budget management
The right candidate will be a self-starter with a good knowledge of using social media to maximize
publicity; have an understanding of political science and; a strong interest in learning how to influence
decision making within political, economic and social institutions.
Projects intern will support include, but are not limited to:
 Execute strategies to drive traffic for Care for Your Mind blog
o Make social media recommendations and execute
o Follow key blogs and post track-backs
 Read industry blogs and news alerts to write semi-weekly policy briefings
 Support Advocacy Leadership Training program
o Maintain list of attendees and their travel to training
o Support budget management
o Assist in creation of training tools
 Develop state maps identifying key legislators to target for advocacy campaigns
Undergraduate college students must meet the following application criteria:
 Completed their sophomore year of college
 Maintained a minimum of a B average (cumulative 3.0 on 4.0 scale)
 Continuing their undergraduate education in the following term/semester
 Pursuing a degree in communications, political science, public affairs, journalism, marketing, or
a related field and have related aptitudes
To apply please submit to Phyllis Foxworth, Director of Advocacy at [email protected]:
 Cover letter
 Resume
 250 to 500-word essay summarizing your career interests within the advocacy arena
 Two written references from academic/professional sources addressing the student's
credentials based on the internship's skill requirements (noted above)
Students chosen for finalist interviews will be asked to provide an official transcript attesting to their
GPA and favorable standing as a full-time student
Applicants also will be required to complete a standard employment application form and comply with
all DBSA standard pre-employment screening procedures including a criminal background investigation.