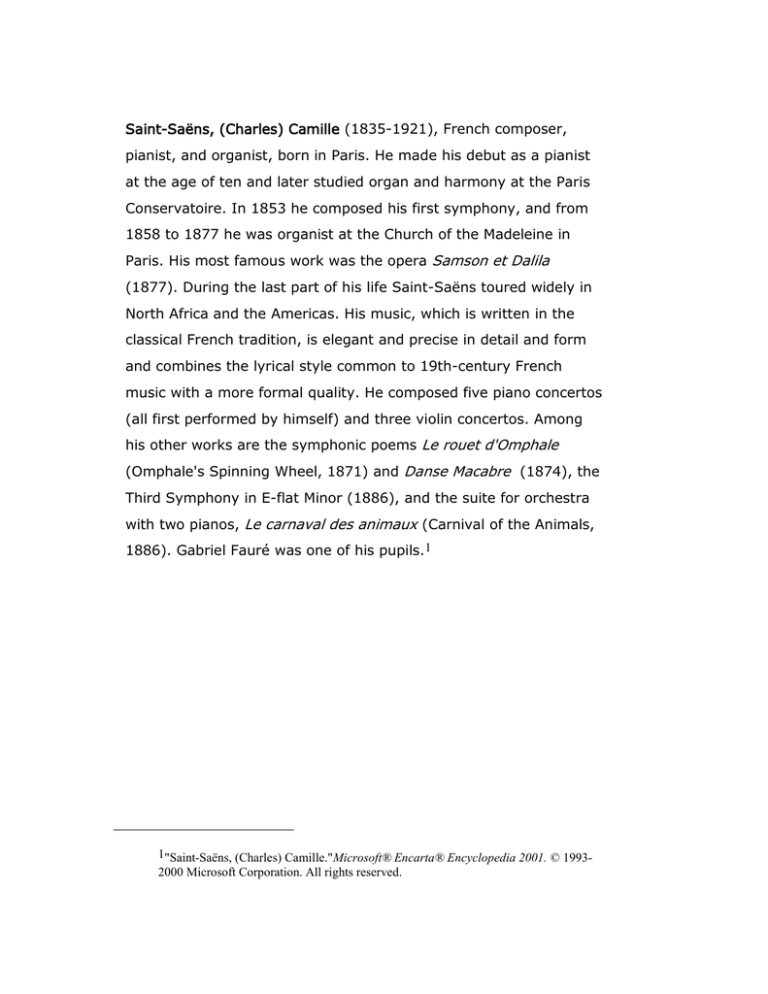 Saint-Saëns, (Charles) Camille (1835-1921), French composer,
pianist, and organist, born in Paris. He made his debut as a pianist
at the age of ten and later studied organ and harmony at the Paris
Conservatoire. In 1853 he composed his first symphony, and from
1858 to 1877 he was organist at the Church of the Madeleine in
Paris. His most famous work was the opera Samson et Dalila
(1877). During the last part of his life Saint-Saëns toured widely in
North Africa and the Americas. His music, which is written in the
classical French tradition, is elegant and precise in detail and form
and combines the lyrical style common to 19th-century French
music with a more formal quality. He composed five piano concertos
(all first performed by himself) and three violin concertos. Among
his other works are the symphonic poems Le rouet d'Omphale
(Omphale's Spinning Wheel, 1871) and Danse Macabre (1874), the
Third Symphony in E-flat Minor (1886), and the suite for orchestra
with two pianos, Le carnaval des animaux (Carnival of the Animals,
1886). Gabriel Fauré was one of his pupils.1
1"Saint-Saëns, (Charles) Camille."Microsoft® Encarta® Encyclopedia 2001. © 19932000 Microsoft Corporation. All rights reserved.