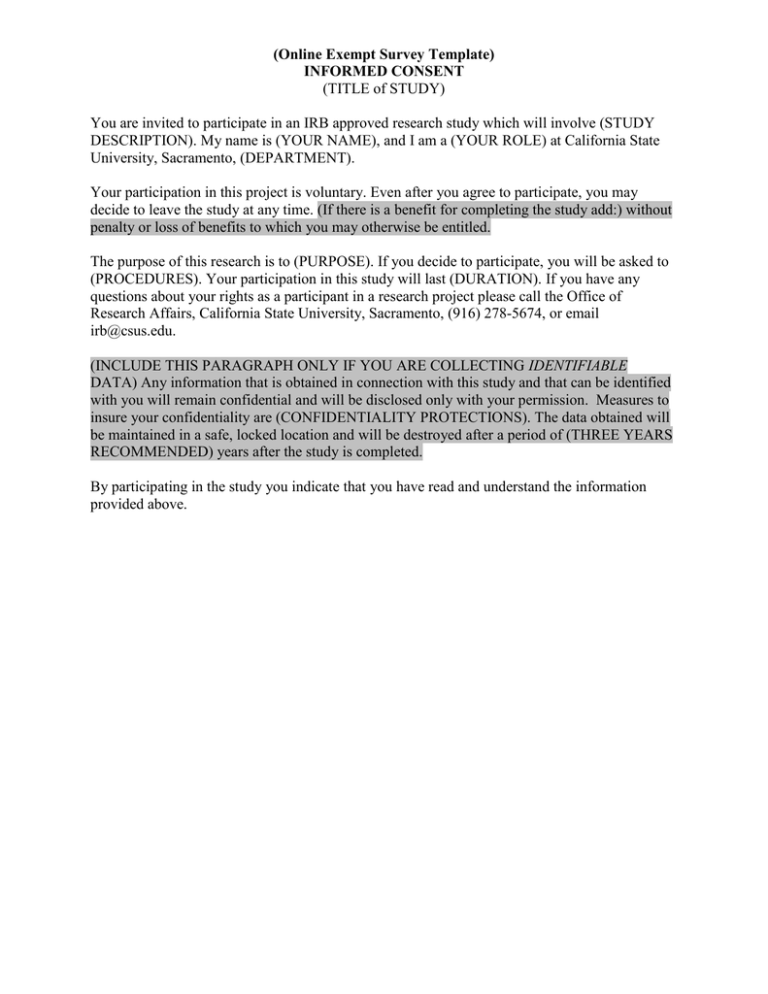 (Online Exempt Survey Template)
INFORMED CONSENT
(TITLE of STUDY)
You are invited to participate in an IRB approved research study which will involve (STUDY
DESCRIPTION). My name is (YOUR NAME), and I am a (YOUR ROLE) at California State
University, Sacramento, (DEPARTMENT).
Your participation in this project is voluntary. Even after you agree to participate, you may
decide to leave the study at any time. (If there is a benefit for completing the study add:) without
penalty or loss of benefits to which you may otherwise be entitled.
The purpose of this research is to (PURPOSE). If you decide to participate, you will be asked to
(PROCEDURES). Your participation in this study will last (DURATION). If you have any
questions about your rights as a participant in a research project please call the Office of
Research Affairs, California State University, Sacramento, (916) 278-5674, or email
[email protected]
(INCLUDE THIS PARAGRAPH ONLY IF YOU ARE COLLECTING IDENTIFIABLE
DATA) Any information that is obtained in connection with this study and that can be identified
with you will remain confidential and will be disclosed only with your permission. Measures to
insure your confidentiality are (CONFIDENTIALITY PROTECTIONS). The data obtained will
be maintained in a safe, locked location and will be destroyed after a period of (THREE YEARS
RECOMMENDED) years after the study is completed.
By participating in the study you indicate that you have read and understand the information
provided above.