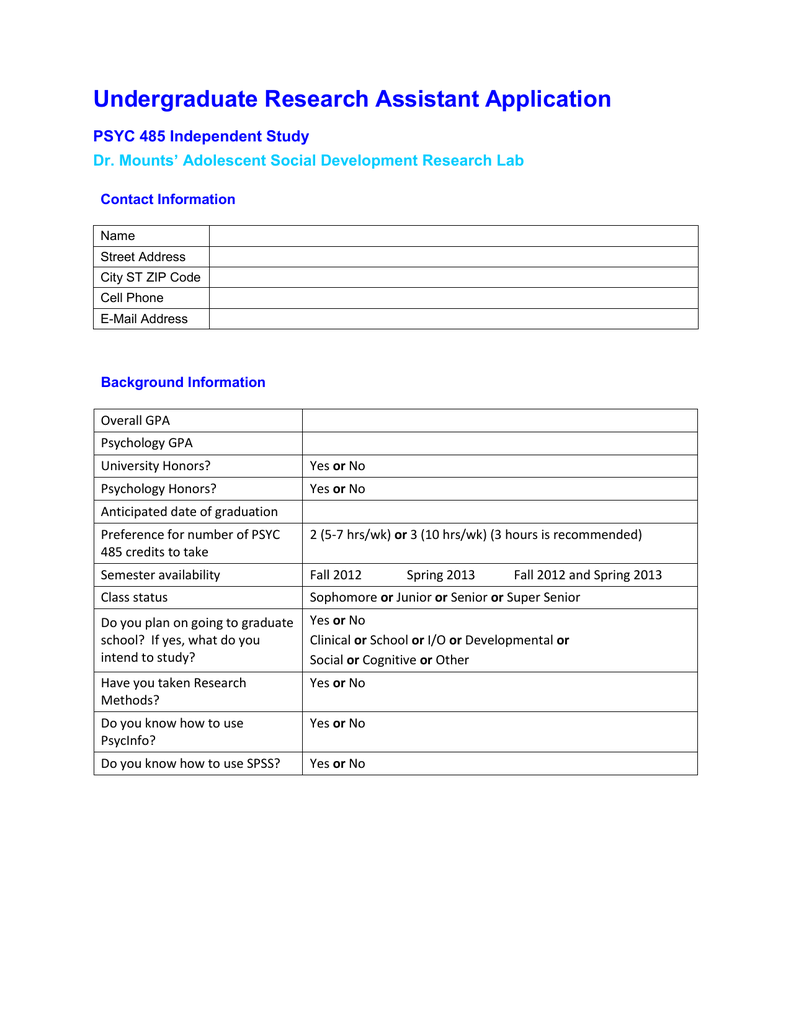 Undergraduate Research Assistant Application
PSYC 485 Independent Study
Dr. Mounts' Adolescent Social Development Research Lab
Contact Information
Name
Street Address
City ST ZIP Code
Cell Phone
E-Mail Address
Background Information
Overall GPA
Psychology GPA
University Honors?
Yes or No
Psychology Honors?
Yes or No
Anticipated date of graduation
Preference for number of PSYC
485 credits to take
2 (5-7 hrs/wk) or 3 (10 hrs/wk) (3 hours is recommended)
Semester availability
Fall 2012
Class status
Sophomore or Junior or Senior or Super Senior
Do you plan on going to graduate
school? If yes, what do you
intend to study?
Yes or No
Clinical or School or I/O or Developmental or
Social or Cognitive or Other
Have you taken Research
Methods?
Yes or No
Do you know how to use
PsycInfo?
Yes or No
Do you know how to use SPSS?
Yes or No
Spring 2013
Fall 2012 and Spring 2013
Availability
Please indicate, as specifically as possible, what times in your schedule you are available (mark with
X).
Monday
Tuesday
Wednesday
Thursday
Friday
8AM-9AM
9AM-10AM
10AM-11AM
11AM-12PM
12PM-1PM
1PM-2PM
2PM-3PM
3PM-4PM
4pM-5PM
5PM-7PM
7PM-9PM
Special Skills or Qualifications
Summarize special skills and qualifications you have acquired from courses, previous research
experience, volunteer work, or through other activities.
Psychology Interests
Summarize your interests in psychology.
Thank you for completing this application form and for your interest in research.
Please return this application via email [email protected] Call (815)753-6968 if you have questions or
email Dr. Mounts.