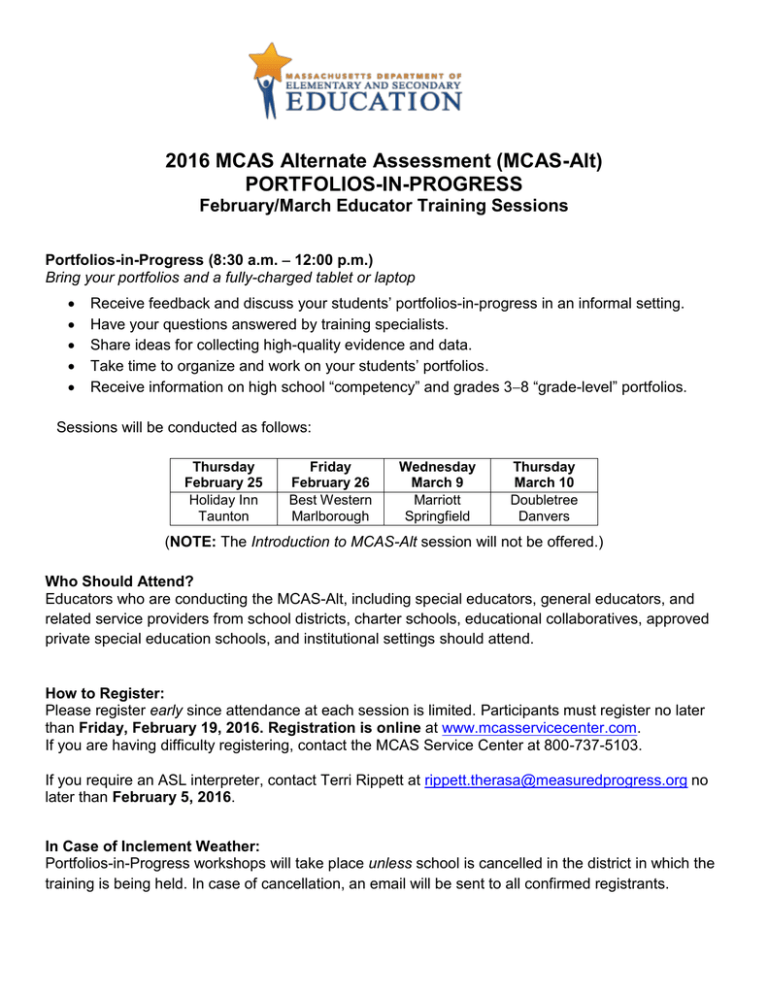 2016 MCAS Alternate Assessment (MCAS-Alt)
PORTFOLIOS-IN-PROGRESS
February/March Educator Training Sessions
Portfolios-in-Progress (8:30 a.m.  12:00 p.m.)
Bring your portfolios and a fully-charged tablet or laptop





Receive feedback and discuss your students' portfolios-in-progress in an informal setting.
Have your questions answered by training specialists.
Share ideas for collecting high-quality evidence and data.
Take time to organize and work on your students' portfolios.
Receive information on high school "competency" and grades 38 "grade-level" portfolios.
Sessions will be conducted as follows:
Thursday
February 25
Holiday Inn
Taunton
Friday
February 26
Best Western
Marlborough
Wednesday
March 9
Marriott
Springfield
Thursday
March 10
Doubletree
Danvers
(NOTE: The Introduction to MCAS-Alt session will not be offered.)
Who Should Attend?
Educators who are conducting the MCAS-Alt, including special educators, general educators, and
related service providers from school districts, charter schools, educational collaboratives, approved
private special education schools, and institutional settings should attend.
How to Register:
Please register early since attendance at each session is limited. Participants must register no later
than Friday, February 19, 2016. Registration is online at www.mcasservicecenter.com.
If you are having difficulty registering, contact the MCAS Service Center at 800-737-5103.
If you require an ASL interpreter, contact Terri Rippett at [email protected] no
later than February 5, 2016.
In Case of Inclement Weather:
Portfolios-in-Progress workshops will take place unless school is cancelled in the district in which the
training is being held. In case of cancellation, an email will be sent to all confirmed registrants.