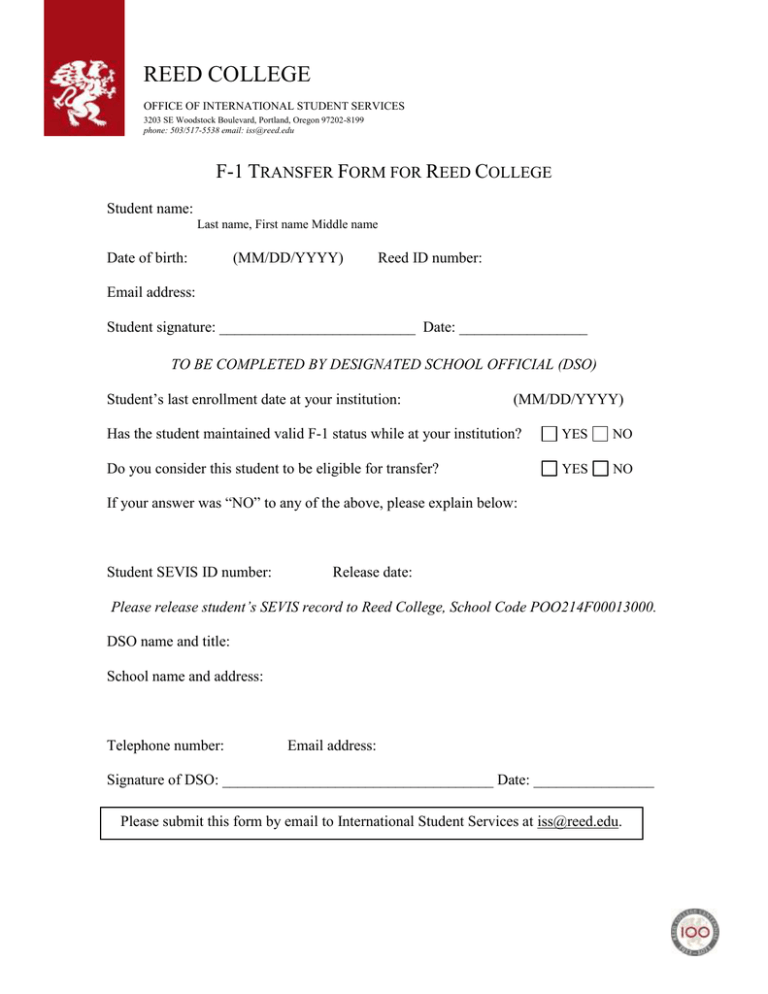 REED COLLEGE
OFFICE OF INTERNATIONAL STUDENT SERVICES
3203 SE Woodstock Boulevard, Portland, Oregon 97202-8199
phone: 503/517-5538 email: iss@reed.edu
F-1 TRANSFER FORM FOR REED COLLEGE
Student name:
Last name, First name Middle name
Date of birth:
(MM/DD/YYYY)
Reed ID number:
Email address:
Student signature: __________________________ Date: _________________
TO BE COMPLETED BY DESIGNATED SCHOOL OFFICIAL (DSO)
Student's last enrollment date at your institution:
(MM/DD/YYYY)
Has the student maintained valid F-1 status while at your institution?
YES
NO
Do you consider this student to be eligible for transfer?
YES
NO
If your answer was "NO" to any of the above, please explain below:
Student SEVIS ID number:
Release date:
Please release student's SEVIS record to Reed College, School Code POO214F00013000.
DSO name and title:
School name and address:
Telephone number:
Email address:
Signature of DSO: ____________________________________ Date: ________________
Please submit this form by email to International Student Services at iss@reed.edu.