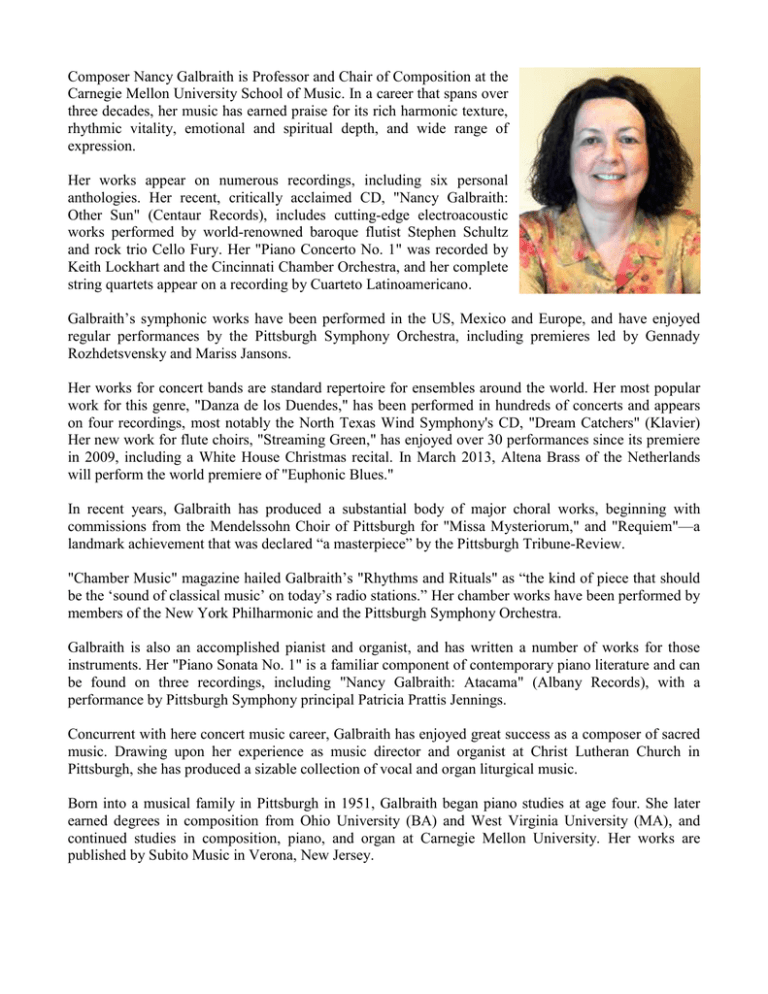 Composer Nancy Galbraith is Professor and Chair of Composition at the
Carnegie Mellon University School of Music. In a career that spans over
three decades, her music has earned praise for its rich harmonic texture,
rhythmic vitality, emotional and spiritual depth, and wide range of
expression.
Her works appear on numerous recordings, including six personal
anthologies. Her recent, critically acclaimed CD, "Nancy Galbraith:
Other Sun" (Centaur Records), includes cutting-edge electroacoustic
works performed by world-renowned baroque flutist Stephen Schultz
and rock trio Cello Fury. Her "Piano Concerto No. 1" was recorded by
Keith Lockhart and the Cincinnati Chamber Orchestra, and her complete
string quartets appear on a recording by Cuarteto Latinoamericano.
Galbraith's symphonic works have been performed in the US, Mexico and Europe, and have enjoyed
regular performances by the Pittsburgh Symphony Orchestra, including premieres led by Gennady
Rozhdetsvensky and Mariss Jansons.
Her works for concert bands are standard repertoire for ensembles around the world. Her most popular
work for this genre, "Danza de los Duendes," has been performed in hundreds of concerts and appears
on four recordings, most notably the North Texas Wind Symphony's CD, "Dream Catchers" (Klavier)
Her new work for flute choirs, "Streaming Green," has enjoyed over 30 performances since its premiere
in 2009, including a White House Christmas recital. In March 2013, Altena Brass of the Netherlands
will perform the world premiere of "Euphonic Blues."
In recent years, Galbraith has produced a substantial body of major choral works, beginning with
commissions from the Mendelssohn Choir of Pittsburgh for "Missa Mysteriorum," and "Requiem"—a
landmark achievement that was declared "a masterpiece" by the Pittsburgh Tribune-Review.
"Chamber Music" magazine hailed Galbraith's "Rhythms and Rituals" as "the kind of piece that should
be the 'sound of classical music' on today's radio stations." Her chamber works have been performed by
members of the New York Philharmonic and the Pittsburgh Symphony Orchestra.
Galbraith is also an accomplished pianist and organist, and has written a number of works for those
instruments. Her "Piano Sonata No. 1" is a familiar component of contemporary piano literature and can
be found on three recordings, including "Nancy Galbraith: Atacama" (Albany Records), with a
performance by Pittsburgh Symphony principal Patricia Prattis Jennings.
Concurrent with here concert music career, Galbraith has enjoyed great success as a composer of sacred
music. Drawing upon her experience as music director and organist at Christ Lutheran Church in
Pittsburgh, she has produced a sizable collection of vocal and organ liturgical music.
Born into a musical family in Pittsburgh in 1951, Galbraith began piano studies at age four. She later
earned degrees in composition from Ohio University (BA) and West Virginia University (MA), and
continued studies in composition, piano, and organ at Carnegie Mellon University. Her works are
published by Subito Music in Verona, New Jersey.