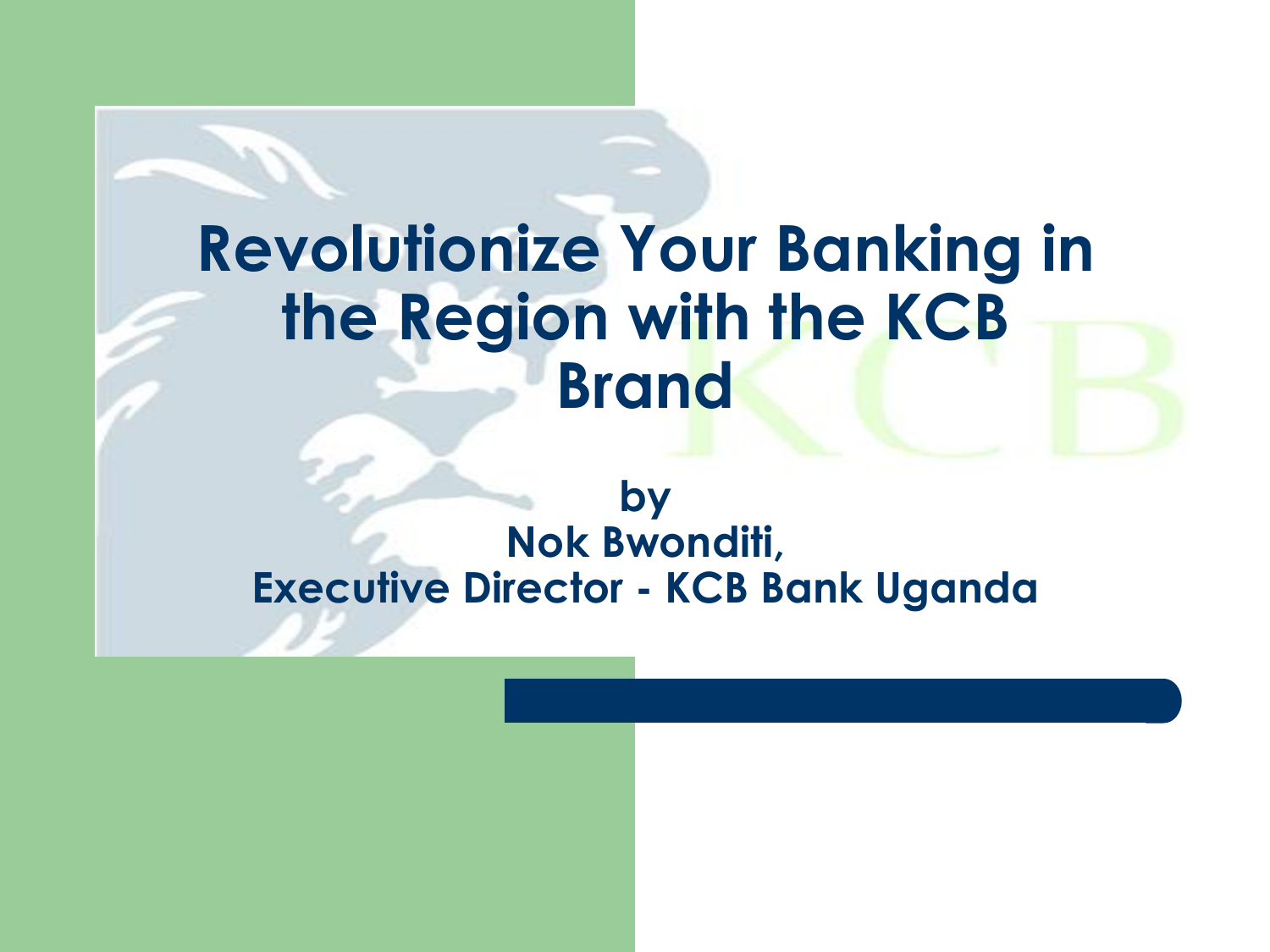 Revolutionize Your Banking in
the Region with the KCB
Brand
by
Nok Bwonditi,
Executive Director - KCB Bank Uganda
The KCB Brand Heritage; Regional
Agenda
KCB Mgt Embarked on a Modernization Journey;





Rebranded the Bank; New Look KCB
Refurbished Branch Network; Elegance & Ambience
Re-engineered Processes; Customer Focus
Developed Regional Footprints; Subsidiaries in
Tanzania, Sudan, Uganda, Rwanda, Zanzibar & Kenya
Expanded Branch Network; 214 in the Region
The KCB Vision and Mission
VISION;
To be the preferred Financial Solutions Provider in
Africa with Global reach.
 MISSION;
To drive efficiency whilst growing market share in
order to be the preferred Financial Solutions
Provider in Africa with Global Reach.

KCB GROUP






Over 114 years old
Balance sheet of kshs 221bn.(USD 2.7bn)
Customer deposits hit kshs 185bn.(USD2.3bn)
Loan and advances kshs 126.2bn.(USD 1.5bn)
Regional branch network of 214 branches with
more branches at various levels of completion.
Over 4,000 permanent staff.
KCB Bank Sudan Ltd






Over 5 years old.
Balance sheet of kshs 12bn.(USD150m)
Loan and advances kshs1.65bn.(USD 20.65m)
Deposits kshs10.3bn(USD128.8m)
Branches 11 (4 more branches by Sept)
Over 50,000 customers.
KCB Bank Uganda Ltd








Age: KCB Bank Uganda, 3 years
Balance Sheet Strength; Over UGX 125 bn(Usd 55m)
Customer Base; About 37,000 Customers,
Deposits; UGX 111 bn.(Usd 49.33m)
Loan and Advances; Over UGX 54 bn.(Usd 24m)
Branch Network; 14 countrywide;
Staff Compliment; Towards 300 staff and a couple of
temporary staff.
Corporate Citizen e.g. POAUR, Community Day, CSR
Program
KCB Brand Promise; Integrated
Regional Connectivity
IT Platform was not Able to Support the Regional
Agenda;
2 Independent Software Systems; TC3 &Beam version
8 & 11
System Required Manual Intervention
Vulnerability to Frequent Break-downs
No Integrated Banking Capability
No On-line, Real-time Capability
KCB Wanted a Versatile System with Several
Capabilities to perform Regional Functionalities
The Temenos 24 Hours (T24)

Switzerland Based Company; Temenos 24 Hours
(T24)
Founded in 1993, Temenos is a Leading Provider of
Integrated Modular Core Banking Systems.
Clientele Base; Over 1,000 Clients in Over 125
Countries
Office Representation; 50 offices in 39 countries
Workforce; Over 3,500 Consultants from over 66
nationalities
Market Capitalisation; In excess of US$1.5Billion

Best Selling System; 2007, 2008 and 2009





In-Built Excellent Features; T24
This system has in-built capabilities; It can provide;
 One Branch Bank Capability in the Region;
 Fast, Efficient, Accurate and Reliable Financial Data
to Customers
 24 hours, online, real time Banking Services
 Capability to Develop IT Driven Products
 Cost and time saving on remittances(no
correspondent bank charges KCB – KCB).
Available Business Opportunities
in the region

EAC Regional Integration by July
2010; Free Movement of Capital,
Labor, Goods etc

Peace Prevailing in Most Countries;
Creating Conducive Business
Environment

Rich in Natural Resources; Attracting
Direct Foreign Investments into the
Region

Uganda's Strategic Location; Most
Consumer Goods in the Region are
Imported from or Through Uganda.
Available Business Opportunities in the
region

Trade with the Larger Great Lakes Region with
Market Potential of over 120 Million People

Unprecedented Focus on Infrastructural
Development in the Region.

Majority of Countries Focusing on Economic
Growth

KCB Regional Footprints
Risk of Doing Business in the Region







Insecurity and Safety
Fake Currencies
Foreign Exchange Losses
Lack of Trust
Infrastructure - Poor Roads, Poor Tele-Coms, Poor
Power Supplies and Service Delivery
Undeveloped Financial System
Bad debts from dishonored instruments of trade.
Other challenges
 BOSS pegging rates
 Cost of airlifting currencies(from Nairobi).
 Limited lending opportunities.
 BOSS operates as a commercial bank(competitor).
 Collapse of some indigenous banks created doubts
amongst local community about bank services.
 Islamic banking practices.
 Cost of being a trend setter.
KCB BIZ-FLEX:
 Easy and Safe Regional Payments & Collections
 Funds Transfers
 Letters of Credit
 Telegraphic Transfers
 Cash Deposits/withdrawals
 Debit and Credit Cards
 Trade Finance
 Foreign Exchange management
SUDAN
KCB SimplifiesTrading
Doing
Business in the Region
Cycle
Ogwang (Sudan)
orders for goods
from Mukasa
(uganda)
UGANDA
Ogwang Changes Sudanese
Pounds into UGX or Dollars and
banks the same in KCB Sudan for
the Benefit of Mukasa A/c in KCB
Uganda
Through T24, the Money hits Mukasa's A/C instantly in KCB
Oasis Branch in Kampala;
Goods reach Juba and
the cycle repeats.
Mukasa finds credit done by Ogwang in his KCB Uganda A/ C
by checking his e-statement from his Office PC.
KCB simplifies cross border
payments
With Payments Going Through KCB You are Assured:
 Instant Funds Transfers across the Borders
 Security of Your Money
 Managed Exchange Rate Risks
 Improved Cash-Flows
 Easy Tracking of Funds from Your Office.
 Simplified Audits due to Availability of Statements
of Accounts.
 Proof of Payment Provided by a Statement and/or
Banking Slip.
New and Exciting Products for Our
Customers
T24 will enable KCB Develop New and More Exciting
Products;
 Internet Banking
 Mobile banking- KCB Connect
 Card Business; KCB Gold VISA, etc
 Improved E- Statements
 Improved KCB Bizflex
 Asset Based Financing
 School & University Fees Collections
 QuickPay
 Many more in the Pipeline
In Conclusion
KCB;
 Is Very Strong Regional Brand;
 Has Pioneered the One Branch Bank in the Region
 Has Regional footprints- 214 Branches and 450
Quick Serve Outlets
 Has implemented the State-of- the Art IT Platform
Our Appeal;
 Open a KCB Account to Activate Your Regional
Roaming Status with KCB.
 Register to Activate Your E-Statement I wish to
Share Some of T24 Ads to Support Our
Communication
Thank You!