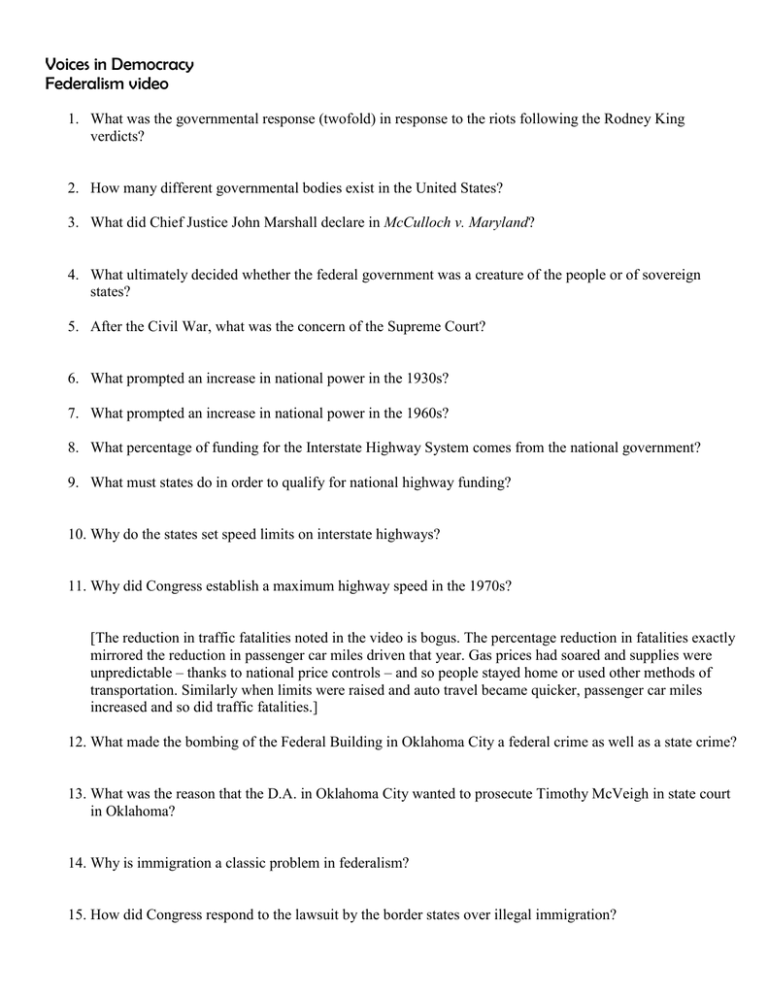 Voices in Democracy
Federalism video
1. What was the governmental response (twofold) in response to the riots following the Rodney King
verdicts?
2. How many different governmental bodies exist in the United States?
3. What did Chief Justice John Marshall declare in McCulloch v. Maryland?
4. What ultimately decided whether the federal government was a creature of the people or of sovereign
states?
5. After the Civil War, what was the concern of the Supreme Court?
6. What prompted an increase in national power in the 1930s?
7. What prompted an increase in national power in the 1960s?
8. What percentage of funding for the Interstate Highway System comes from the national government?
9. What must states do in order to qualify for national highway funding?
10. Why do the states set speed limits on interstate highways?
11. Why did Congress establish a maximum highway speed in the 1970s?
[The reduction in traffic fatalities noted in the video is bogus. The percentage reduction in fatalities exactly
mirrored the reduction in passenger car miles driven that year. Gas prices had soared and supplies were
unpredictable – thanks to national price controls – and so people stayed home or used other methods of
transportation. Similarly when limits were raised and auto travel became quicker, passenger car miles
increased and so did traffic fatalities.]
12. What made the bombing of the Federal Building in Oklahoma City a federal crime as well as a state crime?
13. What was the reason that the D.A. in Oklahoma City wanted to prosecute Timothy McVeigh in state court
in Oklahoma?
14. Why is immigration a classic problem in federalism?
15. How did Congress respond to the lawsuit by the border states over illegal immigration?