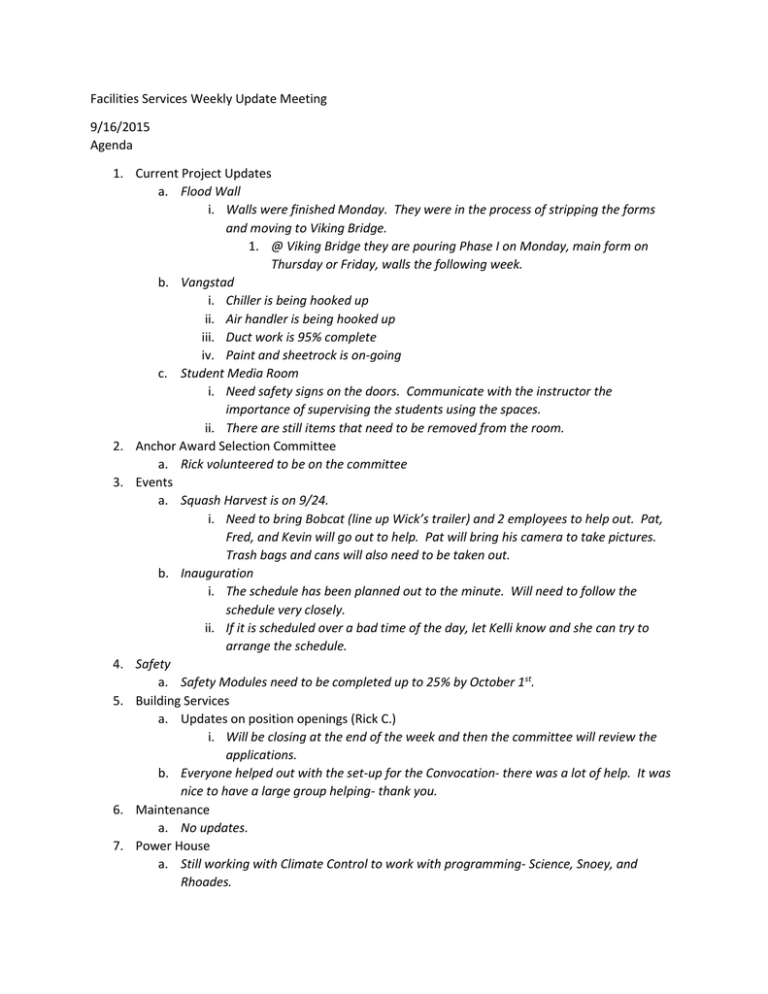 Facilities Services Weekly Update Meeting
9/16/2015
Agenda
1. Current Project Updates
a. Flood Wall
i. Walls were finished Monday. They were in the process of stripping the forms
and moving to Viking Bridge.
1. @ Viking Bridge they are pouring Phase I on Monday, main form on
Thursday or Friday, walls the following week.
b. Vangstad
i. Chiller is being hooked up
ii. Air handler is being hooked up
iii. Duct work is 95% complete
iv. Paint and sheetrock is on-going
c. Student Media Room
i. Need safety signs on the doors. Communicate with the instructor the
importance of supervising the students using the spaces.
ii. There are still items that need to be removed from the room.
2. Anchor Award Selection Committee
a. Rick volunteered to be on the committee
3. Events
a. Squash Harvest is on 9/24.
i. Need to bring Bobcat (line up Wick's trailer) and 2 employees to help out. Pat,
Fred, and Kevin will go out to help. Pat will bring his camera to take pictures.
Trash bags and cans will also need to be taken out.
b. Inauguration
i. The schedule has been planned out to the minute. Will need to follow the
schedule very closely.
ii. If it is scheduled over a bad time of the day, let Kelli know and she can try to
arrange the schedule.
4. Safety
a. Safety Modules need to be completed up to 25% by October 1st.
5. Building Services
a. Updates on position openings (Rick C.)
i. Will be closing at the end of the week and then the committee will review the
applications.
b. Everyone helped out with the set-up for the Convocation- there was a lot of help. It was
nice to have a large group helping- thank you.
6. Maintenance
a. No updates.
7. Power House
a. Still working with Climate Control to work with programming- Science, Snoey, and
Rhoades.
8. Other
a. Market value issues- will put on agenda for Management meeting next week.