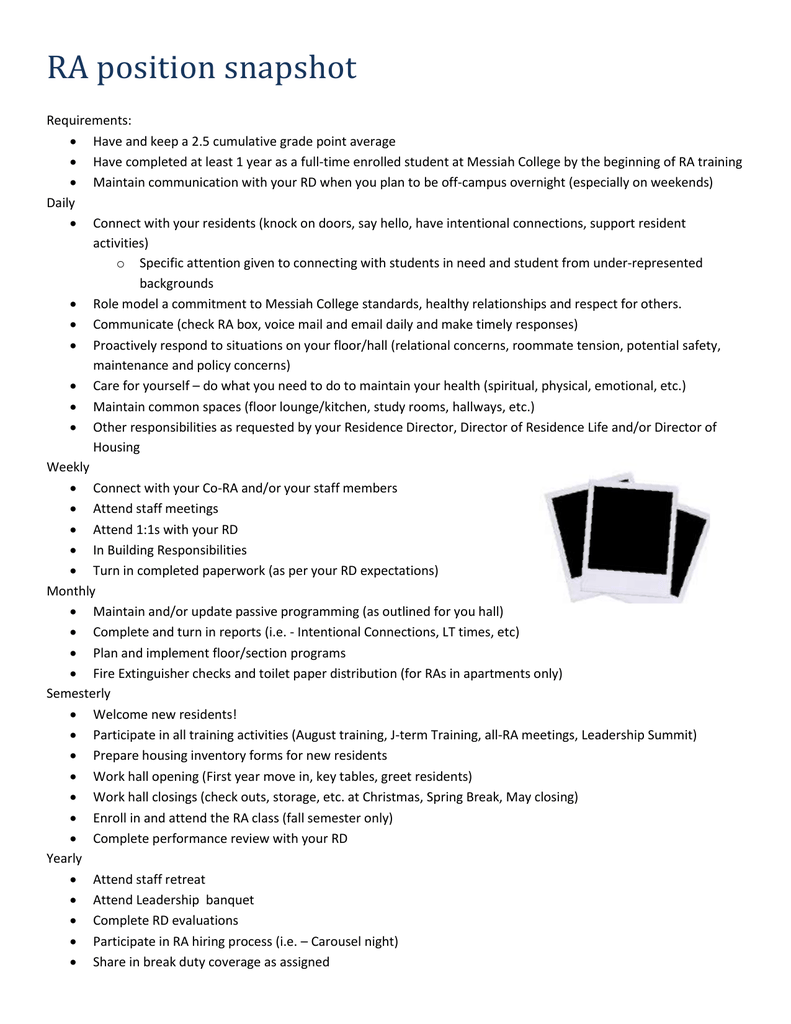 RA position snapshot
Requirements:
 Have and keep a 2.5 cumulative grade point average
 Have completed at least 1 year as a full-time enrolled student at Messiah College by the beginning of RA training
 Maintain communication with your RD when you plan to be off-campus overnight (especially on weekends)
Daily
 Connect with your residents (knock on doors, say hello, have intentional connections, support resident
activities)
o Specific attention given to connecting with students in need and student from under-represented
backgrounds
 Role model a commitment to Messiah College standards, healthy relationships and respect for others.
 Communicate (check RA box, voice mail and email daily and make timely responses)
 Proactively respond to situations on your floor/hall (relational concerns, roommate tension, potential safety,
maintenance and policy concerns)
 Care for yourself – do what you need to do to maintain your health (spiritual, physical, emotional, etc.)
 Maintain common spaces (floor lounge/kitchen, study rooms, hallways, etc.)
 Other responsibilities as requested by your Residence Director, Director of Residence Life and/or Director of
Housing
Weekly
 Connect with your Co-RA and/or your staff members
 Attend staff meetings
 Attend 1:1s with your RD
 In Building Responsibilities
 Turn in completed paperwork (as per your RD expectations)
Monthly
 Maintain and/or update passive programming (as outlined for you hall)
 Complete and turn in reports (i.e. - Intentional Connections, LT times, etc)
 Plan and implement floor/section programs
 Fire Extinguisher checks and toilet paper distribution (for RAs in apartments only)
Semesterly
 Welcome new residents!
 Participate in all training activities (August training, J-term Training, all-RA meetings, Leadership Summit)
 Prepare housing inventory forms for new residents
 Work hall opening (First year move in, key tables, greet residents)
 Work hall closings (check outs, storage, etc. at Christmas, Spring Break, May closing)
 Enroll in and attend the RA class (fall semester only)
 Complete performance review with your RD
Yearly
 Attend staff retreat
 Attend Leadership banquet
 Complete RD evaluations
 Participate in RA hiring process (i.e. – Carousel night)
 Share in break duty coverage as assigned
Job Responsibility
Meetings
Administrative Duties
Programming
Connecting with Residents
Total

 Average breakdown per week of RA position*
Description
Hours
One on One with RD, Staff Time
3 hours
Clock/walk, maintaining floor, emails,
2 hours
RCI's/ACI's etc…
Planning, advertising, cleaning up
2 hours
Intentional Connections, present on floor,
5-8 hours
Upper Class and First Year specific programs,
lunch/dinner/coffee with residents etc..
12-15 hours
* Keep in mind this is an average representation over the course of the semester. Each week can look different.