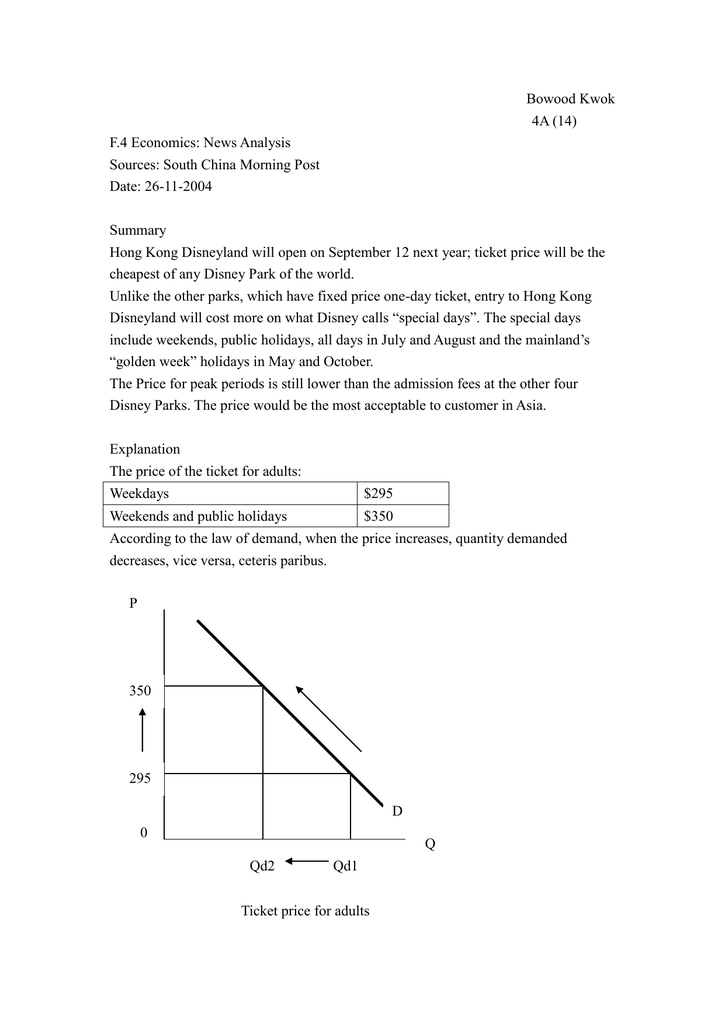 Bowood Kwok
4A (14)
F.4 Economics: News Analysis
Sources: South China Morning Post
Date: 26-11-2004
Summary
Hong Kong Disneyland will open on September 12 next year; ticket price will be the
cheapest of any Disney Park of the world.
Unlike the other parks, which have fixed price one-day ticket, entry to Hong Kong
Disneyland will cost more on what Disney calls "special days". The special days
include weekends, public holidays, all days in July and August and the mainland's
"golden week" holidays in May and October.
The Price for peak periods is still lower than the admission fees at the other four
Disney Parks. The price would be the most acceptable to customer in Asia.
Explanation
The price of the ticket for adults:
Weekdays
$295
Weekends and public holidays
$350
According to the law of demand, when the price increases, quantity demanded
decreases, vice versa, ceteris paribus.
P
350
295
D
0
Q
Qd2
Qd1Qd1
Qd1
Ticket price for adults
The price if the adult tickets will decrease from $295to $350, quantity demanded of
the tickets will decrease.
Children below three years old will enjoy free admission. However, the free
admission is not a free good. Because a free good is sufficient to satisfy all our wants.
More of the ticket is not preferred. People will not pay or give up anything for it. It
doesn't have a cost of production. The fee admission ticket is an economic good.
The ticket is a superior (normal) good. The increase of income leads to increase in
demand for it, vice versa. If people get richer, more people will buy the ticket, the
demand of it increase. If the people get poorer, less people will buy it, the demand of
it decrease.