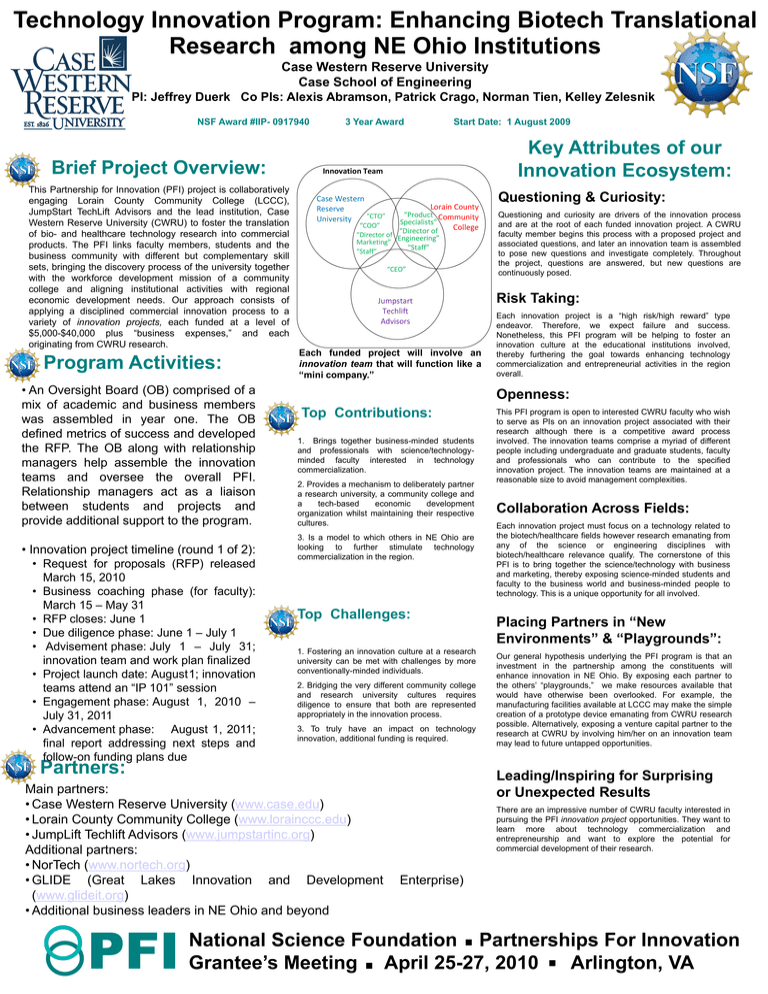 Technology Innovation Program: Enhancing Biotech Translational
Research among NE Ohio Institutions
Case Western Reserve University
Case School of Engineering
PI: Jeffrey Duerk Co PIs: Alexis Abramson, Patrick Crago, Norman Tien, Kelley Zelesnik
NSF Award #IIP- 0917940
Brief Project Overview:
This Partnership for Innovation (PFI) project is collaboratively
engaging Lorain County Community College (LCCC),
JumpStart TechLift Advisors and the lead institution, Case
Western Reserve University (CWRU) to foster the translation
of bio- and healthcare technology research into commercial
products. The PFI links faculty members, students and the
business community with different but complementary skill
sets, bringing the discovery process of the university together
with the workforce development mission of a community
college and aligning institutional activities with regional
economic development needs. Our approach consists of
applying a disciplined commercial innovation process to a
variety of innovation projects, each funded at a level of
$5,000-$40,000 plus "business expenses," and each
originating from CWRU research.
Program Activities:
• An Oversight Board (OB) comprised of a
mix of academic and business members
was assembled in year one. The OB
defined metrics of success and developed
the RFP. The OB along with relationship
managers help assemble the innovation
teams and oversee the overall PFI.
Relationship managers act as a liaison
between students and projects and
provide additional support to the program.
• Innovation project timeline (round 1 of 2):
• Request for proposals (RFP) released
March 15, 2010
• Business coaching phase (for faculty):
March 15 – May 31
• RFP closes: June 1
• Due diligence phase: June 1 – July 1
• Advisement phase: July 1 – July 31;
innovation team and work plan finalized
• Project launch date: August1; innovation
teams attend an "IP 101" session
• Engagement phase: August 1, 2010 –
July 31, 2011
• Advancement phase: August 1, 2011;
final report addressing next steps and
follow-on funding plans due
3 Year Award
Start Date: 1 August 2009
Key Attributes of our
Innovation Ecosystem:
Innovation Team
Case Western
Reserve
"CTO"
University
Lorain County
"Product Community
Specialists"
College
"Director of
"COO"
"Director of Engineering"
Marketing"
"Staff"
"Staff"
"CEO"
Questioning and curiosity are drivers of the innovation process
and are at the root of each funded innovation project. A CWRU
faculty member begins this process with a proposed project and
associated questions, and later an innovation team is assembled
to pose new questions and investigate completely. Throughout
the project, questions are answered, but new questions are
continuously posed.
Risk Taking:
Jumpstart
Techlift
Advisors
Each funded project will involve an
innovation team that will function like a
"mini company."
Each innovation project is a "high risk/high reward" type
endeavor. Therefore, we expect failure and success.
Nonetheless, this PFI program will be helping to foster an
innovation culture at the educational institutions involved,
thereby furthering the goal towards enhancing technology
commercialization and entrepreneurial activities in the region
overall.
Openness:
Top Contributions:
1. Brings together business-minded students
and professionals with science/technologyminded faculty interested in technology
commercialization.
2. Provides a mechanism to deliberately partner
a research university, a community college and
a
tech-based
economic
development
organization whilst maintaining their respective
cultures.
3. Is a model to which others in NE Ohio are
looking to further stimulate technology
commercialization in the region.
Top Challenges:
1. Fostering an innovation culture at a research
university can be met with challenges by more
conventionally-minded individuals.
2. Bridging the very different community college
and research university cultures requires
diligence to ensure that both are represented
appropriately in the innovation process.
3. To truly have an impact on technology
innovation, additional funding is required.
Main partners:
• Case Western Reserve University (www.case.edu)
• Lorain County Community College (www.lorainccc.edu)
• JumpLift Techlift Advisors (www.jumpstartinc.org)
Additional partners:
• NorTech (www.nortech.org)
• GLIDE (Great Lakes Innovation and Development
(www.glideit.org)
• Additional business leaders in NE Ohio and beyond
This PFI program is open to interested CWRU faculty who wish
to serve as PIs on an innovation project associated with their
research although there is a competitive award process
involved. The innovation teams comprise a myriad of different
people including undergraduate and graduate students, faculty
and professionals who can contribute to the specified
innovation project. The innovation teams are maintained at a
reasonable size to avoid management complexities.
Collaboration Across Fields:
Each innovation project must focus on a technology related to
the biotech/healthcare fields however research emanating from
any of the science or engineering disciplines with
biotech/healthcare relevance qualify. The cornerstone of this
PFI is to bring together the science/technology with business
and marketing, thereby exposing science-minded students and
faculty to the business world and business-minded people to
technology. This is a unique opportunity for all involved.
Placing Partners in "New
Environments" & "Playgrounds":
Partners:
PFI
Questioning & Curiosity:
Our general hypothesis underlying the PFI program is that an
investment in the partnership among the constituents will
enhance innovation in NE Ohio. By exposing each partner to
the others' "playgrounds," we make resources available that
would have otherwise been overlooked. For example, the
manufacturing facilities available at LCCC may make the simple
creation of a prototype device emanating from CWRU research
possible. Alternatively, exposing a venture capital partner to the
research at CWRU by involving him/her on an innovation team
may lead to future untapped opportunities.
Leading/Inspiring for Surprising
or Unexpected Results
There are an impressive number of CWRU faculty interested in
pursuing the PFI innovation project opportunities. They want to
learn more about technology commercialization and
entrepreneurship and want to explore the potential for
commercial development of their research.
Enterprise)
.
National Science Foundation Partnerships For Innovation
Grantee's Meeting April 25-27, 2010
Arlington, VA
.
.