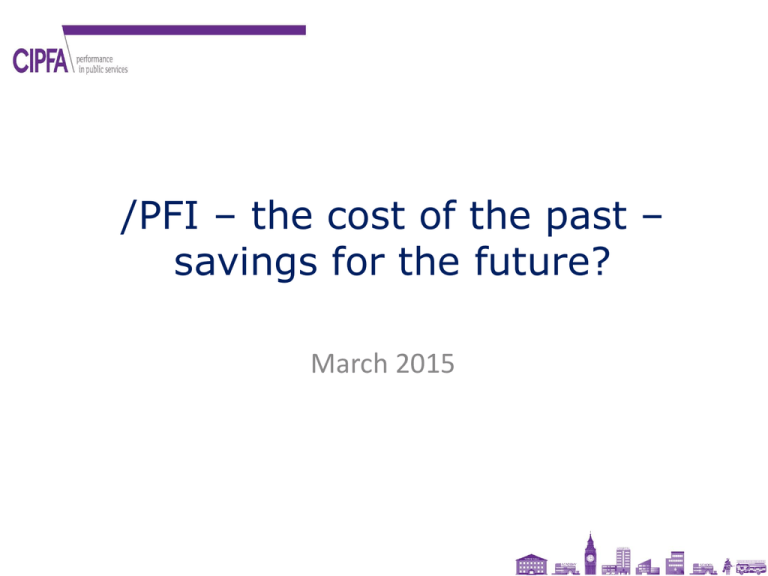 /PFI – the cost of the past –
savings for the future?
March 2015
AGENDA
1.
2.
3.
4.
5.
6.
Introduction and Background
What is PFI and why was it introduced?
PFI – Good or Bad?
Are existing deals "fit-for-purpose"?
Traction and Way Forward
Summary
1. INTRODUCTION AND BACKGROUND
Alan Jessop
Senior Consultant
CIPFA Business Limited
Alan.Jessop@cipfa.org
The Public Accounts Committee chair, Margaret
Hodge MP has been quoted as describing PFI as
'.. hugely expensive'
SCOTLAND'S FISCAL POSITION
• 2013/14 Net fiscal balance: -12.2% of GDP (£16.4bn)
excluding North Sea revenues or -8.1% if geographic share
included
• 2013/14 government expenditure down 4.2% in real-terms
• Future projections show the deficit falling but remaining
above 10% (compared to 4% for UK)
• Oil prices have fallen and remain lower than the last few
years
• Devolved tax raising will place further fiscal pressures
Institute for Fiscal Studies –
March 2015
COSTS OF PFI
Guardian July 2012
2. WHAT IS PFI AND WHY WAS IT INTRODUCED?
• Recommended vehicle for delivering procurement of (mainly) serviced
accommodation projects
• Historic under-investment in UK Infrastructure
• Private sector innovation and investment sought
• Government wanted costs (borrowings) to be off-balance sheet
• Business case approval had to take account of value of risk- transfer to
private sector
• UK-wide over 700 projects undertaken with capital value of £55 billion
• Scotland –
•
•
•
•
85+ projects completed;
Capital costs in excess of £5 billion;
Annual commitments (at close) in excess of £1 billion
Health, Education, Roads, Waste, Government Accommodation
3. PFI – GOOD?
•
•
•
•
•
•
It is wrong to assume that PFI is automatically a bad thing – costs
are simply more visible
Sectors such as Health and Education have benefitted from
accelerated building programmes that would not have been
funded through traditional means
East Lothian Schools – completed despite failure of building
contractor; additional funding provided by all funders
Building condition through contractual requirements will be
maintained throughout the project life
Detailed specifications and procurement forced the Public Sector
to think before buying
Public sector procurement is (historically) poor, costly and prone to
lengthy delays…………….
3. PFI – GOOD?
A classic, recent and local example of Public Sector procurement:
The Scottish Parliament Building
• 1997 - Original cost estimate (White Paper) - £10-40 million
• 1998 – Cost Revision - £50 million ("construction management
model")
• 1999 – Cost revision - £109 million
• 2000-2006 – various changes to specification; contractual dispute
and ongoing design issues
• 2007 – Out Turn – Final costs of £414.4 million; buildings
completed 3 years late
• 2014 – annual maintenance costs running at £1.7 million; buildings
not performing to design or user needs
3. PFI – BAD?
• There are numerous examples of high incremental costs – the
"£500" electrical socket; high costs of change and review
• Contracts are highly complex, inherently inflexible, weighty and
difficult to interpret and manage
• Contractual provisions are often not applied correctly
• Resources often not dedicated to contract/project
management
• Conflicts of interest abound with self-monitoring not working
• Long term contracts tied to fixed inflator; irrespective of actual
market changes:
4. ARE EXISTING DEALS "FIT-FOR-PURPOSE"?
•
•
•
•
•
•
•
•
RPI versus the "real world"
Outdated service specifications
Asset utilisation
Public sector default
Refinancing
Portfolio gains
Contract management
Prepayment maybe a costly option:
4. ARE EXISTING DEALS "FIT-FOR-PURPOSE"?
Three examples of projects "repurchased":
1.
Skye Bridge – Original capex (1995) - £39 million; 27-year
concession; would revert once equity return hurdle met; tolls set
at level of existing ferry; Repurchase (2004) - £27 million
2.
Inverness Airport – Original capex (1999) - £9.5 million; 25-year
concession; included airport expansion once passenger numbers
reached hurdle; based on passenger charges; Repurchase (2005) £27.5 million
3.
West Lothian College – Original capex (1999) - £18 million; 25year concession; designed to cope with high levels of growth in
student numbers; Repurchase (2006) - £27.5 million
5. TRACTION AND THE WAY FORWARD
• Code of Conduct
• Best Value Provisions
• New funding models:
•
•
•
Non-Profit Distributing
HUB
PF2
• New major infrastructure investments
• Pooled funding
• Innovation?
6. SUMMARY
•
•
•
•
•
•
Review – services, assets, performance
Revise – current needs, ability to pay, current market
Reprice – benchmark, market test, negotiate
Renegotiate – all changes,
Refinance
Repay
• Speak to CIPFA!