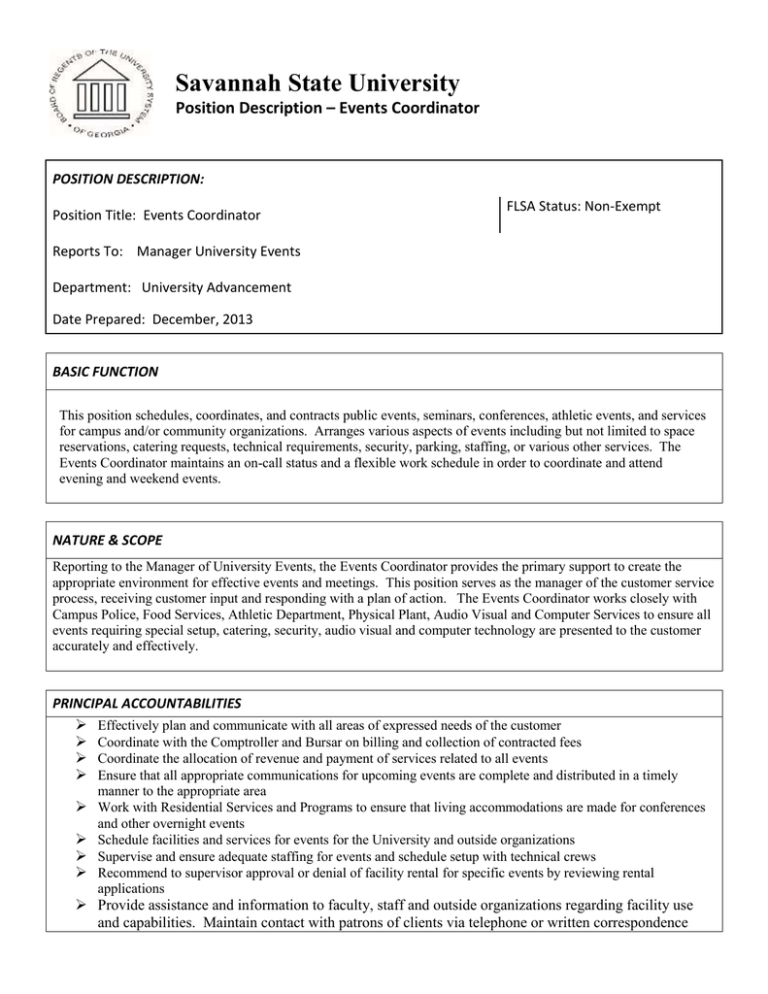 Savannah State University
Position Description – Events Coordinator
POSITION DESCRIPTION:
Position Title: Events Coordinator
FLSA Status: Non-Exempt
Reports To: Manager University Events
Department: University Advancement
Date Prepared: December, 2013
BASIC FUNCTION
This position schedules, coordinates, and contracts public events, seminars, conferences, athletic events, and services
for campus and/or community organizations. Arranges various aspects of events including but not limited to space
reservations, catering requests, technical requirements, security, parking, staffing, or various other services. The
Events Coordinator maintains an on-call status and a flexible work schedule in order to coordinate and attend
evening and weekend events.
NATURE & SCOPE
Reporting to the Manager of University Events, the Events Coordinator provides the primary support to create the
appropriate environment for effective events and meetings. This position serves as the manager of the customer service
process, receiving customer input and responding with a plan of action. The Events Coordinator works closely with
Campus Police, Food Services, Athletic Department, Physical Plant, Audio Visual and Computer Services to ensure all
events requiring special setup, catering, security, audio visual and computer technology are presented to the customer
accurately and effectively.
PRINCIPAL ACCOUNTABILITIES
 Effectively plan and communicate with all areas of expressed needs of the customer
 Coordinate with the Comptroller and Bursar on billing and collection of contracted fees
 Coordinate the allocation of revenue and payment of services related to all events
 Ensure that all appropriate communications for upcoming events are complete and distributed in a timely
manner to the appropriate area
 Work with Residential Services and Programs to ensure that living accommodations are made for conferences
and other overnight events
 Schedule facilities and services for events for the University and outside organizations
 Supervise and ensure adequate staffing for events and schedule setup with technical crews
 Recommend to supervisor approval or denial of facility rental for specific events by reviewing rental
applications
 Provide assistance and information to faculty, staff and outside organizations regarding facility use
and capabilities. Maintain contact with patrons of clients via telephone or written correspondence
 Attend events to facilitate operations and respond to emergencies, problems, etc.
 Maintain direct contact with personnel from the various outside organizations and university
departments associated with scheduled events.
SPECIALIZED KNOWLEDGE AND EXPERIENCE REQUIRED
Post-secondary education or equivalent; college degree preferred. Minimum of two years hotel or conference center
experience, excellent quantitative, oral and written communication and problem solving/strategizing skills. Excellent
overall computer skills with advance knowledge of Excel, Outlook, and PowerPoint. Exceptional customer service
skills are essential. Valid State of Georgia driver's license is required.