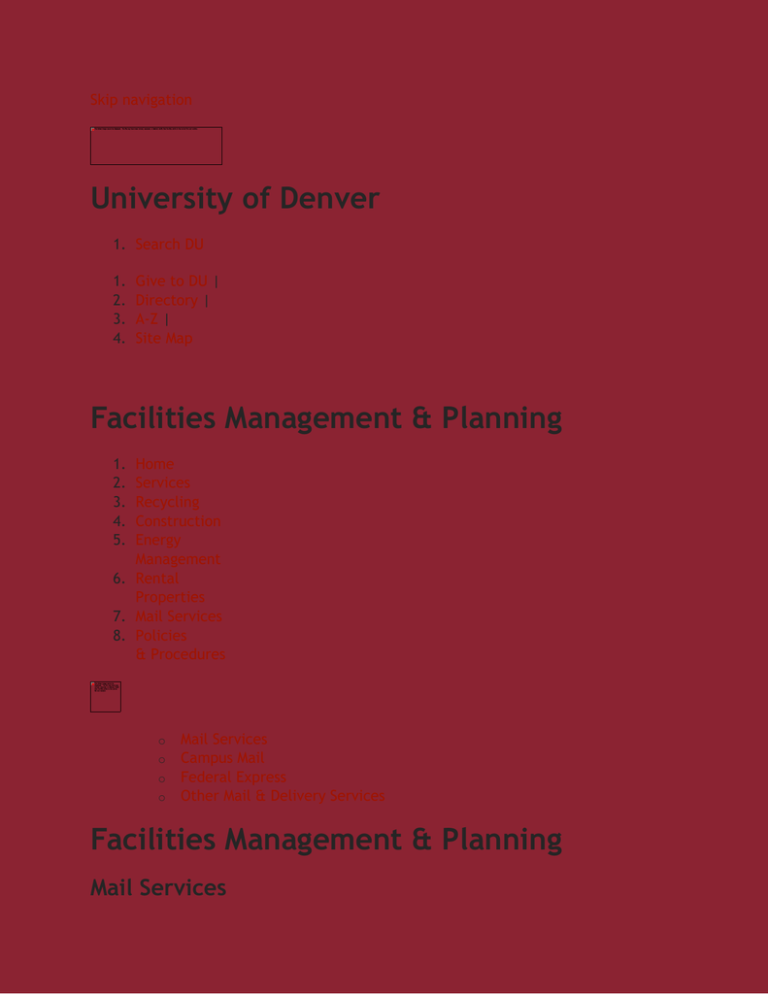 Skip navigation
University of Denver
1. Search DU
1.
2.
3.
4.
Give to DU |
Directory |
A-Z |
Site Map
Facilities Management & Planning
1.
2.
3.
4.
5.
Home
Services
Recycling
Construction
Energy
Management
6. Rental
Properties
7. Mail Services
8. Policies
& Procedures
o
o
o
o
Mail Services
Campus Mail
Federal Express
Other Mail & Delivery Services
Facilities Management & Planning
Mail Services
The University receives about 5,000 pieces of incoming mail each morning. We spend
90 minutes sorting this mail, and then we deliver it to your department.
If your mail doesn't include your department name, it may be delayed or sent to the
wrong department. Please make sure to include your department name when you give
out your address.
As we deliver mail, we also pick up outgoing mail. If your mail isn't ready when we
stop by, you can put it in our drop-off box located at our office. Mail in the drop-off
box is collected Monday-Friday at 2:00 p.m.
Please use the United States postage rates to determine how much your mailing will
cost.
First Class Stamps
Order First Class Stamps from us:



Limit 5 rolls of 100 stamps
Call us at 1-3187 with your FOAP information
Call before 9:00 a.m. for same day delivery
Please do not send personal items such as online catalog orders to the University.
Mail Stop Code Information


Mail Stop Code Notification Letter Template
Departmental Mail Stop Codes
Contact Us



Mail Services
4925 East Pacific Place
Denver, CO 80222
Telephone: 303-871-3187
Fax: 303-871-4144
Hours
Monday-Friday
8:00 a.m. - 4:30 p.m.
Staff

Dan Slattery, Manager
Mark Conley
Brian Gatewood
Mikeal Milton
Useful Links












Facilities Management & Planning website
DU Postage Charger Voucher Form
The
The
The
The
University of
University of
University of
University of
Denver
Denver
Denver
Denver
on Facebook
on Twitter
on YouTube
on Instagram
Contacts & Directions |
Maps |
Jobs |
Giving |
DU Mobile Site |
Site Map
© 2015 University of Denver. All rights reserved. Privacy. The University of Denver is
an equal opportunity affirmative action institution.